The excitement is really starting to build for Saturday.  I've been getting that nervous anticipation feeling since about 8 days out.  I didn't feel this heading into Umstead and thought it might be gone for good (been there and done that and all).  I'm glad it's back though as a lot of fond memories (i.e. standing in line for roller coasters) are associated with it.  I think it's back because while I have three 100-milers scheduled for this year, this is the race on my calendar that I've had mentally circled.  Here are some of the reasons this race just seems to call to me:
Historic – OD100 is the second oldest 100-miler in the US (started in 1979) and this year will be the 38th running (skipped 2002) of the race through the Virginia countryside.
Small field – The race is limited to 90 runners and only 50-60 have run it recently.  This is much less than many of my other races, which will have 200-300 runners.  I started running ultras for the smaller crowds and this is as small as a major ultra gets.
Buckles only for sub-24 hour times – While I (almost too desperately) look forward to the status associated with getting a buckle for finishing a hundred, I like the fact that this race hasn't compromised on this.  The race was set up as "a fair test of endurance running.  100 miles cross-country in one day is a worthy challenge."
No pacers – This may be the only race longer than 50 miles that doesn't allow pacers.  They do allow "safety runners" for a 13 mile stretch from 75-88, however after that you're on your own again.  This meshes completely with my philosophy of running these.  Pacers can be a wonderful help, however I love the challenge and want to complete it on my own.
The Red Book – The race publishes an actual honest to goodness physical booklet each year (see below).  It includes a couple paragraphs on each race held in addition to the standard race information (course directions, aid station layout, etc.).  Every race is a little unique and this is one of the traditions that OD100 has maintained over the years.
Mixed terrain – The race is run on a mix of paved roads, dirt roads, and trails.  I love trails, but I also like to mix up my training runs to include roads and gravel paths.  I can't wait to get out and explore the Virginia countryside.
Old School – This race is so old school, it's only got one room (sorry, couldn't resist!).  In addition to all of the above, the application process is still mailing in a form.
Fresh crew – My wife who has crewed all my prior 100s can't make this race so I've enlisted my dad to follow me around the course and then drive me back home.  I'm excited for him to see this in person because words are a pale comparison to actually witnessing something firsthand.  Think being told of a sunrise and seeing one. [Aside: the analogy probably works better with car crashes, but I don't want to scare my father more than necessary.]  [Additional aside: just kidding, Dad.]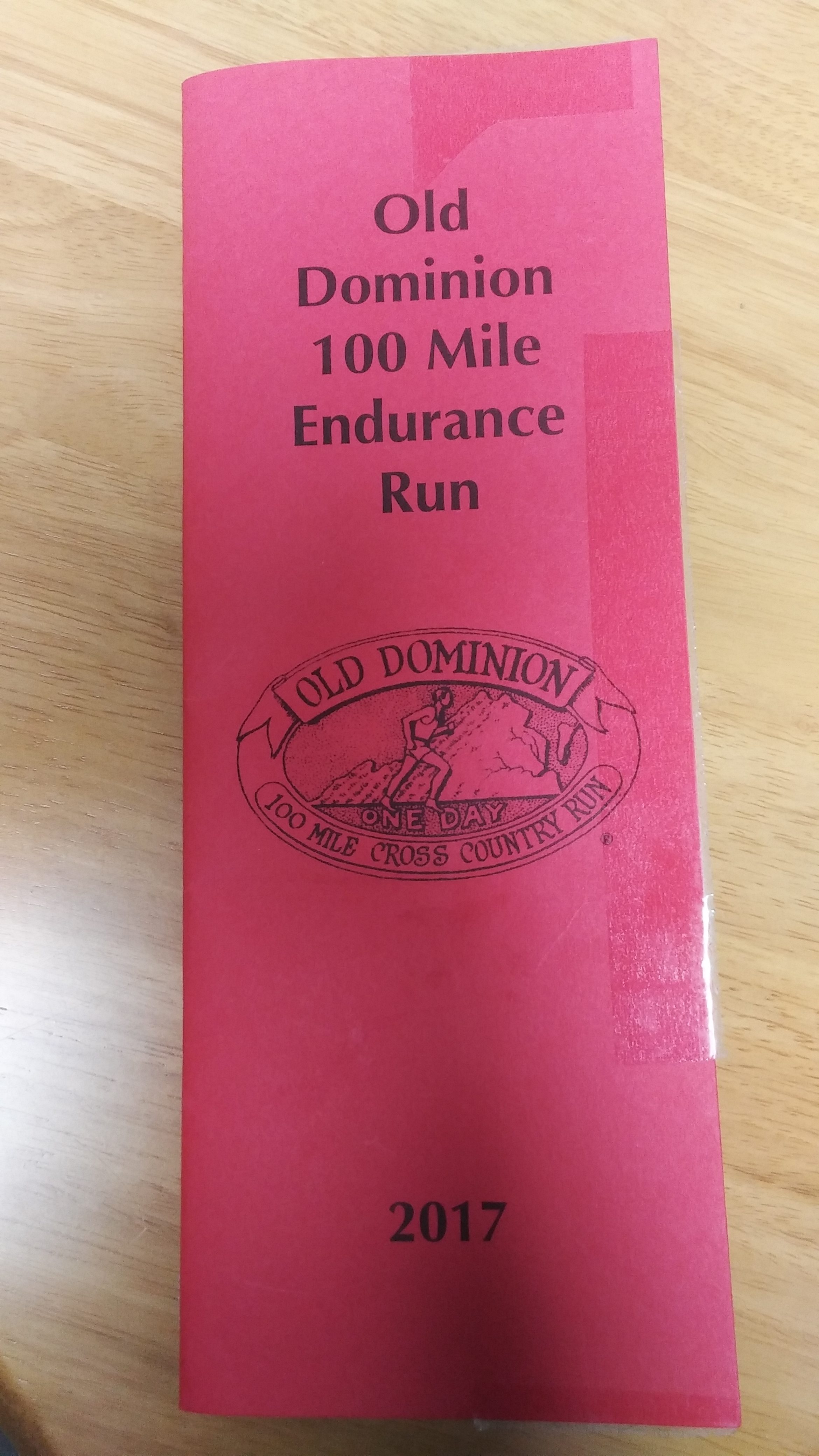 If it's not broke, don't fix it
As far as race strategy, I'm planning on using the exact same plan of attack as Umstead with a twist.  Go out slow, fuel with Ensure Plus, and the tweak is to pop a salt capsule every 30 minutes right from the start.
Pacing will be a little trickier as I'm going to be much closer to a 24 hour finish than Umstead so will unconsciously try to bank extra time.  I need to be fully immersed with my "is this too easy?" mantra right from the beginning as the first major climb tops out at mile 7 and I can't blowup my race too soon.  My mantra is focused on getting me to respond with an emphatic "heck, yeah" and if not to dial back the effort.  The increased elevation gain (14k vs. 8k feet) will make gauging effort more difficult.  While the next 2 pieces to my race strategy will be important, this one will be absolutely critical to get right.
Fueling will also be a little harder as the drop bags are at more varied distances than my last race so I'll need to carry bottles of Ensure Plus with me from time to time.  I'll also supplement with whatever looks appealing off the aid stations, but will likely entail bananas, water melon, and the occasional gel.  I'll be going with one bottle of Gatorade and one of water throughout the race with extra bottles stashed in bags later on so I can swap out to coffee or chicken broth if I want without having to drink a Gatorade/coffee combination or, even worse, the dreaded coffee/broth/Mountain Dew brew.
Salt caps early and often will be my attempt to get ahead of the heat and dehydration that caught up to me mid-afternoon last time.  I'm sure I'll have some dehydration, however hopefully it won't get as bad and I'll be able to recover quicker from it.
Buckle?
This is probably why I'm most nervous heading into the race.  I'm confident that I can finish, but I don't know if I'll be able to go sub-24.  I was feeling halfway confident up until last weekend's atrocious MAF test. It was 2+ minutes (over 5 miles) slower than my previous test and 30 seconds slower than the one heading into Umstead.  I think I was pretty dehydrated from flying back from Mexico the prior day, which may have adversely impacted my time.  Add in the extra stress of running at elevation the prior week and it may not be a wholly accurate assessment of what shape I'll be in this weekend.  Or maybe it is.  Regardless of where I am physically, my best chance of getting a buckle will be running a smart race from start to finish, identify problems early, and staying flexible.  Or said another way, using my (slowly) growing experience in 100-milers to mitigate and offset any physical limitations I may have heading into the race.
And with that, I'm off to Virginia!