I'm always curious what type person runs an ultra so I've pulled together some data on who else ran Burning River 100 this year.  All numbers were pulled from Ultrasignup based on the race results posted on the Burning River website.
Age and Gender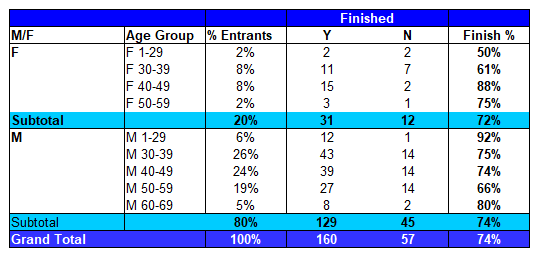 As is typical in hundreds, the starting field was dominated by 30-50 year old men with relatively low participation by women (20%).  Overall finish rate at 74% is on the high side with both genders right at that level.  I know we're talking about low sample sizes, but there didn't seem to be any correlation between age and the ability to buckle.
Ultra Experience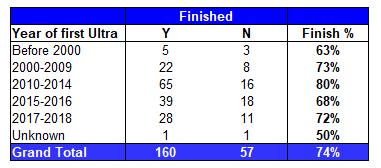 Couple interesting trends here.  First is that almost half the starters (44%) finished their first ultra within the last 3 years and only 18% have been running ultras 10 years or more.  Longevity is the exception in this sport and not the norm.  The other interesting thing is that more experience doesn't always translate into greater success at the 100 mile distance.  Four to eight years of experience looks like the sweet spot before I guess age catches up to you.  So I've got that to look forward to.  Sigh.
Race Experience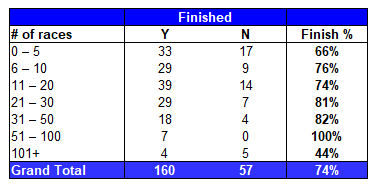 Finally, a chart that makes sense.  The more you race (no matter the distance), the better your chances of finishing a hundred miler.  Unless you've done over a hundred in which case you're pretty much screwed.  The person with the most races (215!) did not finish BR100.
Hundreds Experience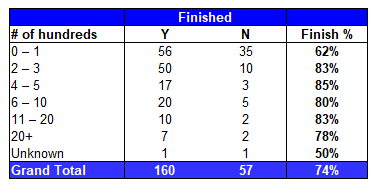 I admit these numbers surprised me a bit.  While it's not unexpected that the very inexperienced dropped at a higher rate, I would have thought the more experience finishing hundreds that you have, the better your chances of finishing the race.  This chart seems to say though that as long as you've finished 2 races you have just as good a chance of finishing as someone who has completed 15.  One person had finished 78 different hundred mile races.
Nine Times
As I'm combing through Ultrasignup compiling these numbers, I noticed that many runners had multiple finishes of this race over the years.  It looks like this is a favorite race for many in the region.  One runner stood out from all the others though – Kevin Kalinowski.  His Ultrasignup page lists only 9 races, but each of them are a BR100 finish (2010-2018).  To go 9 for 9 in 9 straight years is an amazing accomplishment.  And to do so with no other ultra results is pretty unique. So congrats, Kevin.  I bet I know where I'll find you at the end of next July.