TL;DR: 31 finishers of 62 starters = 50%. Volunteering is awesome. Rocks.
I have a confession to make. While I have been a member of the ultra community for a number of years now, I have not necessarily been in the best of standing. You see, up until last weekend, I had only volunteered at one other race. It's not that I didn't enjoy the experience or don't want to give back. It's more a function that I plan what races I want to run, but I don't schedule helping out and life just seems to get in the way.
When Ironstone was announced earlier this year, I jumped at the opportunity atone for my sins and put it on my calendar. Those that follow this site may know that I am mildly obsessed with Eastern States. Since I try to run that race every year, I viewed this as a way to give back to its organization as they were helping put this on.
Volunteer Stint #1
My initial job was at AS2 Williamsburg. It was open from 3-5pm so I got there about 30 minutes early to help set up. Christa and Peg were running the aid station and everything was pretty much already done by the time I got there. The first runners came through at 3:11pm or a blistering 7 minute average pace. The nice thing about helping at this aid station is that runners were well spaced out after 9.75 miles so there was never any mad rush. More a steady flow until the last runner came through about 4:30pm.
I was a little surprised how few runners who came through asking for ice. It was pretty hot out and I would have thought everyone would have demanded some. I know I would have. Maybe because it was still so early they didn't feel they needed any. My guess is several of them regretted their decision over the next couple miles.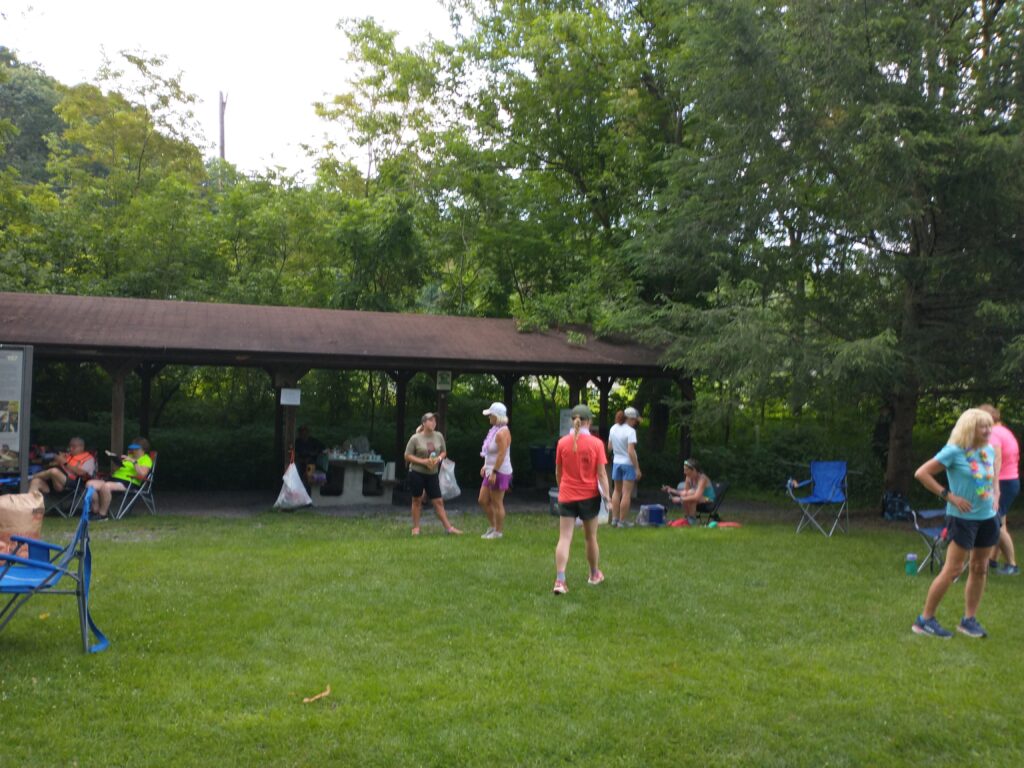 Volunteer Stint #2
After a dinner break, it was off to AS4 for the bulk of my volunteering efforts. Earlier in the week, the RD reached out to me asking if I would be interested in sweeping the course from AS4-AS7. Would I? You betcha! He paired me up with Brad, an experienced ultra runner, which would give me some company.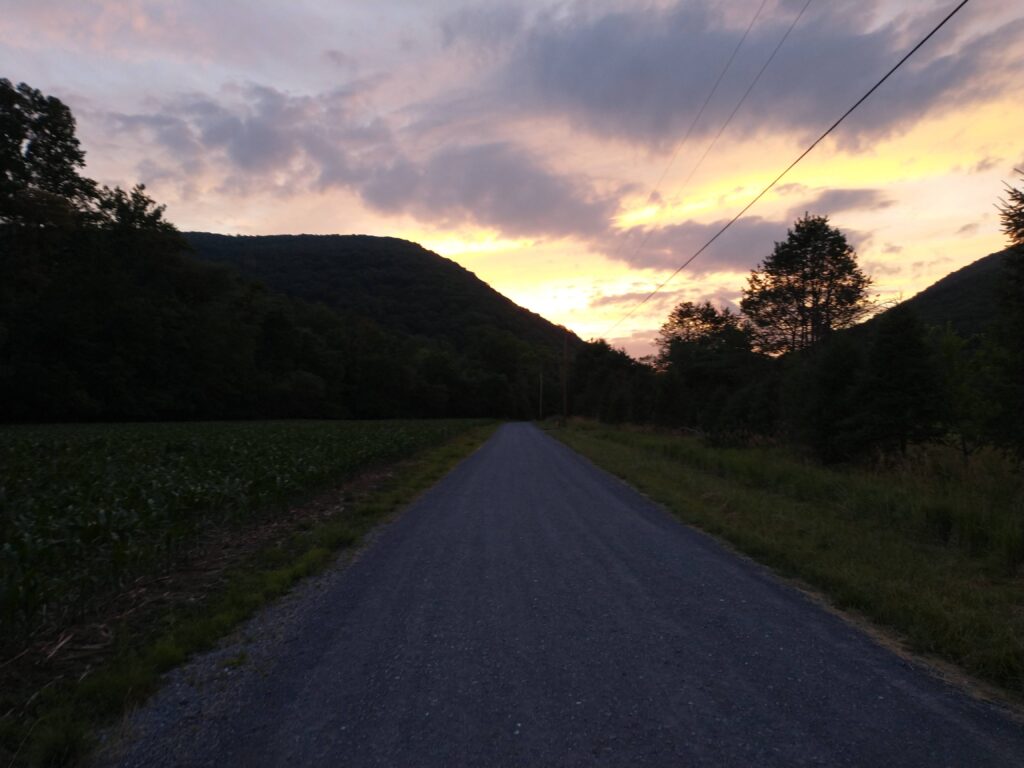 We left AS4 Alfarata at the official cutoff time (8:15pm), which ended up being about 30 minutes after the last runner had left. The section to the next aid station is 6.9 miles and starts with a very chill 3 miles. I started joking with Brad that this wasn't what I signed up for (yes, I'm an idiot). The first real climb came 3 miles in and boasted 1,300 feet of elevation gain over about 1.7 miles. We were fresh so it didn't feel too bad. The runners ahead of us probably had a tougher time with it. We came up on our first runner not too long after the top and then the three of us started navigating what quickly became one long continuous trail of rocks.
And then we came to Rainbow Trail. Words fail at explaining the 350 foot drop in about a tenth of a mile on very loose rocks. The absurdity of it ranks a Spinal Tap 11. I was literally LOL skiing down the slope. At the bottom, you make a right for a short hike up a fire road into the aid station.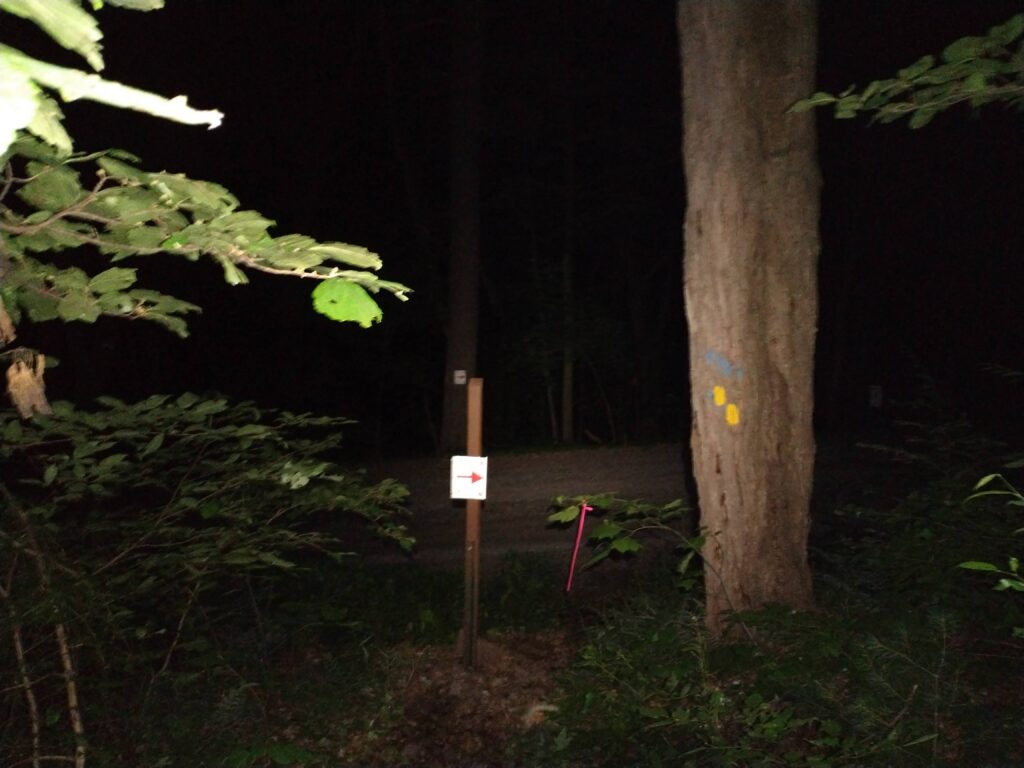 Brad and I topped up our fluids, grabbed some food and headed out of AS5 Colerain at 11pm. Two runners had left right at the cutoff of 10:45pm. I've done a race or two over the years, but the next 8.9 miles had the longest section of technical trails that I've ever encountered. They weren't the most technical, however there was never any letup. It's seven straight miles of rocks stacked on top of and next to rocks with zero flat footing. You're moving along trying to decide which rock is least likely to twist your ankle. I was still pretty fresh, but the terrain was even starting to get to me.
The other almost equally frustrating thing is that you would come to these open boulder sections with the most amazing views. Or, you know, great views if it wasn't 1am and your headlamp only illuminates 30 feet out into the valley. Totally uncool.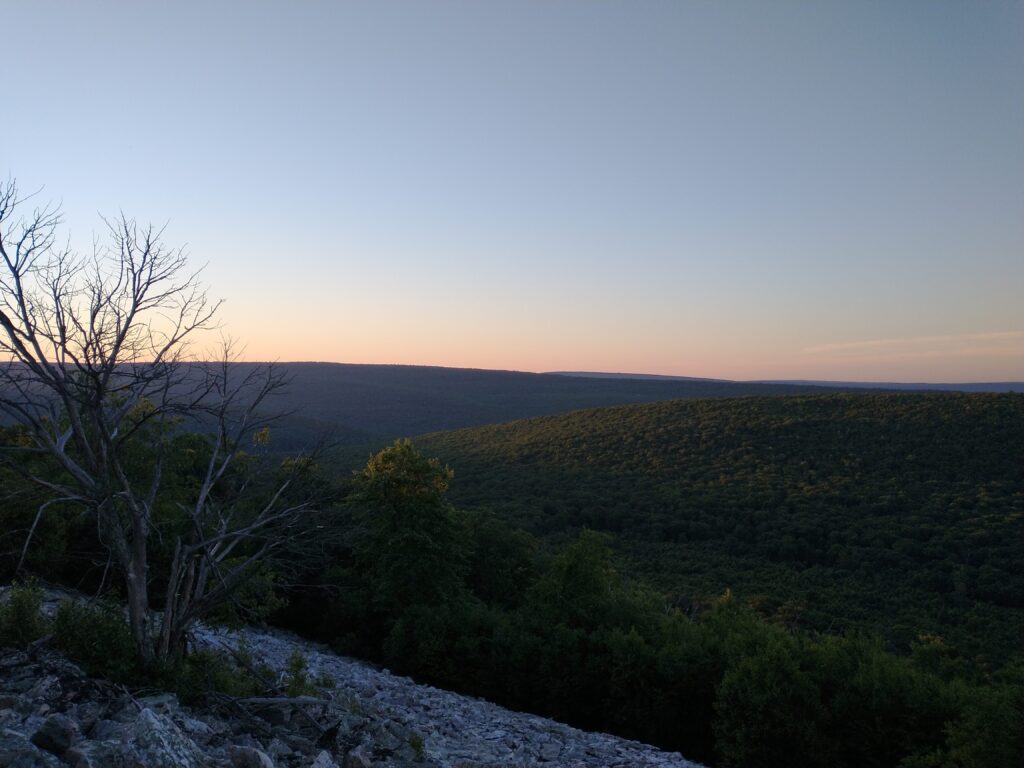 We met up with a pair of runners maybe two miles into this section. They kept up a fairly constant stream of banter as we went along and I was never able to tell if they were lifelong friends or just a pair of runners who bonded quickly due to the strenuous conditions. Probably the latter. While they were moving slowly, it was with a purpose and I think they were a little relieved that they wouldn't have to go any further once we reached the next aid station. The only silver lining to this miserable section is the last mile or so is a very runnable downhill trail.
Brad and I spent a couple extra minutes at AS6 Indian Steps as we had 13.6 miles left to sweep with only a water stop between us and breakfast. We left at 3:15am. This was 45 minutes behind the last runner on the course and neither of us thought it likely we would catch them. The section starts off with quick 500 foot climb in half a mile. Yeah, it's basically straight up. It's a little rocky up top, but not quite up to par with what came before.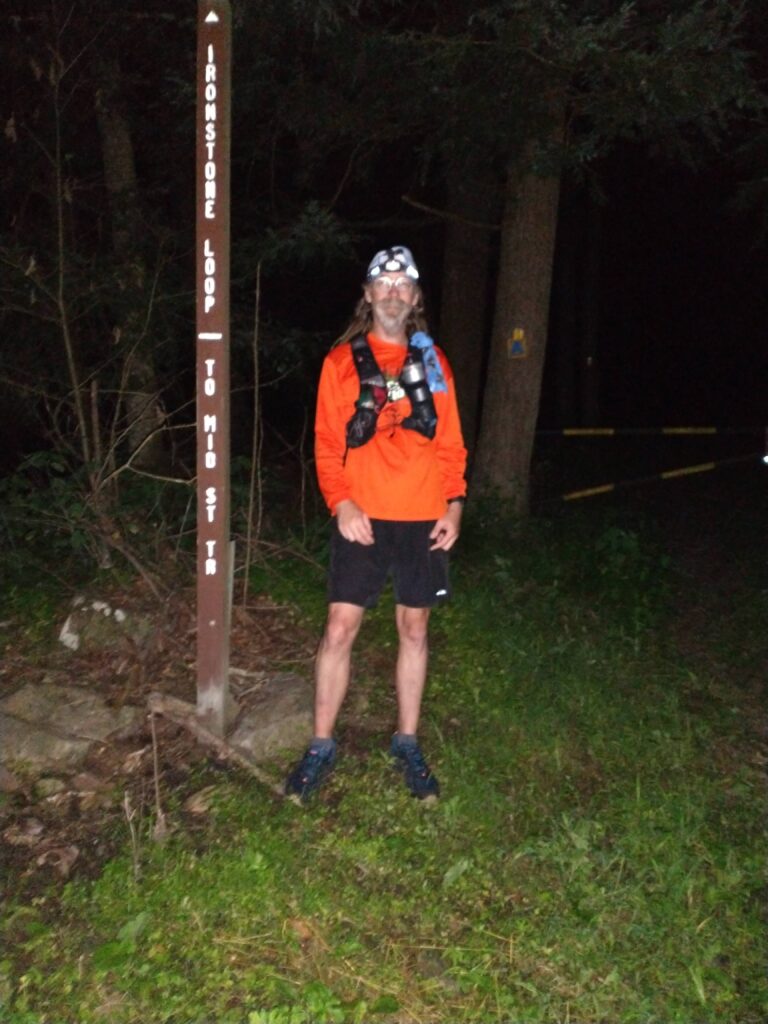 The trails overall in the section weren't that bad. We consciously slowed down and took our time though. As sweepers, our #1 job was the safety of the runners on the course, not knocking out quick miles. We hiked sections that would normally be run because it only takes one small rock to trip you up. Our third and final climb (700 feet, 0.75 miles) was right before the Jo Hayes water stop.
The 7.4 miles into AS7 was all up on a ridge with small little ups and downs. The best part of this for me was the sun came up so I could finally enjoy all the views I had been missing for the prior 10 hours. There were still rocks all over the place, but there were some spots that even a mid-packer like me could have run. Well, if I had wanted to. Brad and I were having too much fun just hiking along and there was no point in pushing things. We rolled into Little Flat a little after 8am or almost 12 hours after we had begun.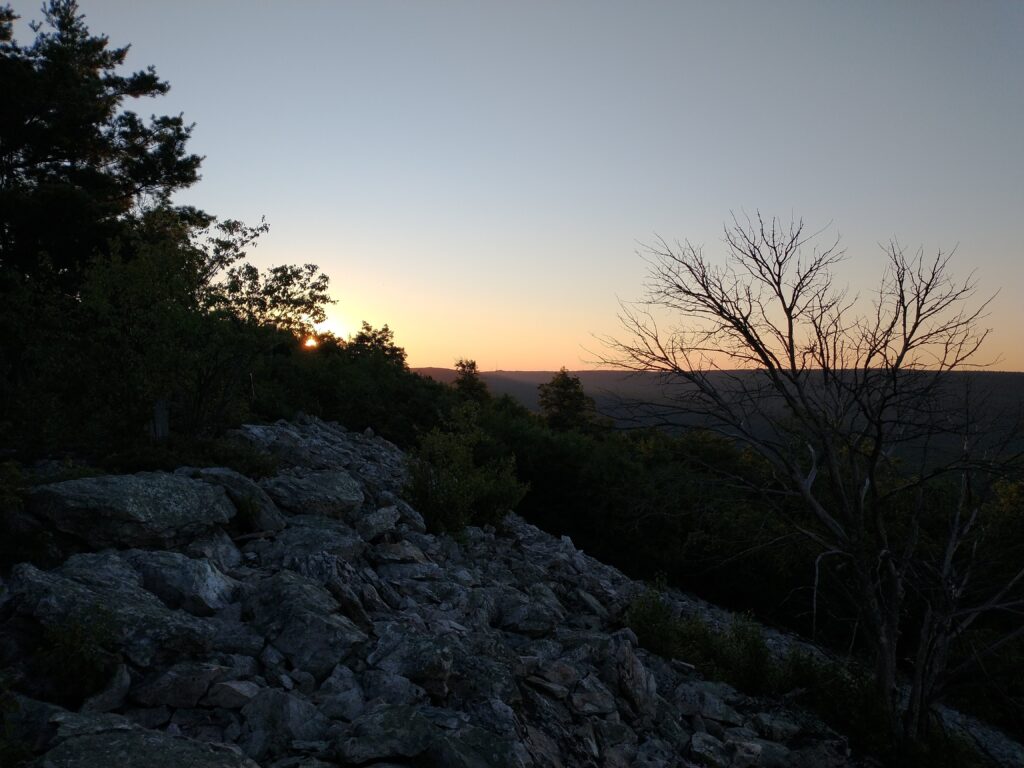 In the 30 miles of the course that we covered, we ended up running maybe 5 miles. There were probably 3-4 more miles that I would have run if I had been racing the sections. And maybe half of that would have been spread out over 25-100 yards sections. When looking at the course profile, add 3-4 minutes to your expected pace as you will be hiking at least 20 miles of this at a ridiculously slow crawl.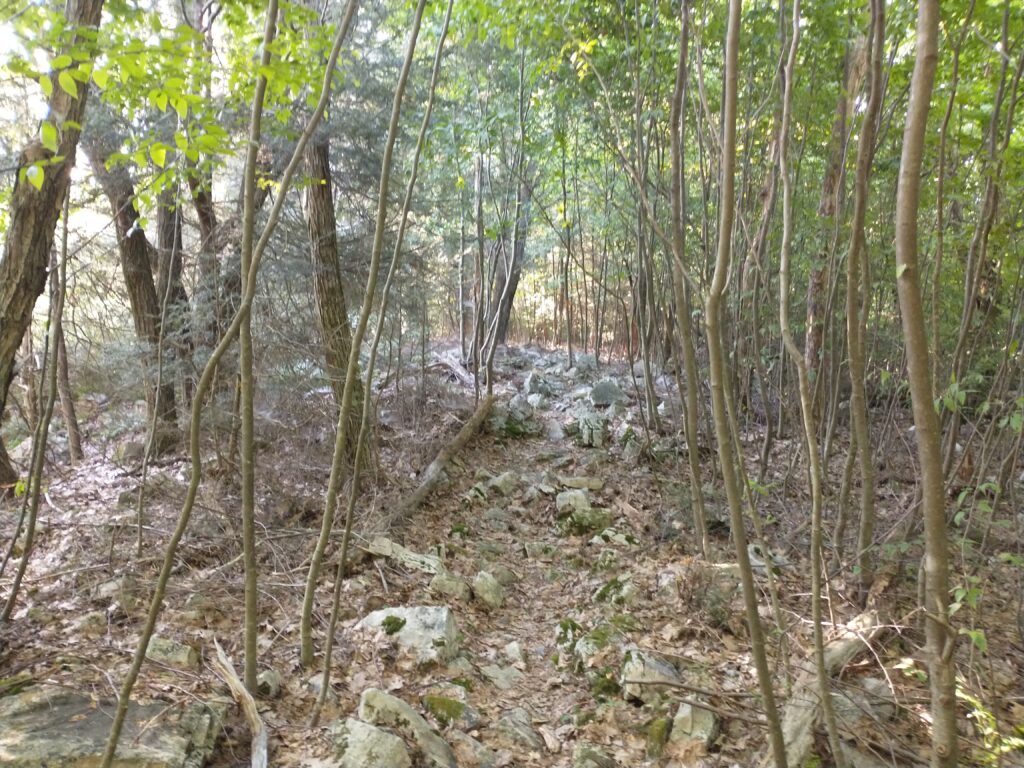 Thoughts on the Course
This race is not for everyone. Actually, this race is probably not for most people. Some won't like a flat 20 miles. Some won't enjoy the following 40 miles of elevation change. And most of the remaining won't be too keen for all the rocks. The remaining handful though will be thoroughly delighted with the challenge of Ironstone. Well, challenges really which I'll list chronologically:
Heat and humidity. This is PA in July after all.
2pm start time. Forces everyone to run through most if not all of the night.
Flat start. Good luck finding an easy enough pace.
8,000 feet elevation gain. Decent for a 100k, much tougher considering it's crammed into 45 miles of the course.
Rainbow Trail. I swear you have to experience it to believe it.
Long gaps between aid stations. Seven, nine, six, and seven miles in the middle of the course at night with 13 and 9 between full aid stations.
Technical, rocky terrain. Rocksylvania squared.
What you will come to realize though is that Ironstone 100k isn't a name and the race distance, but a brief description of the course itself: One hundred thousand iron stones. Don't say you weren't warned!