Today's was not a magical, fairytale run.  There were no rainbows and unicorns.  It was not a blazingly fast or effortless endeavor.  This was one of those tough, workmanlike affairs.  It wasn't exactly a check-the-box off type workout, but it was close.  And that's really fine with me.  Not every run has to be special or meaningful.  Frankly, most of mine end up being a lot like today; just git er dun.  I don't think there's anything wrong with that either.  The important thing is to get out the door, log the miles, and stay healthy.
Long runs are key when training for marathons and beyond.  Today was the 12th training run of 20 miles or more this year.  Add in the 5 ultras that I raced and I've gone over 20 miles 17 times this year or once every 3 weeks.  This compares to 13 and 5 or 18 total last year, 20/4 (24 total) in 2014, and 13/3 (16 total) in 2013 when I really starting ramping up my mileage heading up to my first marathon.  I'm planning on busting out two more 20+ mile runs before the end of the year, which will put this year solidly into #2 position.  This is a healthy number for me (24 not so healthy) and while it's not a number I focus on too often (I had to go back and calculate these totals from my training log since it's not something I track), I believe my success at the longer ultra distances can be traced back to my ability to consistently crank out these long runs.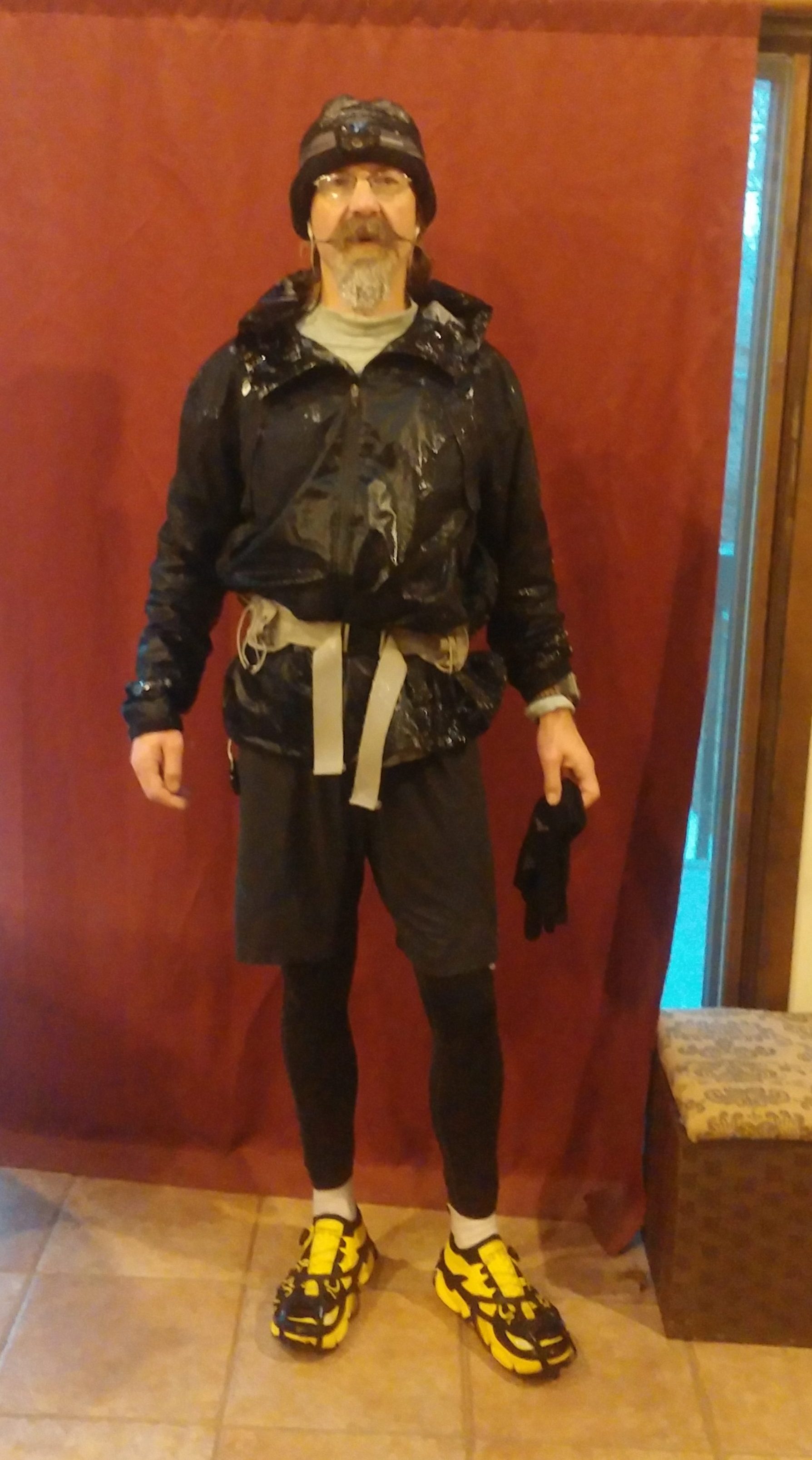 Which brings me to this morning's suffer fest.  OK, the whole run wasn't really that bad though you wouldn't know it from looking at this picture.  The forecast was snow switching over to rain about 7am so I got up at 4am so I could get most of the run done in snow rather than rain.  I really enjoy running during snowstorms.  I really don't enjoy running in freezing rain.  So this ended up being a bit of a Dickensian run.  The first 8-10 miles were nice though the snow was closer to sleet than the fluffy stuff you think of as snow.  The second half steadily deteriorated as the sleet changed over to light rain which changed over to a steady rain.  I had been borderline hot to start out with when the temperature was 26.2 degrees and was rather cold by the time I got home and it was 29.7.  Nothing like a little rain to make a slight increase in temperature feel like a 10 degree drop.  The only thing that was really cold were my hands and I was managing OK.  I may have been in trouble if I had another hour or 2 left in my run, but as it was they weren't too frozen.  I was smart enough to pack a backup pair of gloves and switched to them with an hour left to go.  If I had been really smart, then I also would have packed hand warmers but think we're out.  Without the rain, I would have been fine, but rain always sucks the heat out of your body.
My pace was fairly steady at about 10 minutes through the first 12 miles, however I seemed to slow down as the rain increased.  Part of it was my legs were getting tired sloshing through the 1/2″ slush.  Part of it was my motivation starting to drop the wetter I got.  And part of it was just that 20 miles is a long way to run, dude.  I started mixing in some short walk breaks on the uphills during the last 5 miles, which slowed my pace down.  At that point though, I was more concerned about over exerting myself so early in my training cycle than running each and every step.  Considering the conditions of the roads, I probably ended up running the equivalent of 22-24 miles rather than the 20 that flashed across my Garmin (or would have if my battery hadn't died 1.23 miles out – grrrrr).  So I took it a little easy and cruised it in.
I have to give a shout out to my Kahtoola NanoSpikes.  They were the perfect traction for me on the roads and I don't think I slipped once.  They were a door prize/gift from my 2015 Oil Creek 100 race and while I'm not sure I would ever had bought a pair on my own, I'm glad I got them.  They've held up rather well the couple times I've used them.  It doesn't look like the 20 miles wore down the metal studs at all on them.  The different wear did mess with my feet a bit as the run progressed (bottoms sore, large blister).  I probably could have handled another 10 miles or so, but anything more than that would have been very uncomfortable.  Of course, they're probably not designed for those distances, but they worked great for 20 miles.
Overall, I'm happy with the run.  Parts of it were enjoyable (dodging all the snow plows, running my old road route).  Parts of it not so much (rain, harder rain).  That's how my training usually goes – just grinding and chilling.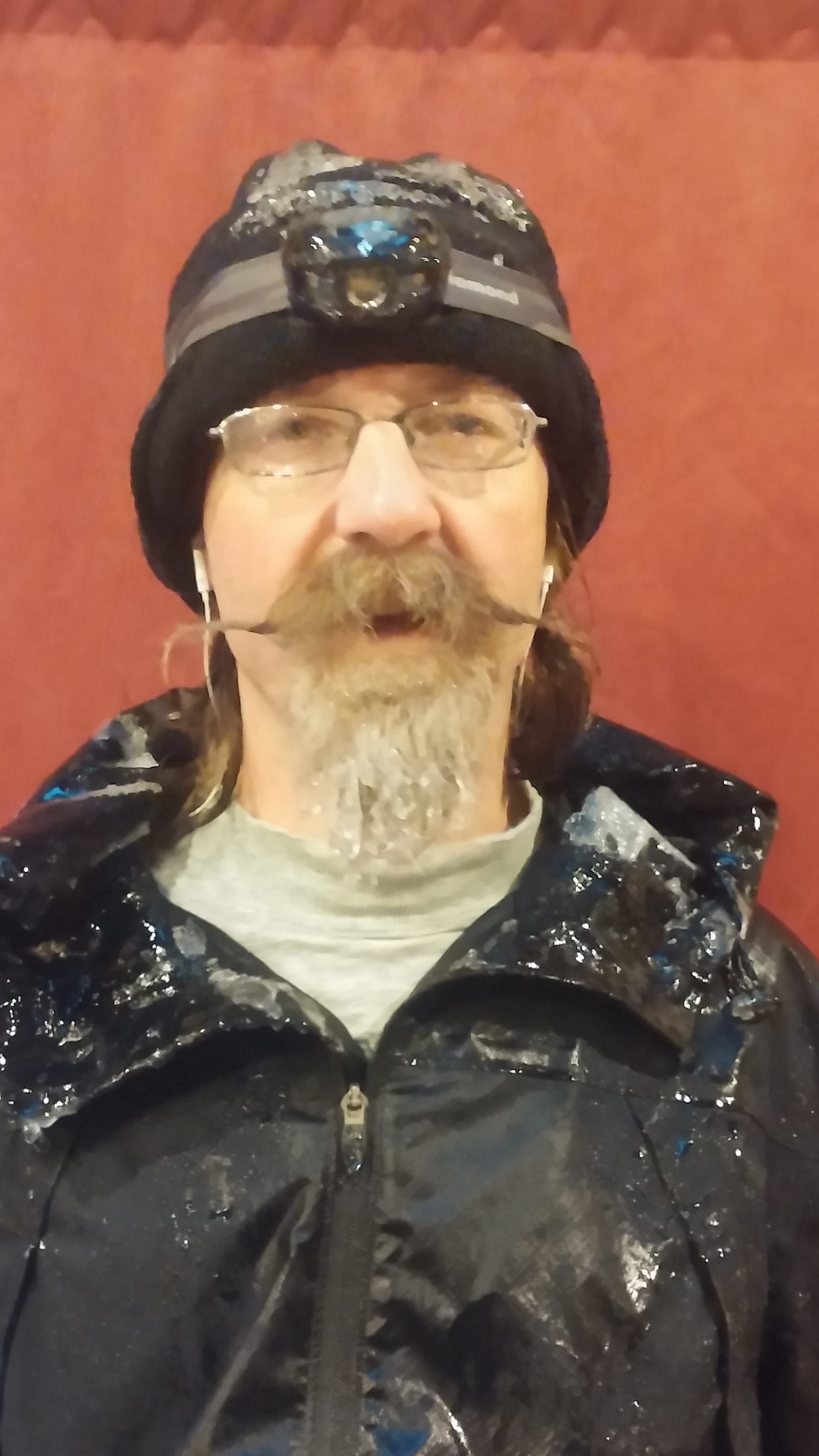 Do you feel yourself grinding through you training cycles?