MMT100 is a 100.6 mile race put on by the Virginia Happy Trails Running Club in the Massanutten mountains of the Shenandoah Valley. The single loop course has 10 major climbs with 18,500 feet of elevation gain. Runners are provided 35 hours and 15 aid stations to cover the course.
And while accurate, that description fits this race about as well as calling the Pacific Ocean wet. Let's see if I can't do a little better than that.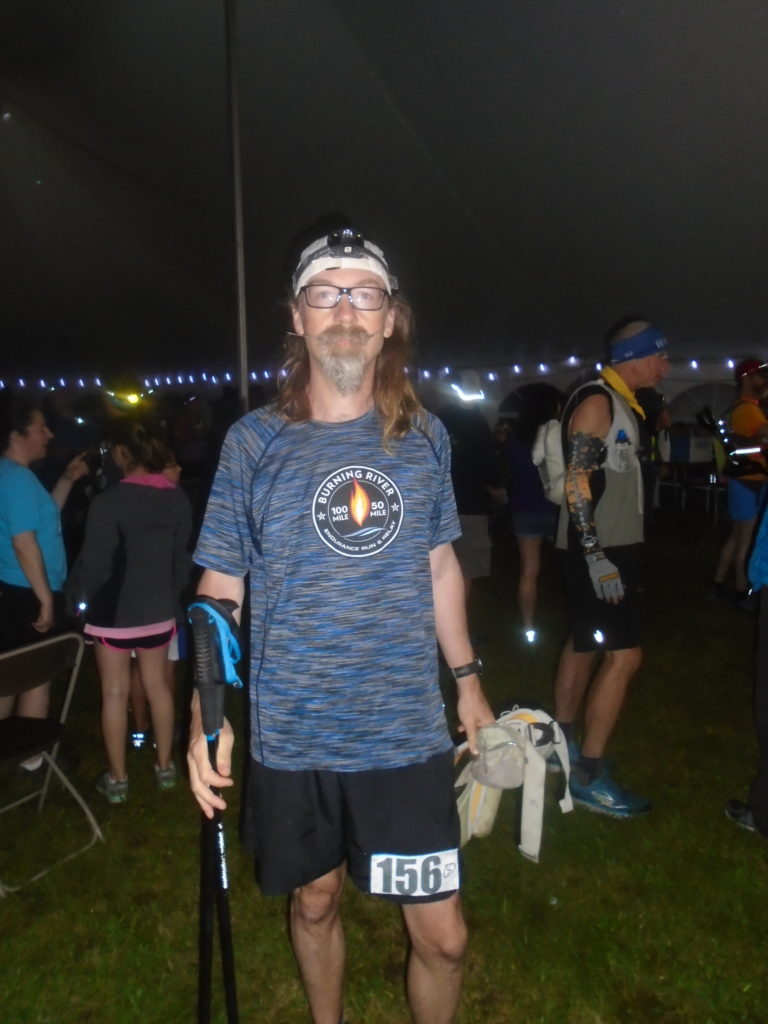 My wife and I drove down from PA the day before the race. I like to get places early so we were the first ones to pull into the field to set up our tent a little after 1pm. Registration started at 2pm and I was in and out pretty quickly as there wasn't much of a line. I deposited my drop bags then waited around for the 4pm pre-race meeting. It was your typical update on race logistics and course markings until they mentioned a mamma bear and cubs were spotted at the camp entrance the prior day. OK, Mr. RD, you now have my undivided attention. Dinner immediately followed and then it was time to chill until time for shuteye. I enjoyed chatting with the other runners camped near us and it made the time pass quickly quicker.
It cooled down a bit overnight, but didn't get below brisk before the 4am start. The race begins with a 4 mile road section up to the first aid station, Moreland Gap, which only had water. Another runner, Brian, who was wearing the twin to my Nathan waist belt, mentioned how more people were walking it this year. That didn't seem to be the case to me as most were running virtually the entire section. I had randomly started towards the front and slowly moved backward until I was in the the last 10% or so of the pack.
After about 5 miles, we got to the first real section of trail heading up Short Mountain. I had heard from other runners the night before that this was the hardest climb and was looking forward to getting it out of the way. Unfortunately, it's far from the worse this course has to offer. Just the hardest up until that point. Once over the top, the conga line of runners bunched up on the extremely technical trail kept things at a very easy pace.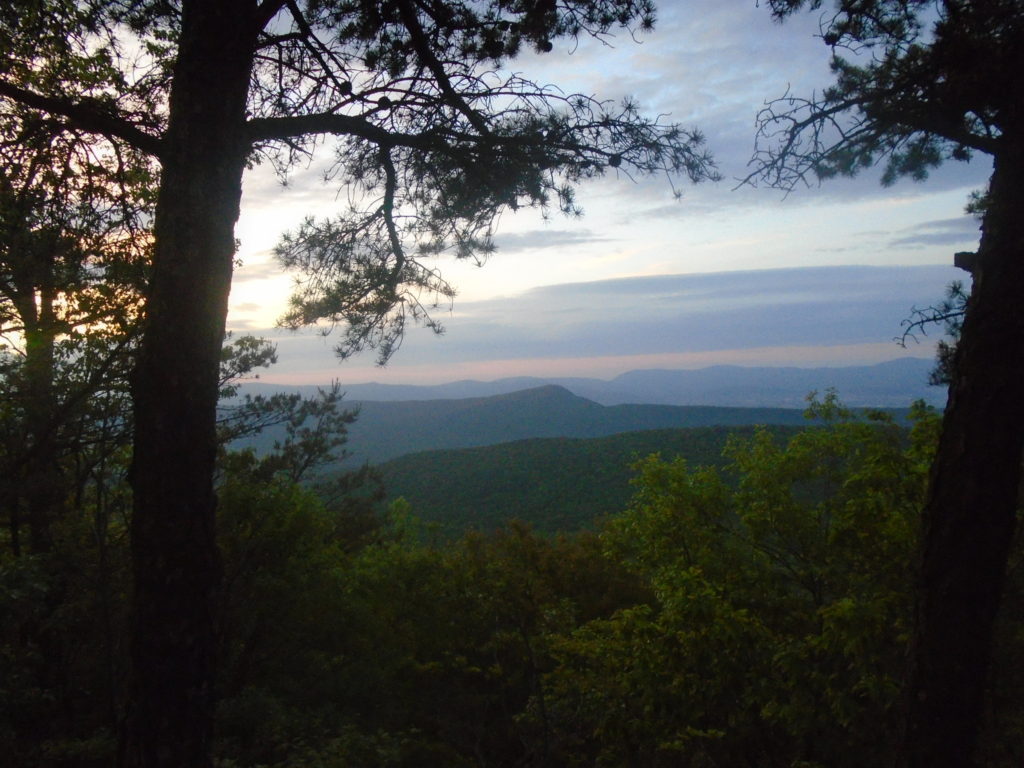 And this was perfect for me. Well, it wasn't mentally because I was getting a little frustrated, but it was physically since it matched up with the first of my 3 key strategies for running the race, which was to find my too easy pace. I have been known to start out too fast, however by putting myself in the back of the pack I knew I wouldn't be able to push things until well into the race.
Things were moving along splendidly up until mile 10. I was fishing around in my pack for some calories and got distracted from where I was stepping. Before I knew it, my right foot landed wrong (so wrong) on a rock, my ankle bent in a way God did not intend, and I heard a pop sound. Now there's a long list of things you don't want to hear during a 100 mile race (i.e. "sorry the aid station just closed", "the rain's only supposed to last another ten hours", "Bear!"), however the sound a cork makes coming out of a champagne bottle right up there at the top.
My first thought was that my race had just ended before it even barely began. My second was that I was only 60 miles away from an ace bandage in my Gap Creek drop bag (doh!). I slowed down, but was able to keep moving forward despite the ankle being very sore. I then spent a couple minutes debating whether it was my ankle that had made that sound or whether I just managed to dislodge a rock. I decided it didn't matter what had happened and that I just had to deal with things to the best of my ability. My strategy at this point was to land my right foot as flat as possible and hope things didn't get worse. Thank goodness I had started the race using trekking poles as this helped brace my steps and kept me from putting more pressure on the foot than absolutely necessary.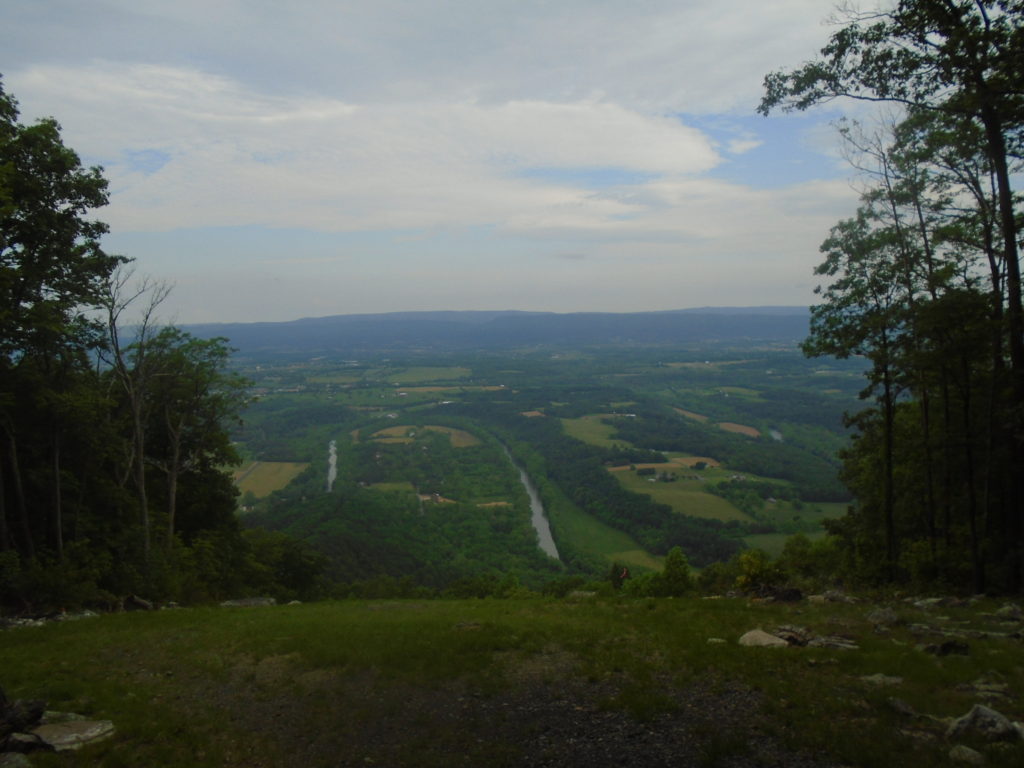 Eventually, I made it into Edinburg Gap at 7am or right at a 15 minute pace. My wife who was spectating me came up and we chatted as I was perusing the food in the aid station. I didn't mention my ankle because there wasn't anything she could do and I didn't want her to worry. Well, more than she already does. As is typical for me early in these races, I was in and out in a minute or so.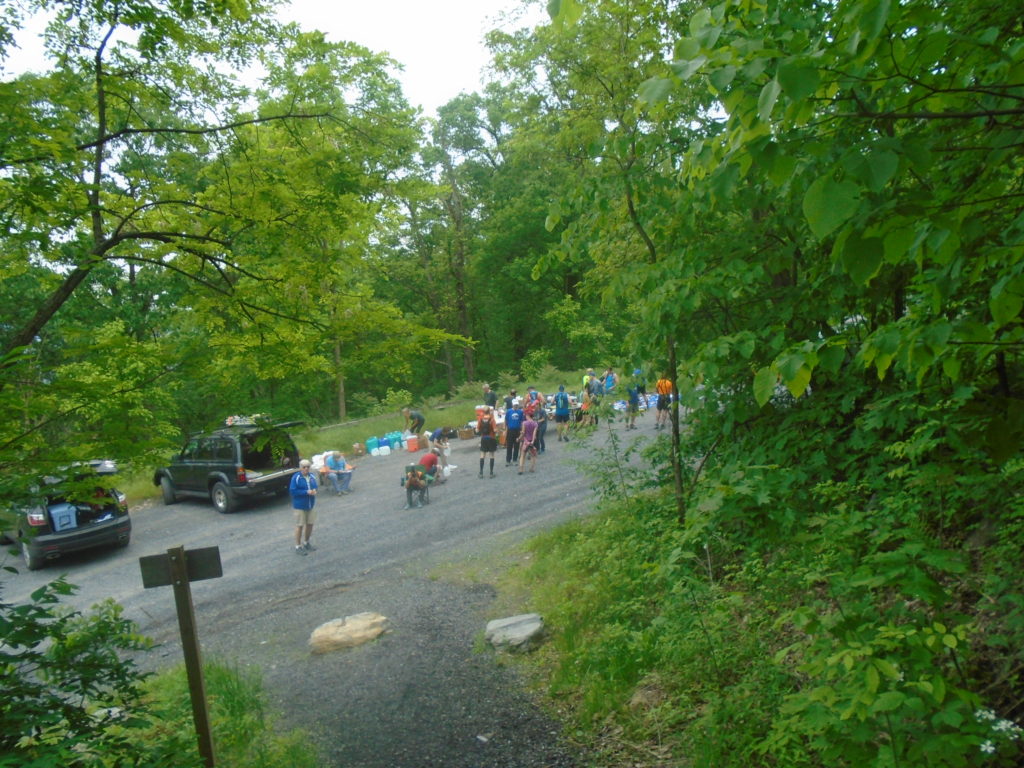 It's another 8 mile section into Woodstock Tower, which I was able to knock out in another 15 minute pace. I didn't really have any time goals for this race, but it was nice to know I had built up about a 2 hour buffer on the cutoffs. There's nothing more tiring than having to worry about getting pulled from a race and this let me keep clocking a too easy pace. My ankle was contributing to my speed as well though I could have done without that help. I grabbed a couple Ensure shakes from my drop bag and was down the trail in a matter of minutes.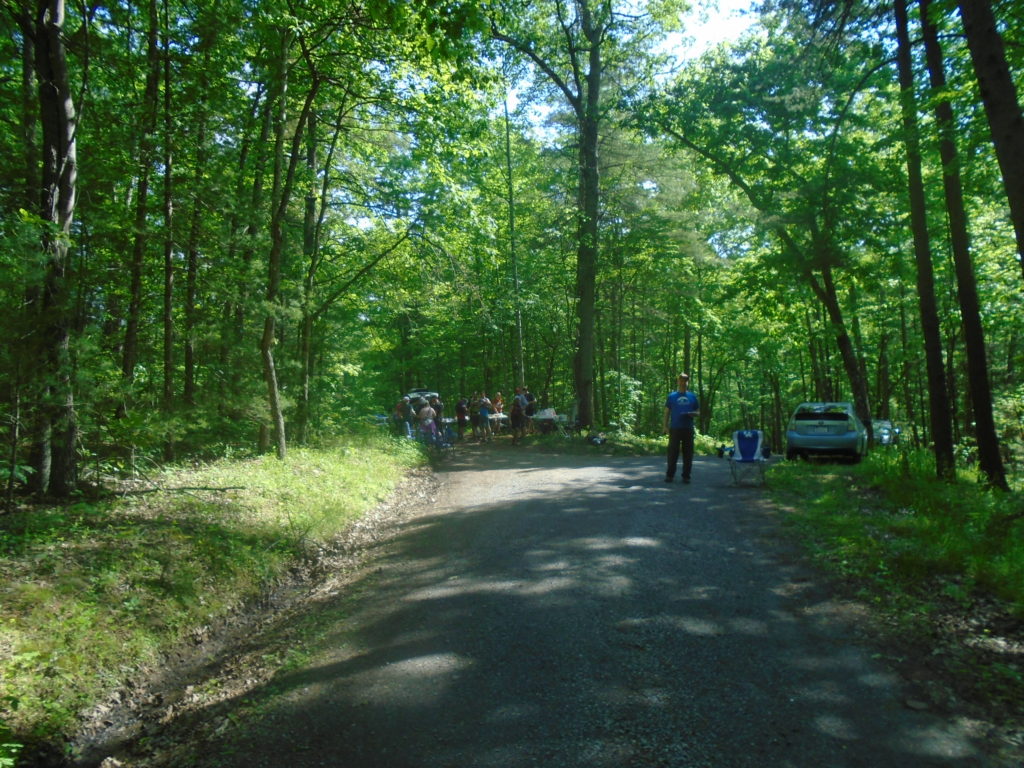 I don't remember much of the next section, though I had some bacon at Powells Fort. Unfortunately, it didn't agree with my digestive system and I was forced to spend a little extra time off trail getting acquainted with nature.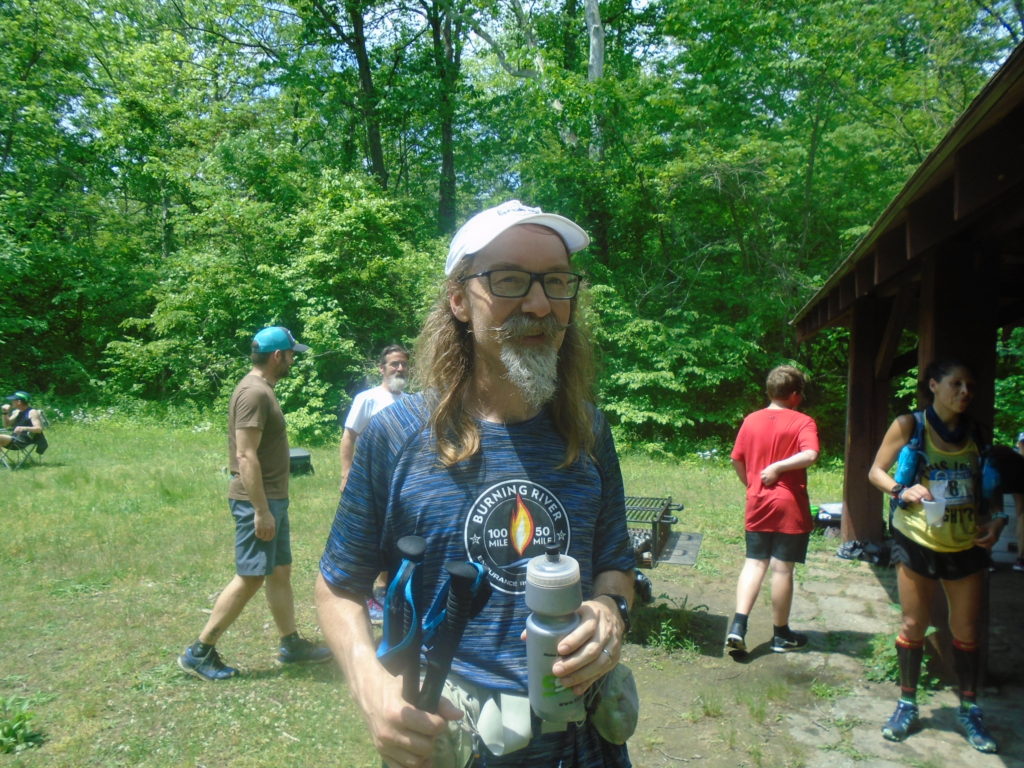 It was along through here where my second race strategy came into play. Namely, surviving the day. The temperatures were supposed to get up into the 80s and the only way to deal with this would be to slow down and take it easy. I was staying on top of my hydration based on my periodic trips off trail to visit the little boys' tree, which was a good sign.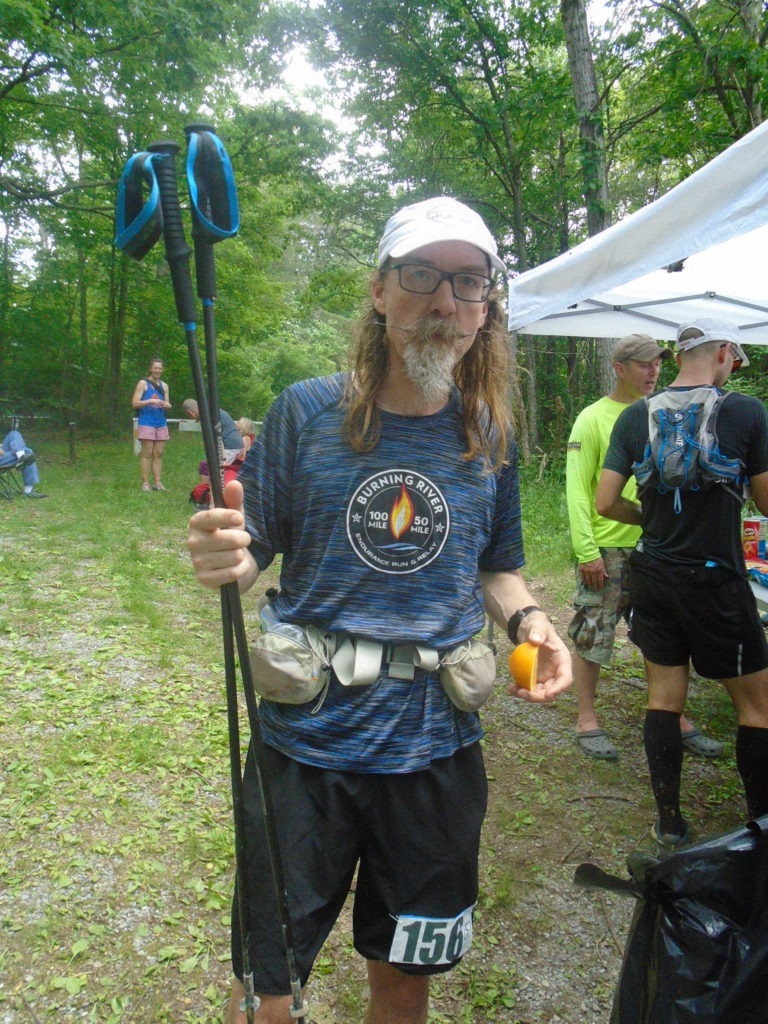 My pace had slowed down to 16-17 minute miles over these sections, however I was still moving well. I was in and out of two crewed aid stations (Elizabeth Furnace, Shawls Gap) with barely a break in my stride. I feel a little sorry for my wife following me around the course since she hardly sees much of me. Unfortunately, this sometimes backfires as it did during the second of these stops as I forgot I had a drop bag here. I was a ways down the trail before I realized I forgot to access it. The epic fail here is that it had two Ensure shakes for me (one to chug, one to pack), which means I was now down 700 calories as I entered the hottest part of the day. The wheels, they were starting to wobble.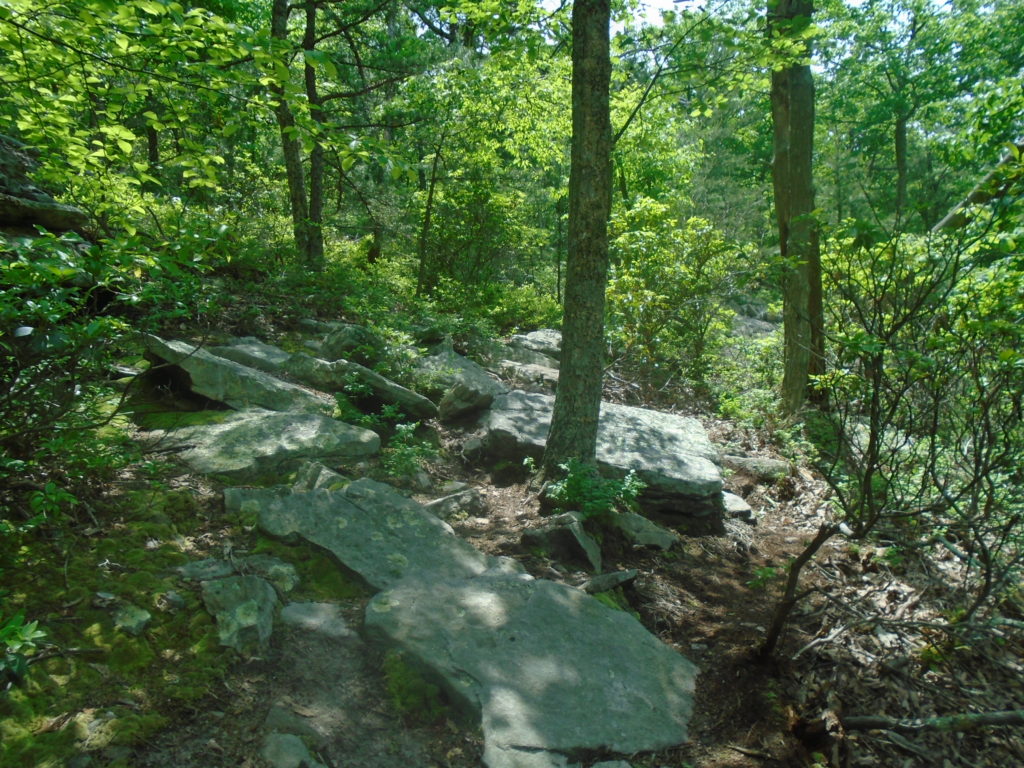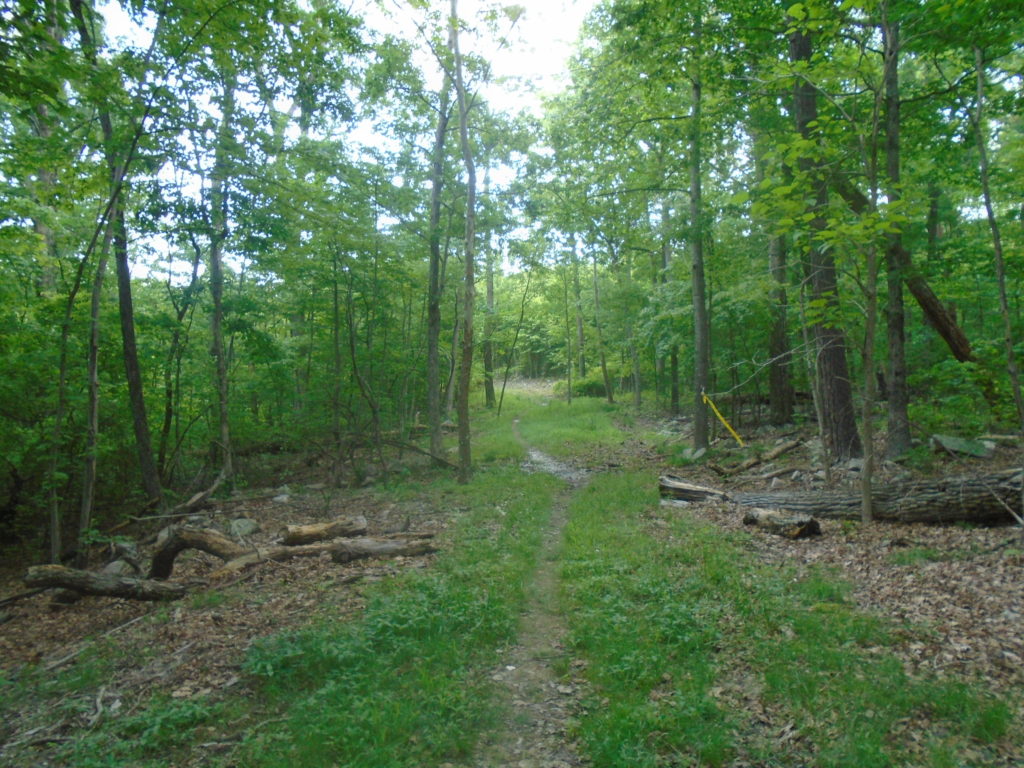 Oh, hey. You remember that broken rolled ankle back at mile 10? Turns out I didn't do quite as much damage as I originally feared. Somewhere around miles 40-50 I completely forgot it was a thing. It wasn't until I landed a little wrong on my right foot (and felt no pain/discomfort) that I realized my "land flat and don't screw it up worse" strategy had paid off. So the next time this happens to you, forgo RICE/braces/compression and all those other "cures" and just go knock out a 40 mile trail run to loosen things up.*
* I am 100% joking here. This is truly a case of "don't try this at home" and I consider myself lucky it wasn't anything serious.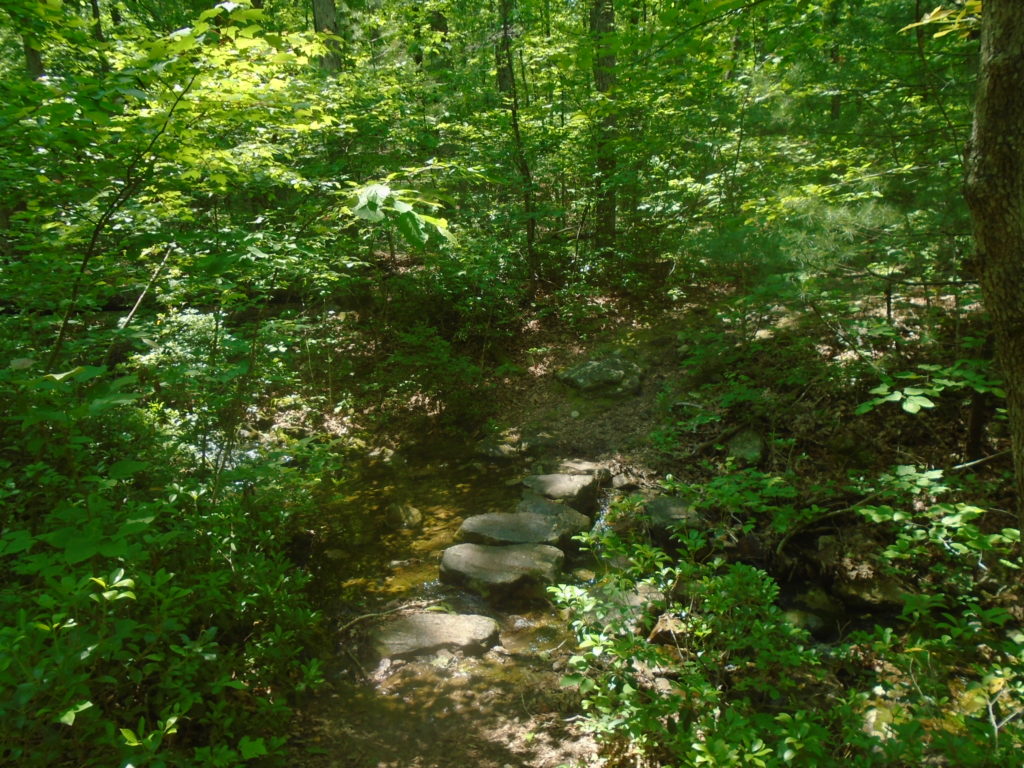 Veach Gap was the first aid station where I consciously decided to slow down and take my time. The next section of trail is arguably among the most difficult on the course considering you need to cover 9 miles in the hottest part of the day. So I took extra minutes to grab whatever food looked appetizing (fruit, gummy bears, M&Ms) and loaded up my pack with a large snack bag. I drank some extra water, tossed ice into my hat, and then made sure I had both bottles completely topped off. The last thing I wanted to do is run dry here as that could mean the end of my race.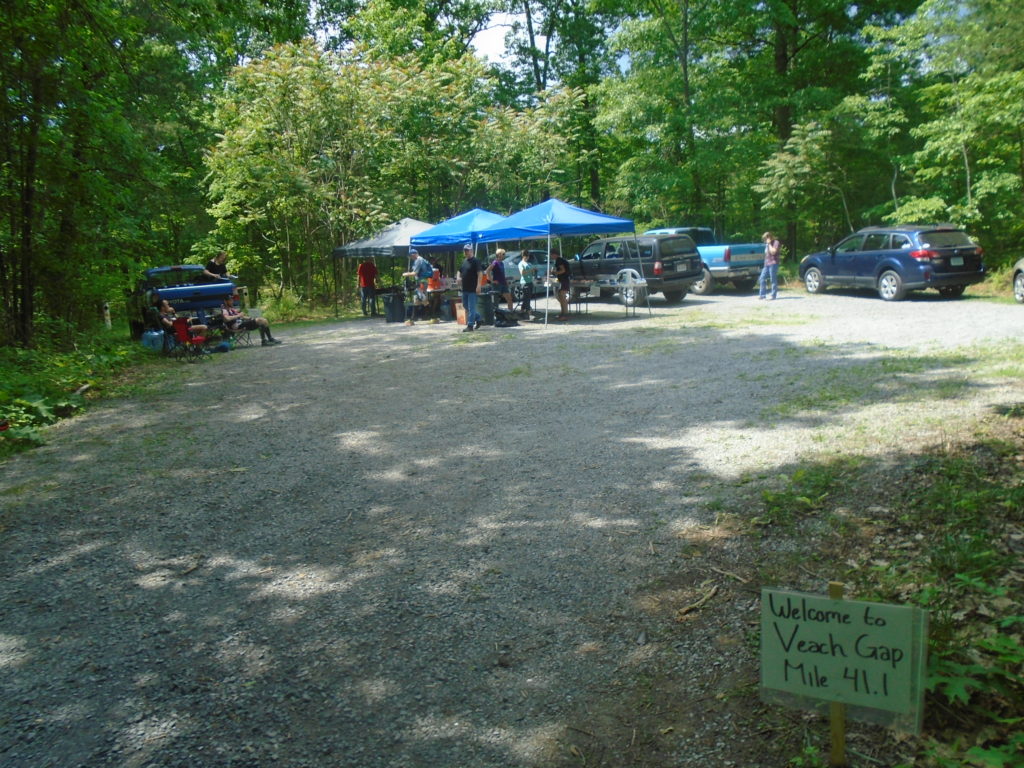 I don't remember much of the next section of trail (heat induced amnesia?) other than I had met back up with Brian from earlier in the day. He provided some information of the trail, but it's rather straightforward: 2 miles up, 5 miles over, and then 2 miles down. There was a water drop about 6 miles into the section. I was still doing well on fluids, but decided to top up one bottle just in case.
As I went along, I started dragging more and more. My pace dropped off to 19 minute miles though at the time I didn't know this. You see, I had set my Garmin to Utratrac mode to conserve my battery. While this helped it last the entire race, it was wildly inaccurate on distance and pace. So I really only had a ballpark idea how far it was until the next aid station. I didn't have any time goals so this wasn't a major issue. If anything, it helped me stay in the moment rather than looking ahead and fretting about how much farther I had to go.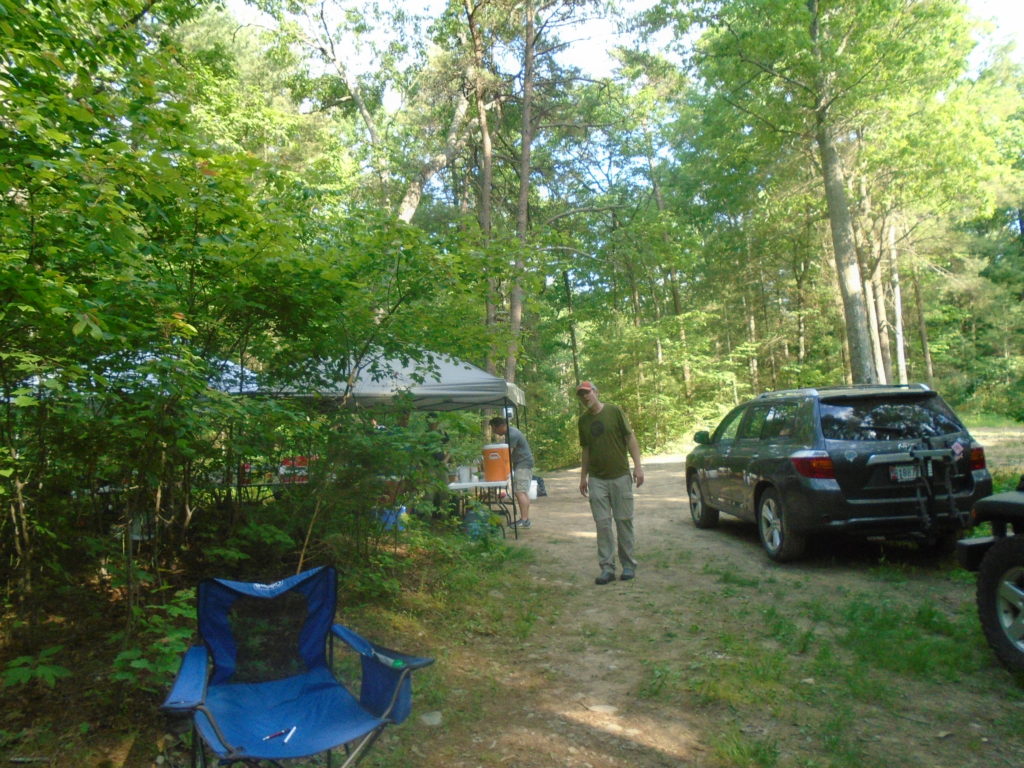 I got a huge mental boost entering Indian Grave Trailhead, which isn't uncommon for me. I'm not sure if it's the energy of the volunteers (which are awesome at MMT!) or the fact that I can shut my brain down for a couple minutes. It could also have been that I was now halfway through the race and would see my wife again after a short road section. Whatever the reason, I felt like I was on top of the world as I joked around with the volunteers. I It wasn't until I was leaving the aid station that I noticed 4 chairs occupied with runners who looked like they'd reached the end of their run. I felt a little bad about being as perky as I was in front of them. Karma didn't take too long to catch up with me as I was only 10-15 minutes down the road towards Habron Gap before I went from feeling awesome back to meh. Sigh. Stupid ultras.
When I got into Habron Gap, my wife walks up to me and I tell her I need a chair. She points to hers which is about 20 feet away and I ask her to bring it over to me right at the aid station. The irony isn't lost on me that I can cover 100 miles through the woods, but can't bring myself to walk a couple feet out of my way getting to an aid station. At this point, once I reached an aid station it was all about rest and getting what brief reprieve from moving I allowed myself before it was time to head back out onto the course. I was firmly executing the last of my race strategies, which was to move from aid station to aid station. Once there, I gave myself 5 to 10 minutes to sit in a chair, get what nutrition I needed, and then push myself back out onto the course towards the next mini oasis.
I left Habron Gap with Larry who became my unofficial pacer for the next 3 hours. He was stronger than me on the last section so I let him lead me up the longest climb on the course. We chatted about races, strategies, and what was coming up. He was on his way to his 7th MMT finish so I soaked up all the knowledge I could get. About halfway up, I decided to let him go as I needed to start conserving energy. He pulled ahead a little bit, but we kept within sight of each other over the rest of the section.
The first bit after leaving Camp Roosevelt was the wettest on the course. It was a flat to very modest incline (well short of a climb) and it was difficult to find solid footing. So lots of hopping and sliding and generally just slow, wasted effort. Eventually, the trail makes a right turn and pitches upward at a decent angle. Unfortunately, you still have to slog through wet conditions until you get part way up the mountain.
I arrived at Gap Creek for the first time right at midnight. Twenty hours to go almost seventy miles. This would be the last time I would see my wife for a while as she was getting a little extra shuteye so she could drive us home after the race. Word around the aid station was that it was breezy and cold on top of Kern Mountain, the next climb. Based on this, I changed into a long sleeve shirt and grabbed a pair of gloves despite the still warm temperatures as I normally get very cold overnight during these runs. The climb was steep but I was able to grind up it without stopping. I had been waiting for it to cool off as this will usually reset my body and let me pick up the pace, however it never happened. It barely got comfortable with the gentle breeze that blowing.
It's about 5 flattish miles of running once up Kern Mountain. Or rather walking in my case. The surprising thing was that I managed to pass a couple of other runners in this section even though I couldn't even manage a shuffle. I had reached that part of a 100 miler where I could walk much faster than I could "run". The trail then dumps you out onto a road that drops you down into the next aid station. Coming into this race, I would never have thought a 2 mile downhill road section would be bad, but the run in to Visitor's Center was simply awful. It was demoralizing to be (mostly) walking what should be an easy section to make up some time.
At the aid station, I found the closest unoccupied chair and plopped down. I wasn't necessarily timing myself, but didn't want to spend an inordinate amount of time. I had started to get a little drowsy on the last section (it was 3am by this point) so got some warm coffee in addition to watermelon. The watermelon didn't agree with my stomach so came right back up, but the coffee was working so I got another cup of that. I had switched over to chicken broth in one of my bottles and had them top that up for me as well.
The 3.5 miles to Bird Knob was my slowest pace of the race (27+ minutes), however it's basically all uphill with only a short flat section on top. It was slow going, but didn't seem all that bad to me. The two guys manning this aid station were all bundled up as this appeared to be the only cold section on the course. You then drop down a steep road before making a left back up a steep trail section. There were virtually no confidence ribbons heading down the road, but the turn was exceptionally well marked. This was actually somewhat common on the course. There would be sections that didn't have a lot of markings, however the turns would be impossible to miss. A lot of times there were even red ribbons strung across the course blocking a turn you shouldn't take.
After the top of this little hill, I got to a runnable section and all of a sudden I could run again. OK. Run may be a little strong for what I was doing, but it was definitely faster than a shuffle. I was surprised I still had something left in the tank. I glanced at my watch and noticed the time was 5:20am. Guess what time I typically start my morning run each day. Yup, 5:20am. Circadian rhythms for the win!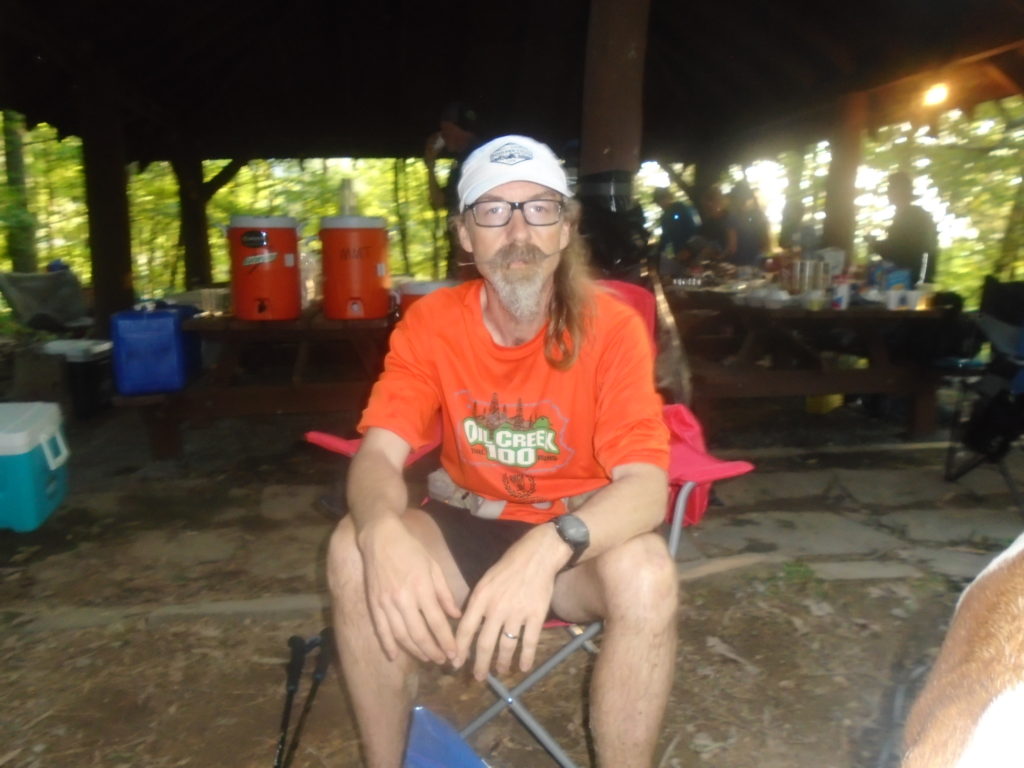 The sun came up and I rolled into the Picnic Area aid station right at 7am. And promptly fell into the closest chair as my wife rushed around trying to get whatever I needed. Just an Ensure shake from my drop bag, my bottle filled up with water, and some orange slices for the trail. A volunteer asked if I wanted to know what the upcoming section was like and I responded that I didn't. I had been given some bad information at aid stations throughout the night and didn't want another dose of disappointment. This isn't meant to come off as complaining or criticizing the volunteers though. Their job is to attend to the needs of runners and then get them out of the aid station by hook or by crook. That's more likely to occur if you soften and under emphasize the challenges that immediately await. And really the important thing for me at this point was I only had 2 sections left. That was all the information that I needed.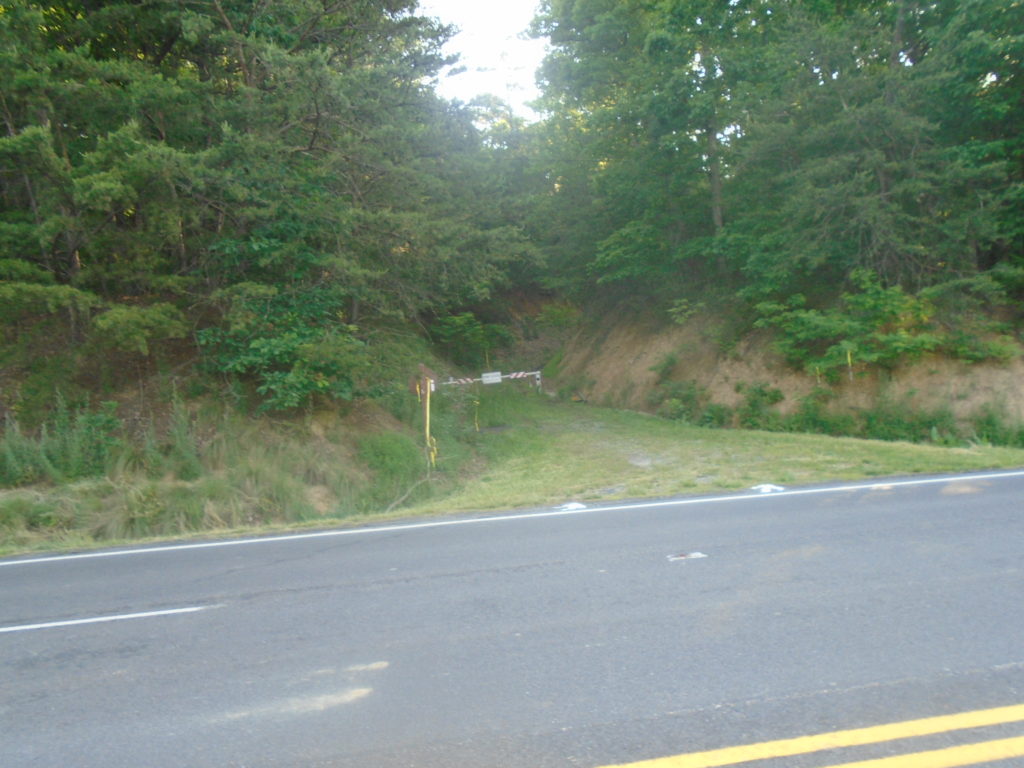 I headed out of the aid station with another runner and he quickly left me in the dust as I trudged up the trail. There's a blissful mile descent before you hit the last climb of the race. And great googly moogly is it a climb. Habron Gap may be the biggest, but this is the hardest one in my opinion. It's 4 miles of up with only very brief breaks along the way. On the lower part of the climb, I dumped out what was left of my chicken broth as I was done drinking it and didn't want the extra weight. About a mile later, I noticed I was already a third of the way done with my water and still had 6+ miles to go until I hit the final aid station. I did some quick math factoring in the already rapidly increasing temperatures and realized there was a 99.95% chance I was going to run dry at some point over the next couple hours. My spirit was steadily eroding away in tandem with my dwindling water supply until the trail dead ended into a stream. I stopped and looked across it for the trail, but couldn't find it. It took me a couple seconds to see the course marking off to my left . . . up the stream!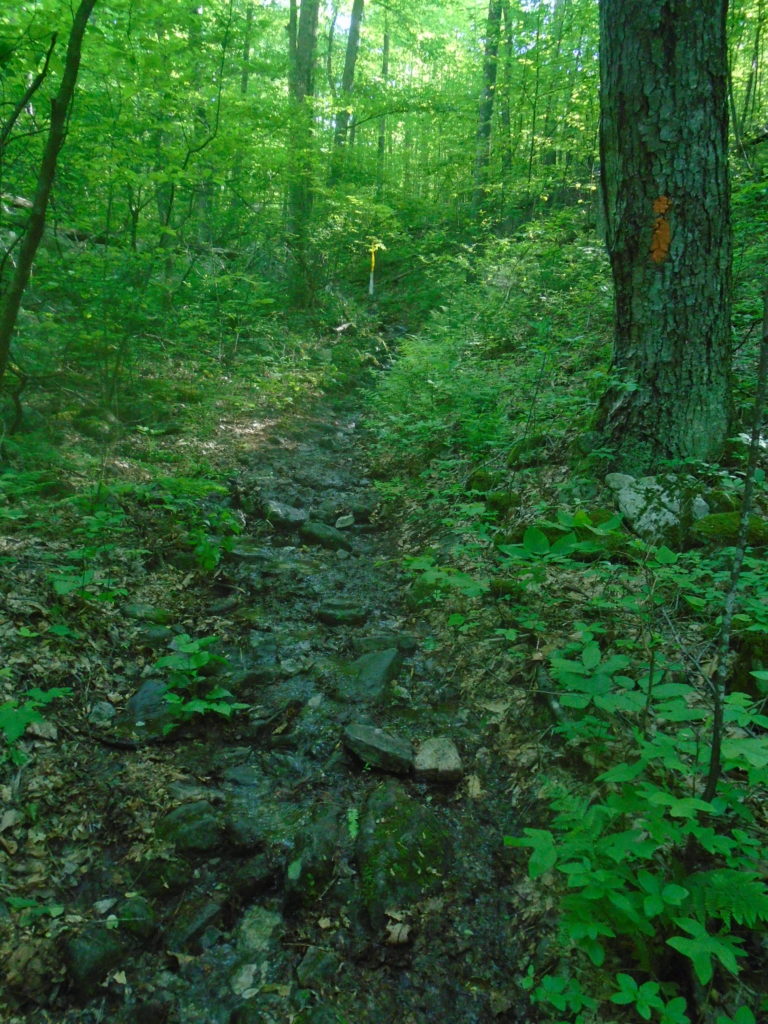 And I just started laughing. Right when I thought I had the measure of this course, it goes completely off script. Simply perfect. A short climb later (and my definition of short, not a volunteer's definition) and I was on top of Scothorn Gap and heading down. There's a fire road at the top that's very rocky, technical, and wasn't something I could come close to running considering the shape my quads were in at this point. I ran completely out of fluids along here right before having to empty my bladder. So while I was about to start getting dehydrated, it likely wouldn't get too bad considering I was currently in very good shape. I knew I only had 30-45 minutes until Gap Creek II so shuffled along as well as possible. Finally, I came to Crisman Hollow road and two short, sub-14 minute miles later I was rolling into the final aid station.
I declined a chair for the first time in 6 aid stations over 15 hours. I lustily guzzled ice water like I hadn't had a drink in hours. It tasted better than beer. I chatted with my wife and a volunteer for a couple minutes before exiting back onto Crisman Hollow road. I blazed away with a couple more sub-14 minute miles before the road started to flatten out a bit with a couple small rises. I had apparently used up most of my energy so ended up walking virtually all of the last 2 miles.
Right at the bottom of the road, I saw Gary Knipling who's a legend in the east coast running community chatting with someone. He's hands down the friendliest person you will ever meet. I met him before a 50k race back in 2015 and he remembered me. After a couple quick words of congratulations, he pointed me down the road and encouraged me to finish things up. I entered the last trail section and hiked its entire length. As I was close to getting back into camp, I suddenly realized I didn't see any course markings. Is it possible it took me 100.25 miles to get lost? I turned around and retraced about 20 yards before seeing the turn I missed marked with about 10 ribbons. Sigh. Keep it together.
Mere minutes later, I was back onto the camp road heading to the finish which is located on the far side of a large field. I told a volunteer at the last aid station I would walk it in once I got here, but the adrenaline was flowing at this point. Well, that and I could hear my name being called out over the sound system. So I transitioned into a trot and slowly covered the distance. I crossed the finish line, double fist bumped Kevin Sayer, then started looking for the closest empty seat. After 31 hours, it was finally time to stop moving.
What an amazing experience. What an incredible race. What outstanding volunteers. This is most certainly not a race for beginners as demonstrated by the 51% finisher rate this year. This is an old school ultra that provides what you need to finish without coddling you along the way. You don't need to be elite in order run MMT, but you need to be strong and determined. And when you finish, you'll know you accomplished something meaningful.