I'm four days out from Massanutten Mountain Trails 100 (MMT100) and I'm already all keyed up. It's funny. I used to get extremely nervous heading into these races because I wasn't sure what was going to happen. Now I get extremely nervous heading into these races because I do know what's going to happen.
MMT100 has been on my bucket list for a while now, however 2019 was the first year where it fit my schedule. The race is located in the George Washington National Forest, which is in Virginia's Shenandoah Valley. It's a single loop format held on mostly single track trails and includes 18k+ elevation gain. There are 15 aid stations spaced 3-9 miles apart. The race has been held annually since 1995 making it one of the oldest 100 milers on the east coast.
Demographics
I'm always interested in who runs 100 mile races so periodically compile some statistics about the entrants. The information below is based on data pulled from Ultrasignup on who was registered for the race a couple weeks back. It's not all encompassing, but typically gives a good feel for the type of crazy person that runs these types of races.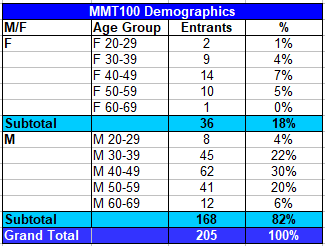 And once again, my M40-49 age group dominates the field. So much for my chances of winning my age group Saturday.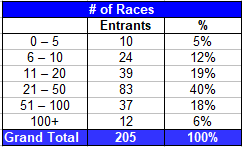 These aren't just ultra races, but quite a bit of experience with two-thirds of the entrants having participated in over 20 races.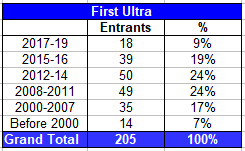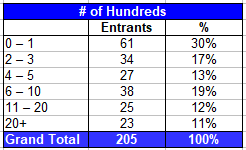 The second chart had me and my ten hundred mile finishes feeling pretty insecure. There are eight people who have finished MMT ten or more times and two people with over a hundred 100 mile finishes. I guess if I have any questions about finishing the race I just need to wait a couple minutes and the next person along should have enough wisdom to get me to the finish.
Training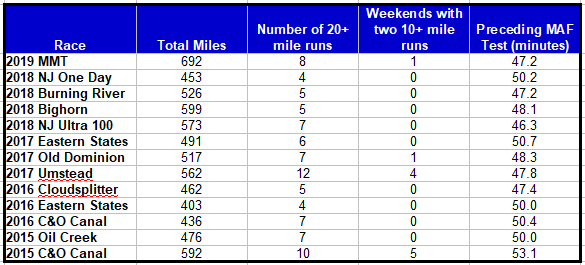 I've had a really solid block of training the past couple months with far and away the most miles I've put in heading into a 100. This wasn't necessarily planned when I started out. It just kind of happened as I added in some additional 7 milers into my mid-week schedule. I also had a couple weeks with no rest days. I balanced this with lots and lots of low intensity efforts (i.e. all of them).
Uh-oh. I just realized that my two highest mileage training blocks (2015 C&O, 2018 Bighorn) occurred prior to my only 2 DNFs. Coincidence? Well, the extra miles definitely impacted my first go at the distance, however Bighorn was all about the elevation. I hope.
Strategy
Really, I've got three strategies for the race:
Find my too easy pace
Survive the day
Run aid station to aid station
While those are solid strategies for the entire race, they're more applicable to certain sections. The first 20-25 miles is all about finding a pace that's frustratingly slow or "too easy". You're eventually going to end up at a very slow pace at some point over 100 miles. Experience has taught me that things go much better if I find this pace first rather than it finding me.
Surviving the day really means surviving the high afternoon temperatures. Up until a couple days ago it was only supposed to get up into the low-70s on Saturday, however the forecast just shot up to the low-80s. I've had a couple training runs where the temperatures hit 70 degrees so far this spring, yet that's as warm as it's gotten here in southeastern PA. I've done "well" in hot races in the past, however my body is definitely not going to be operating optimally since I'm not heat acclimated. The risk is that I end up overheating and screw up my nutrition. So I'll be looking to slow down even more from my too easy pace, dipping my hat in every stream I come across, and pop salt capsules like my life depends on it. Eventually, the temperatures will drop down and I'll get a second wind. All I need to do is hang in there until it happens.
And the final strategy really comes into play after the sun goes down and the trails empty out. At that point, it's all about just getting to the next aid station. It's about not thinking farther ahead than the next four or five miles of trail. And it most assuredly is not thinking about the ten to fifteen more hours I have left on my feet. Those are places I do not want my mind going. As long as I focus on the immediate section of trail ahead of me, I should be OK. It also helps to just shut the mind down entirely and zone out completely, but there's a risk of going off course and getting lost in the woods if you go this route.
Overall, it's been a long 10 months since my last trail hundred miler and can't wait to get back at it this weekend. Fingers crossed that there's another buckle waiting for me on Sunday.