Well, that was an interesting year.
I managed to barely squeak above my 2019 mileage total this year. It wasn't something that I was targeting, but it just sort of worked out for me. I was tracking well above this through the early part of the year and then dropped back as I took things easy after Stone Mill in November.
June ended up being my largest mileage month ever at just a hair under 300 miles. If I had known how close I was going to be, I definitely would have tacked on an extra 4 tenths of a mile. Sigh.
Even though most of my races were cancelled, I was still able to get out and run long in 2020. While I didn't have quite as many 20+ mile runs as 2019, this was the first year that I've been able to log at least one in each month. This has run me up to 14 straight months with at least one 20 mile run. I'm not actively maintaining this streak. It's just something that has happened as I've moved through my training cycles. Though depending on how 2021 plays out, this may become a "thing" for me it continues deep into the year.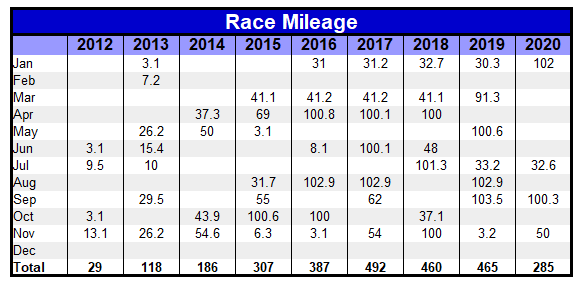 And I guess the true shock of the year is that I was still able to pin on a bib and do some racing. Catoctin in July was the only quasi-virtual event with all the others mostly normal. Fingers crossed that we all have better racing luck in the new year.
And finally, I added 366 more days to my run streak taking me to 3,069 as of this morning. I feel truly blessed to be physically and mentally healthy enough to get out for a run each and every day. I can't wait to see what 2021 brings.