The first rule of DUC 100K is. . .
The Delmarva Ultra Challenge is best described as an underground ultra club. Only 30 people are invited to partake each year. The entry standards are a little hazy (experience running overnight?). And you're told nothing about the course until literally minutes before it starts. You don't even know where the course is until an email goes out at 8pm telling you where to go. You have 8 hours to run the overnight 50K and then it's off to the Algonquin 50K (ALQ) where you have another 8 hours to run that race. 50K + 50K = 100k. #math
In the spirit of the race, I won't describe anything about the overnight course or the specific issues that I faced. I will say that I ended up encountering 2 completely new challenges that forced me to up my problem solving game. I think it's fair though to describe the problems you'll face related to the format itself.
First off, you don't know where the race starts. I'm the type of person that likes to get to races a couple hours early just in case there's any issues with transportation. Throw in that I'm reliant on an email showing up in my cell phone to tell me where to go and I was a complete stress ball on Friday night. I ended up weaseling the ALQ RD's cell phone number out of him at packet pickup just in case. I didn't need it (email came through fine!), but I think it's the correct approach to take with this race: have back-up plans for your back-up plans.
The big, obvious challenge is you don't know the format. Is it trails or roads? Loops or out-and-back? How long between are the aid stations? What kind of trail markings are there? All the little things that you take for granted in a normal race are missing. You are literally showing up to run a 50K you know nothing about.
I believe an underappreciated challenge (you might think I'm using this word too much, but trust me I'm not) is that the overnight 50K doesn't end at the ALQ start line. Quitting in ultras is all about convenience. No one ever drops out between aid stations unless search and rescue is involved. And many more drop out at crewed aid stations than ones that require waiting hours to get back to the start line (bother). DUC isn't about running back-to-back 50Ks. It's about finishing a 50K and then getting in your car and driving yourself to do another 50K when you can much more easily just drive yourself home to a warm bed. I can't emphasize how difficult this can be.
The final challenge will be how to manage expectations. Even though you don't know the course, you'll still have some thoughts on what it'll be. Based on what I'd read up on the ALQ, I was expecting a flat course. I'm probably in low-6 hour 50K shape for that so I was targeting an easy effort 7 hour finish, which would give me plenty of time to get to the ALQ start and maybe grab an hour or so of sleep. Well, by the time I was halfway done that dream was out the window and I started worrying about making the 8 hour cutoff. And then the mental games began. If I can barely run this 50K in 8 hours, how can I manage to do another one? I don't know that I necessarily debated the idea, but it was definitely entertained. Luckily, I have personal experience of rallying on the second morning of races so knew it was definitely possible. And not in a I heard about it from a training partner who heard about it from a co-worker way. While I was moving slower than expected, I still felt good so made the decision to at least start ALQ and if I missed a cutoff then I at least tried. This also kept open the possibility of an amazing finish, which was kindled talking to a couple other runners after I finished up. They said the ALQ course was much easier than what we had just done.
If that was going to happen, my first order of business was fixing my nutrition plan. I had definitely gotten behind on calories overnight. I like to drink most of my calories and the extra cold temperatures (lows around 15 degrees with winds in spots) led me to drink less that I normally would. Nor was I eating a lot at the aid stations. And I definitely wasn't eating on the stretches between aid stations. So I drank and ate everything in reach on my drive to the ALQ start. By the time the race began, I was at least back to even on calories which was a great place to be.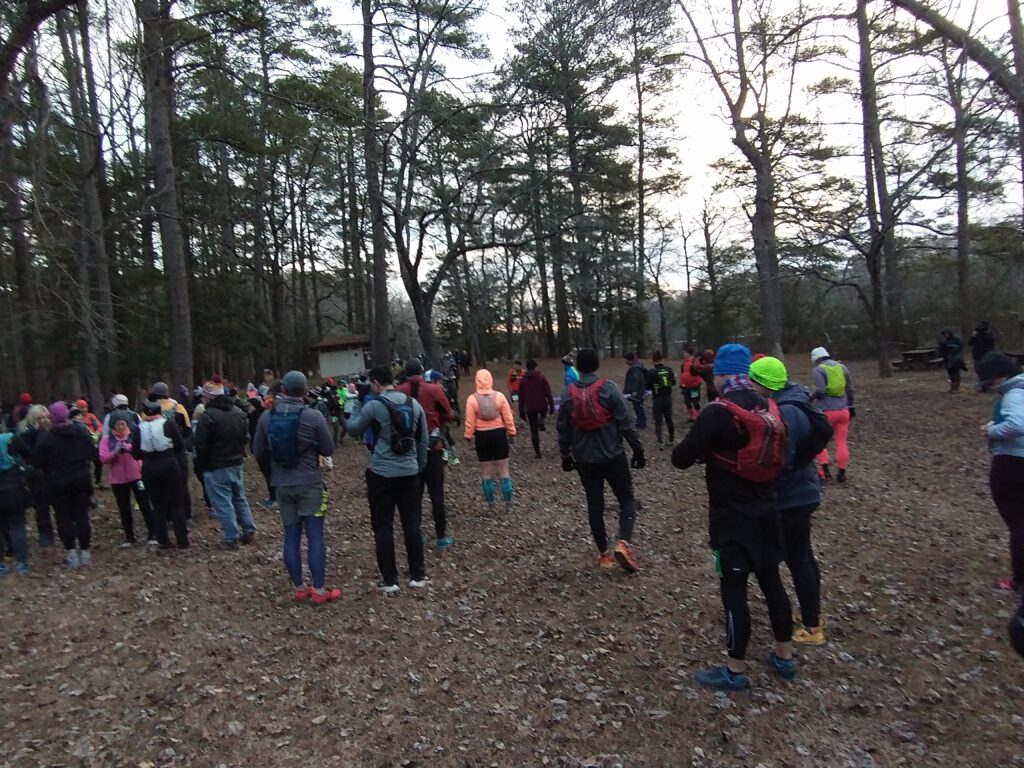 Many people probably think Trent is mean to make you run an extra mile for your 50K finish. I think he sets the course up to make it easy to remember what pace you need to maintain. Thirty two miles divided by eight hours. . . carry the one – 15 minute pace! #stillmath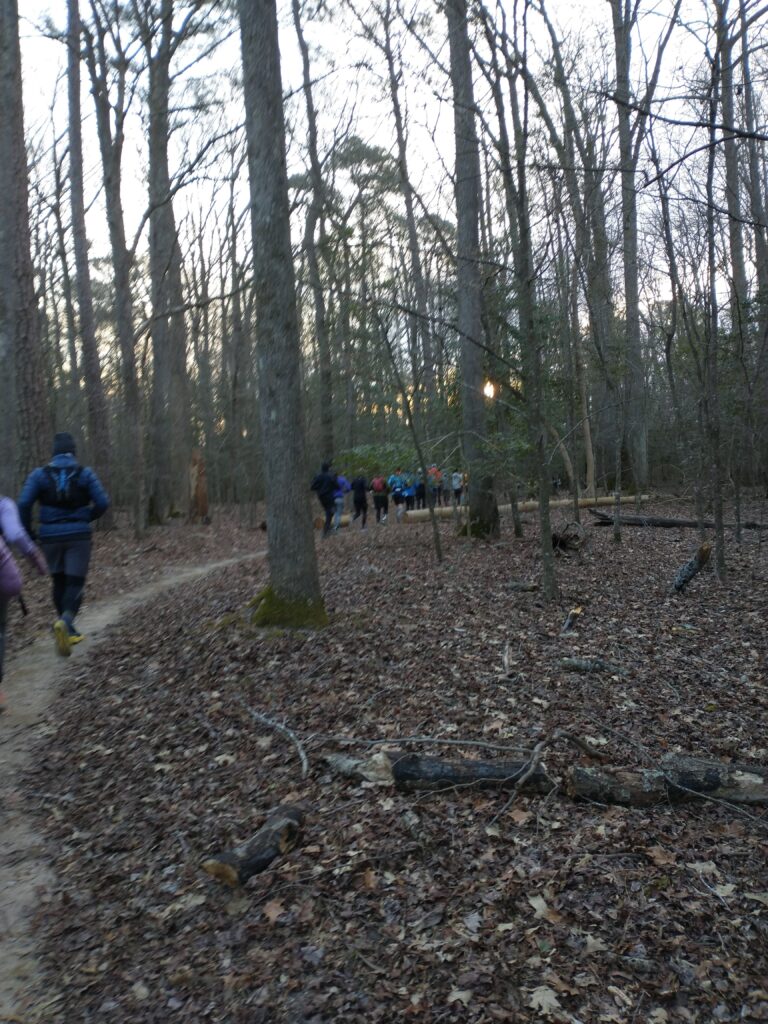 The trails are pretty non-technical, however that didn't stop me from tripping and falling within the first couple miles. I had already hit the deck 3 times overnight and was able to bounce up none the worse for wear. I was concerned one of these times would cause some issues, yet luckily the fourth time was the charm.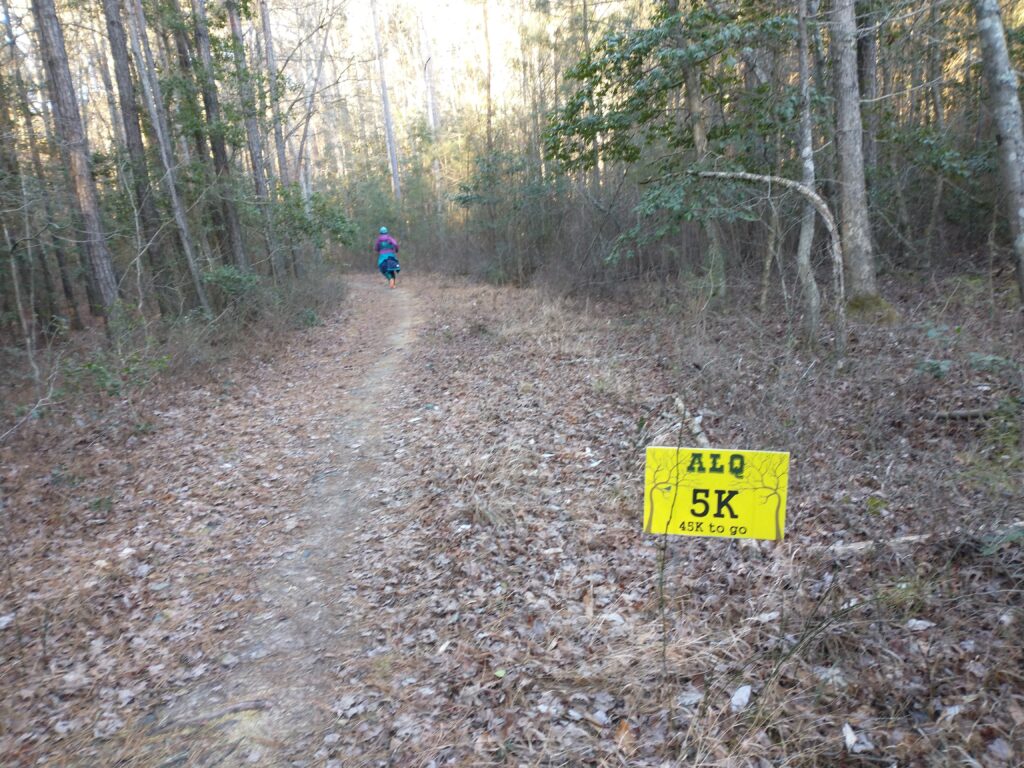 I ran with a couple other DUCs during the early miles. I didn't see many at the start so was curious how many ended up surviving the overnight run. Turns out this year only had a 50% finish rate so not too many.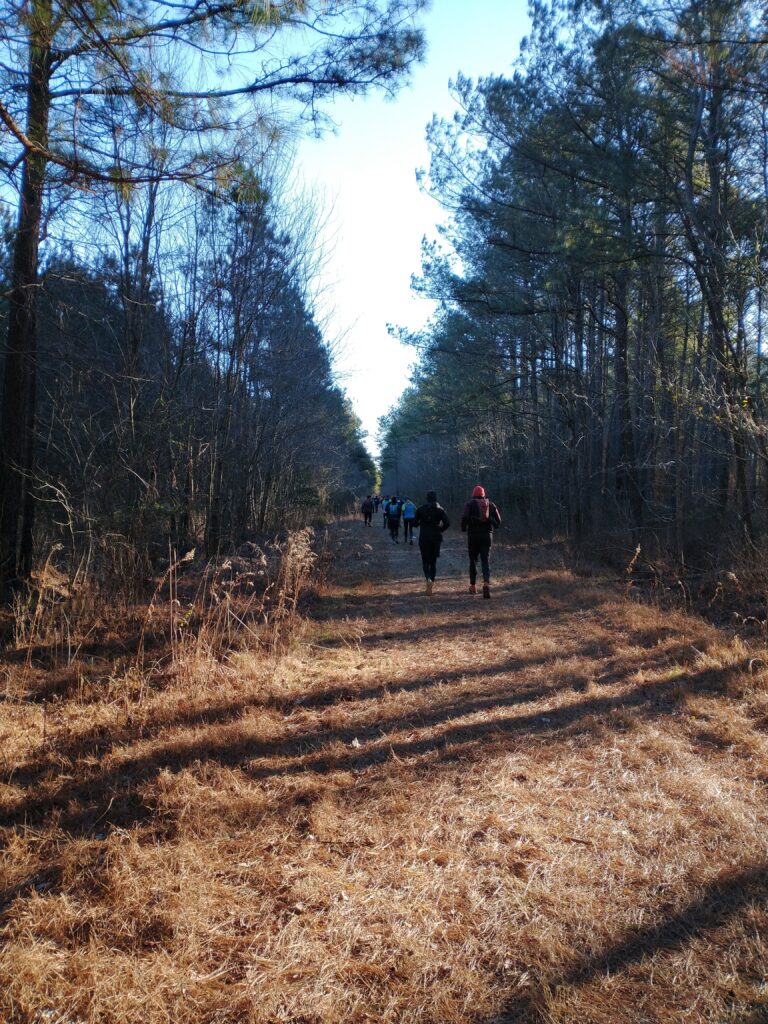 The first half of the ALQ was all about banking time. Not that I was pushing to run faster or anything. Goodness knows it was all I could do to trudge along at a pedestrian 14 minute-ish pace. I just kept hoping that each time my Garmin beeped at me it would tell me I had another 60-90 seconds stored away on the cutoffs to use later on. Then once I got to mile 16, I hoped for just a couple more minutes of buffer.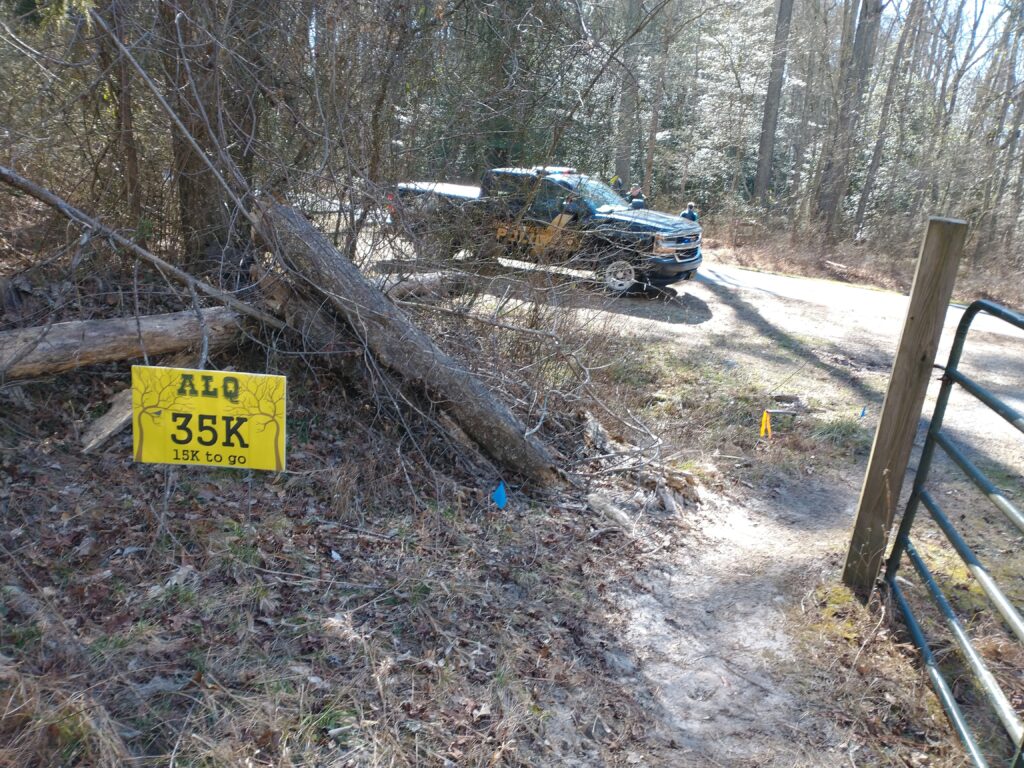 The return trip to Milburn Landing was one of the most enjoyable times I've spent in ultras. Primarily because my nutrition was on point allowing me to feel amazing. The only downside was that I spent a lot of time stepping off the trail to use the little boy's tree as I was able to dramatically increase the amount of Perpetuem and soda that I was able to consume compared to the prior night. A very small price to pay though.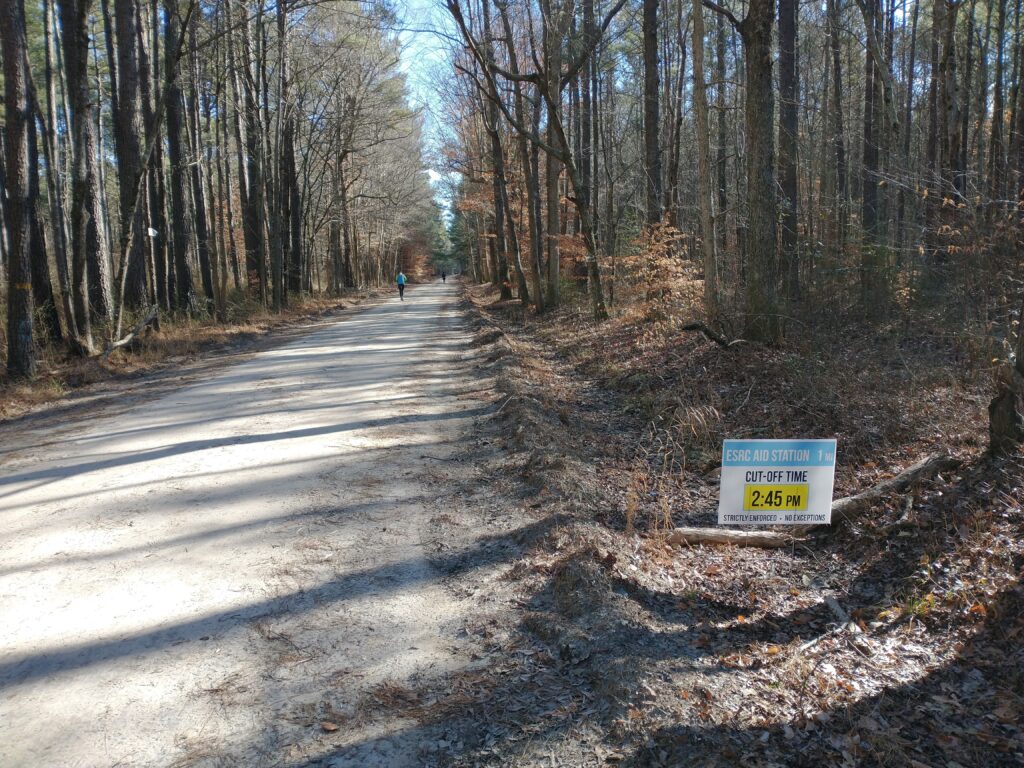 In hindsight, I'm pretty amazed at how blasé I was about my paces considering how close I was to the cutoffs (+6min overnight, +26min in ALQ). At no point was I overly concerned about getting pulled from the race. It's not that I wasn't close to those times. It was just that I was fully in the moment and those moments felt good. If I was feeling good and moving good, then whatever happened happened. Who knows if I'll ever get that zen again, but it was pretty cool state of mind while it happened. Surfing both cutoffs gave me my very first DFL; an honor I will enjoy for many years to come.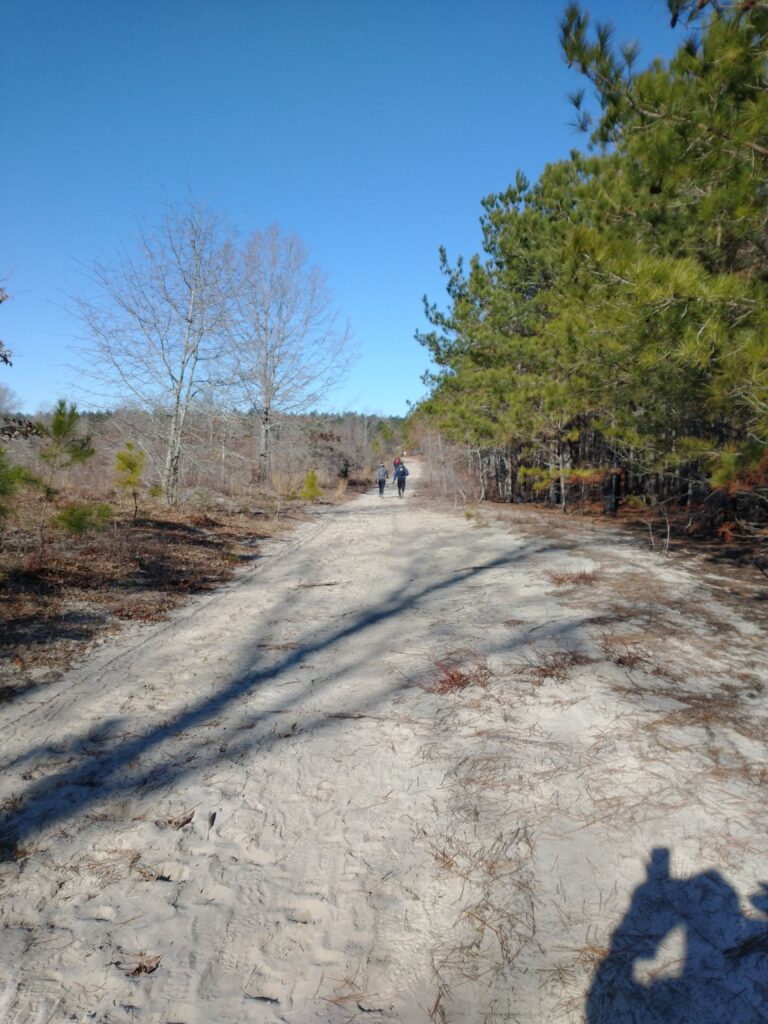 I've done a lot of races over the years and DUC slots into my top 2 or 3 race experiences. And I mean ever. The format forces everyone to prepare for anything and then challenges you to deal with anything when it rears with quacking head. Great races aren't when everything goes perfect, but when you're forced to rise above your imperfections. You truly can't appreciate the highs without having a low or two along the way. A special thanks to all the volunteers who helped out this year. Know that your time and efforts made this one-of-a-kind race something I will never forget.
Good luck to those of you who end up deciding to run this race in the future. Just don't tell them I sent you.