I went into the race wondering what if any impact the altitude would have on my southeastern PA body.  I wasn't too worried and was comforted by a conversation I had with a runner from Ohio who was sitting next to me on the plane from Minneapolis into Billings.  He said he's run the course a couple times before and hadn't noticed a big impact.  This went a long way towards allaying any remaining fears I may have had.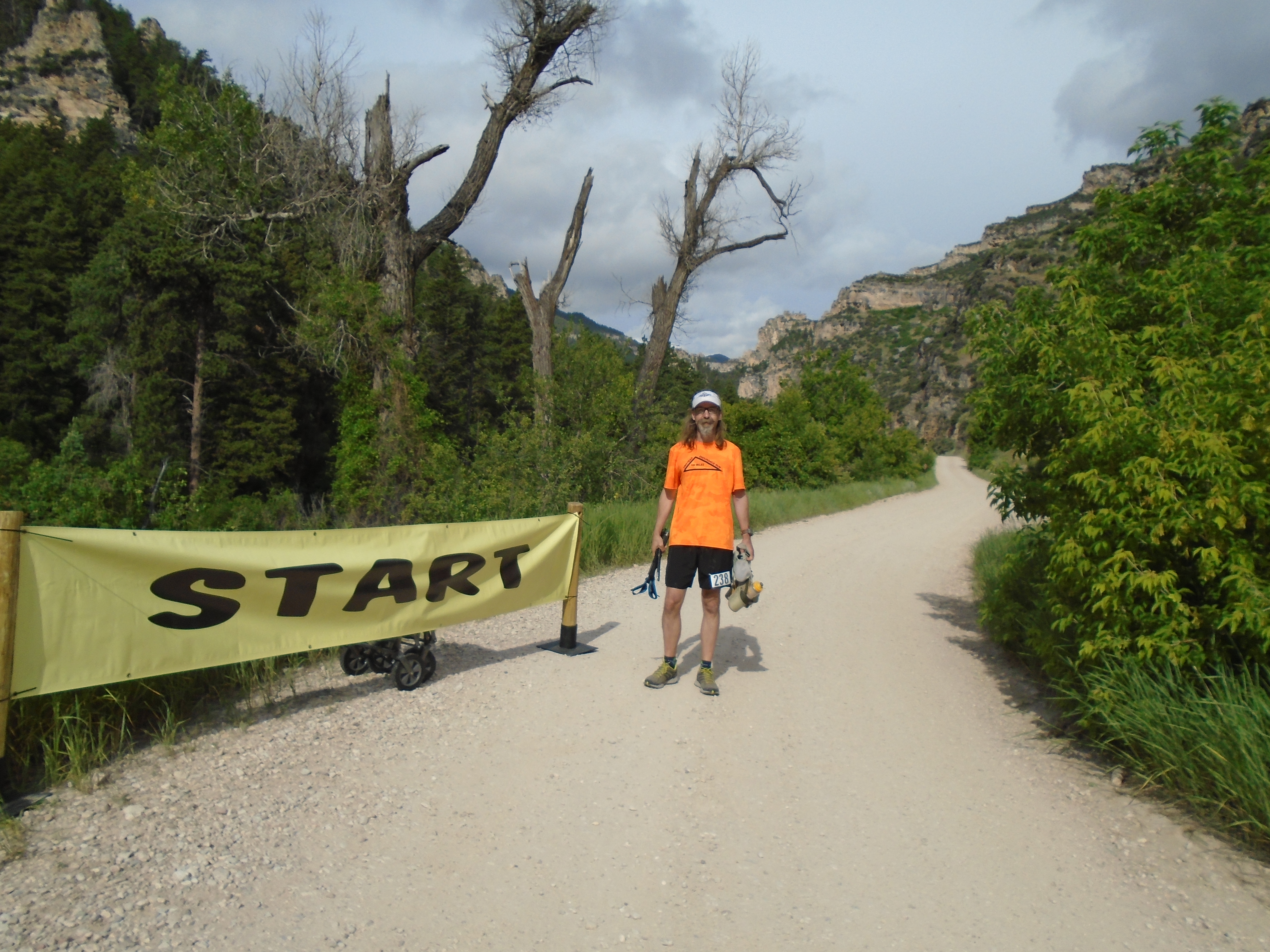 The race is extremely well organized.  From packet pickup in Sheridan at a local brewery to the bus shuttle service in Dayton to the start, everything ran smoothly.  While one bus arrived right as the race was beginning, I'm chalking that up more to the runners than the busses as you had over an hour to get to the start after the pre-race briefing concluded.  The 10am start time was unique, however the weather wasn't too bad to start out (70s or so).
I decided to push the pace a bit right out of the gate.  The first 1.25 miles is on a dirt road and I wanted to be in the top third of the pack when we entered the single track trails.  Once we got there, the trail pitches up a bit so I unfolded my trekking poles and started the climb up the mountain.  I was a little surprised more people didn't start using theirs right away as well, yet to each their own.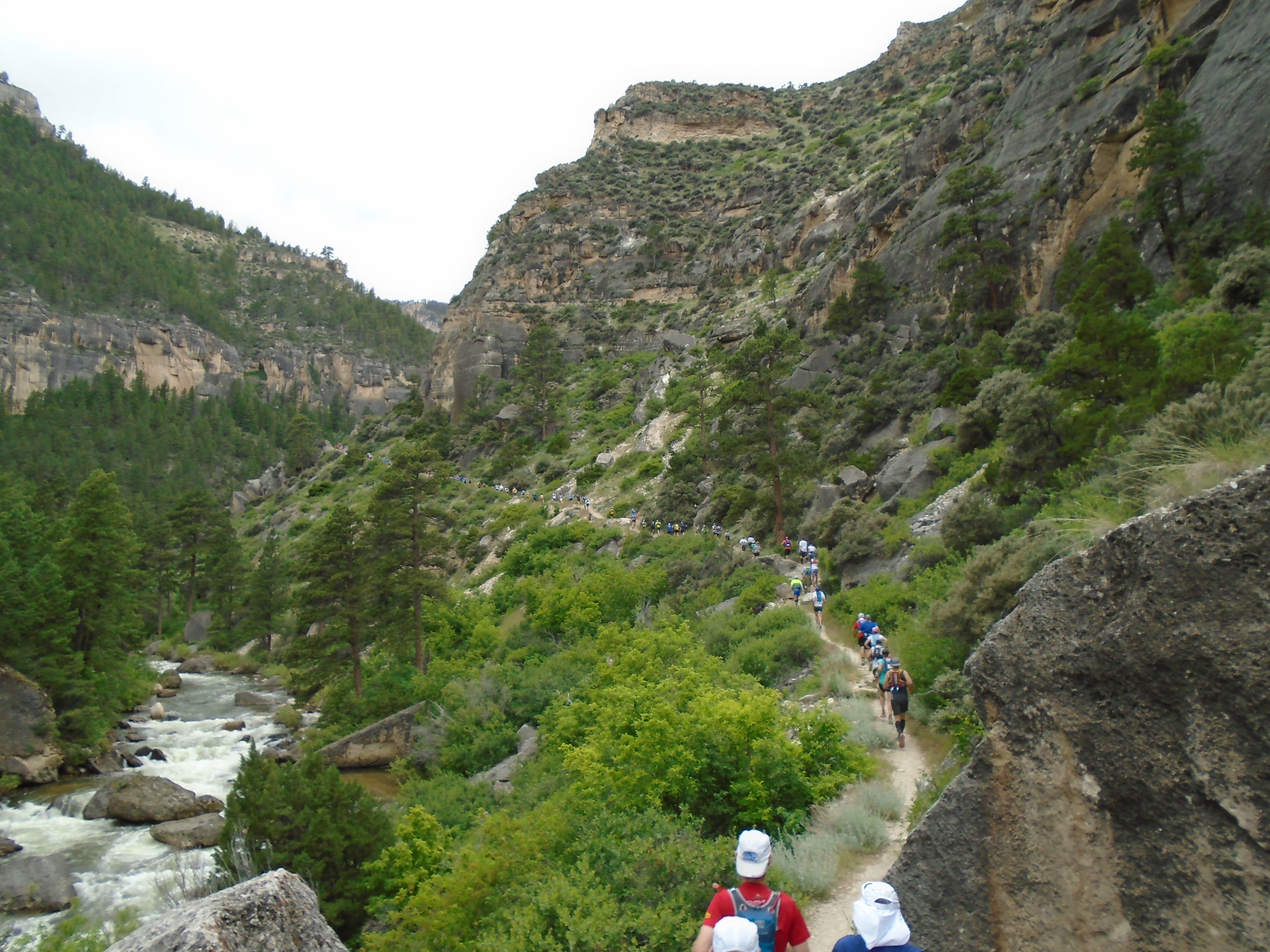 The trail climbs steadily for the first 8 miles or so.  The grade isn't too steep and I was cruising along enjoying the views.  Once you reach the top, there's about five miles of relatively flat trails and fire roads before you reach the Dry Fork aid station at mile 13.  I felt pretty good as I walked into the first crew accessible aid station despite being passed fairly steadily throughout this section and was able to see my wife and son for the first time.  While there is plenty of aid along the course, Dry Fork and Jaws Trailhead are really the only times you are able to see your crew unless you have access to a 4 wheel drive vehicle which our Camry rental was not.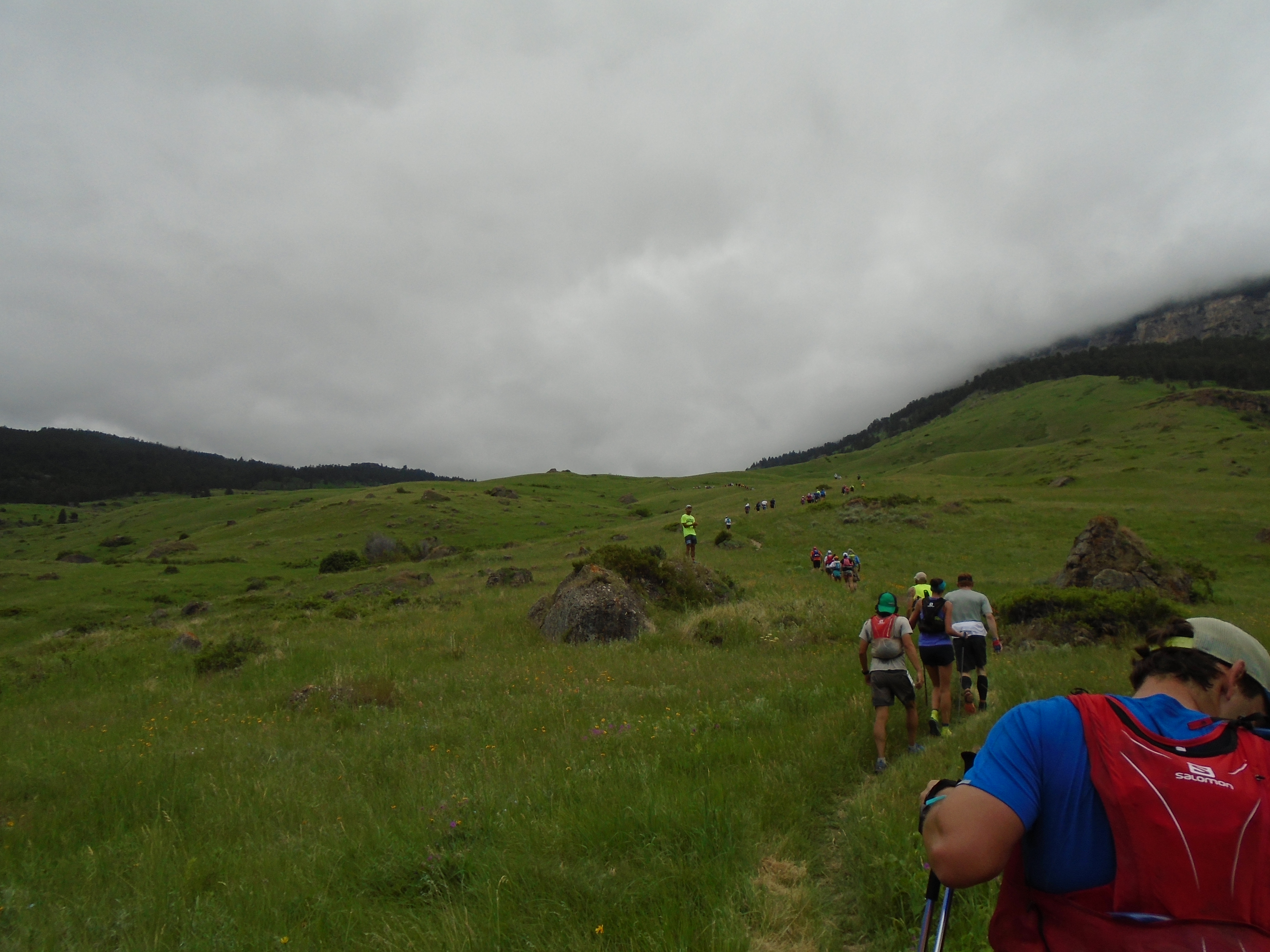 After a quick drop down over the next couple miles, it's gentle rollers for the next 10 miles.  It was somewhere along here where I realized that I was working a lot harder than I should be.  Any time the grade increased even a smidgeon, my heart would feel like it was beating out of my chest/throat.  Not good.  And thinking back, this had been occurring off and on since about mile 10.  This was way too early to start having any kind of doubts, so I squashed them to the best of my ability and kept putting one foot in front of the other.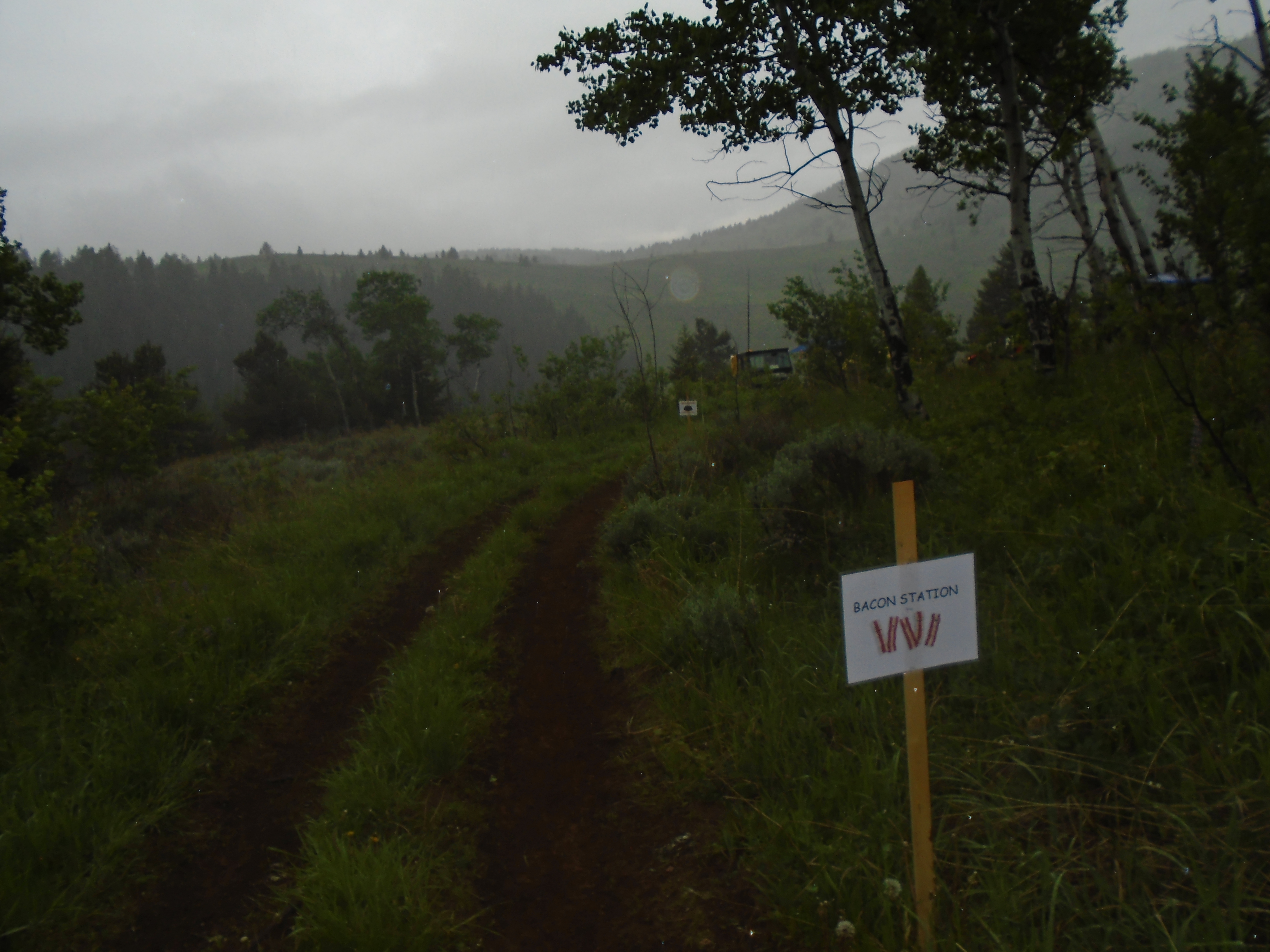 The temperatures in the mountains ended up being cooler than I had expected.  As this was my first experience in the mountains, I had no way of translating the weather in Dayton to what it would feel like on top of the mountains.  I guessed (wrongly) that it would be about 10 degrees cooler than the high of 70, however in reality it was probably about 20 degrees cooler.  So I ended up being a bit underdressed in short sleeves when the light rain started up heading into Bacon Cow Camp aid station.  I immediately asked for a garbage bag to use as additional cover and they pointed me to the trash receptacle.  Um. . . no, I need one to take with me due to the drizzle.  They looked around for a minute and came back with small rain poncho.  Score!  While the rain ended up stopping about 200 yards down the trail, I kept it on till Footbridge to provide a little extra warmth.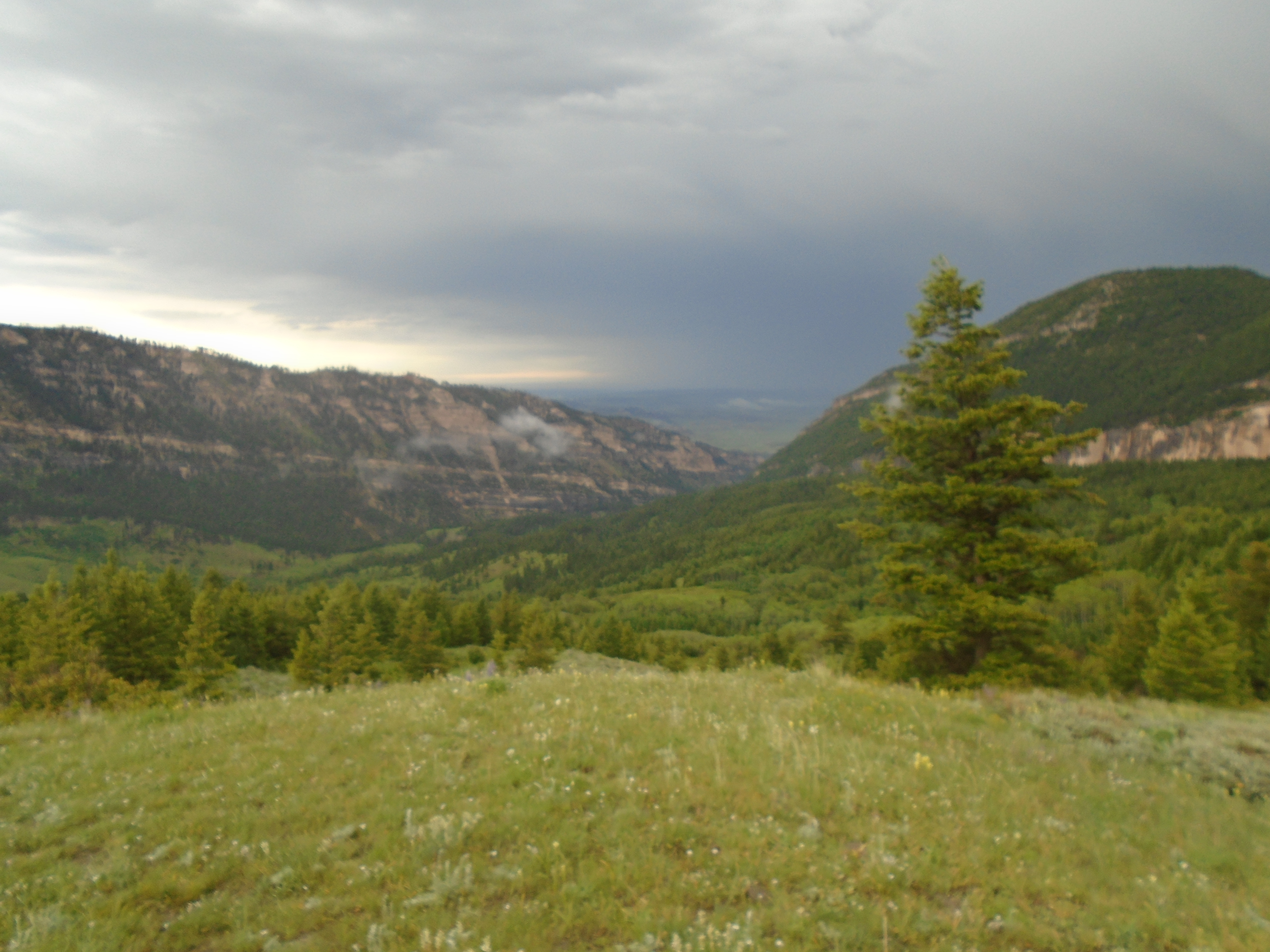 Unfortunately, my body still feels sluggish as I trudge along.  Around mile 25 we get a short bout of hail, which thankfully didn't last long.  And right after that I started feeling great and was bouncing down the trail.  I went from plodding to actual running in about 5 minutes.  I even passed another runner, which I hadn't done outside an aid station in the past 15 miles.  The trails were completely filled with mud, but the only thing that could slow me down was the views as I had to stop several times to take pictures of the scenery.  It was worth the price of admission and then some.
Just across the bridge heading into Footbridge, there were a couple volunteers checking runners into the aid station.  You walk up a 20 foot incline and when I got to the top of it, another volunteer already had my drop bag in hand.  Talk about well organized.  I had another volunteer (there were tons of them around) grab me some chicken broth in my backup bottle as I changed into a long sleeve T-shirt and put on my backpack, which had my headlamp and 2 additional layers.  Within a couple minutes, I was getting some oranges from the food table and checking myself out of the aid station.  I stopped about 10 feet out and took a couple pictures of the aid station.  For some reason, I really didn't want to leave.  It's like I subconsciously knew what was about to happen (insert ominous foreshadowing music here).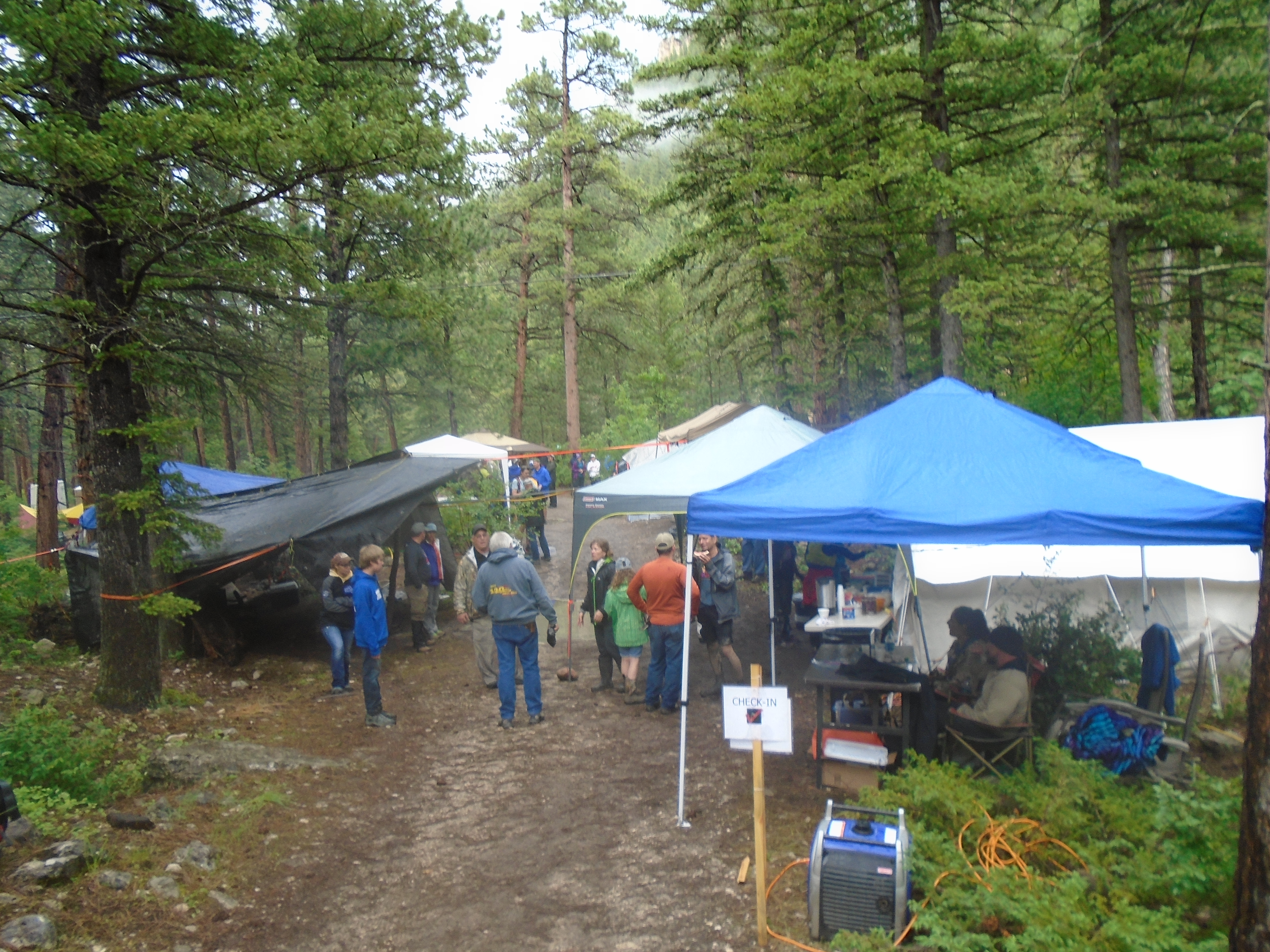 It was pretty hiking up the canyon trail right next to the raging river.  The trail wasn't too steep and I made decent time (20-22 minute miles) into the first aid station which was only about 3 miles away.  After a brief chat with a volunteer on mustache grooming aids (I swear by Clubman wax), I was out of there and heading towards Elk Camp.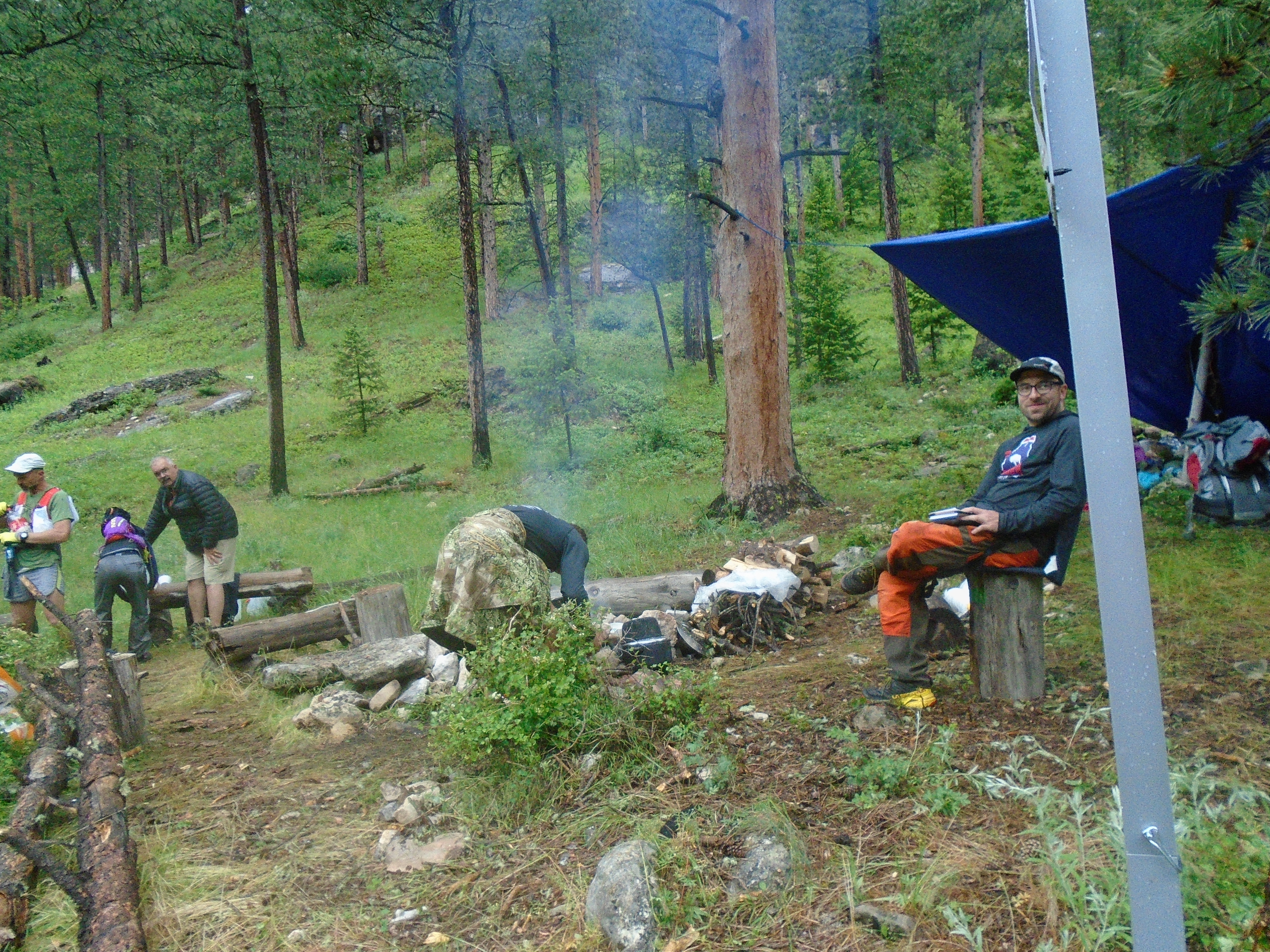 Mile 33 is where the wheels came off and went spinning far, far away from me.  It ended up taking me almost 8 hours to travel the 18 miles from Footbridge to Jaws.  My 20 minute miles "quickly" became 25 minute miles and then 30-32 minute miles.  Any time the grade increased noticeably, I was reduced to stopping to recover after 200-300 yards of effort.  Again, my heart felt like it was beating out of my chest.  Here I was barely inching up the trail and people were flying by me like I was standing still.  The leaders passed by when I was at mile 37 (i.e. they were 22 miles ahead of me), which wasn't that big a deal since I'm never that close to the front of the pack.  My frustration and discouragement though continued to grow as the miles ticked by.  My legs felt fine.  My energy levels were OK.  I just couldn't generate any stamina or endurance as I hiked up the trail.  It seemed like the smallest amount of effort immediately redlined my heart rate.  I kept going from zero straight to 10 without passing any of the numbers in between.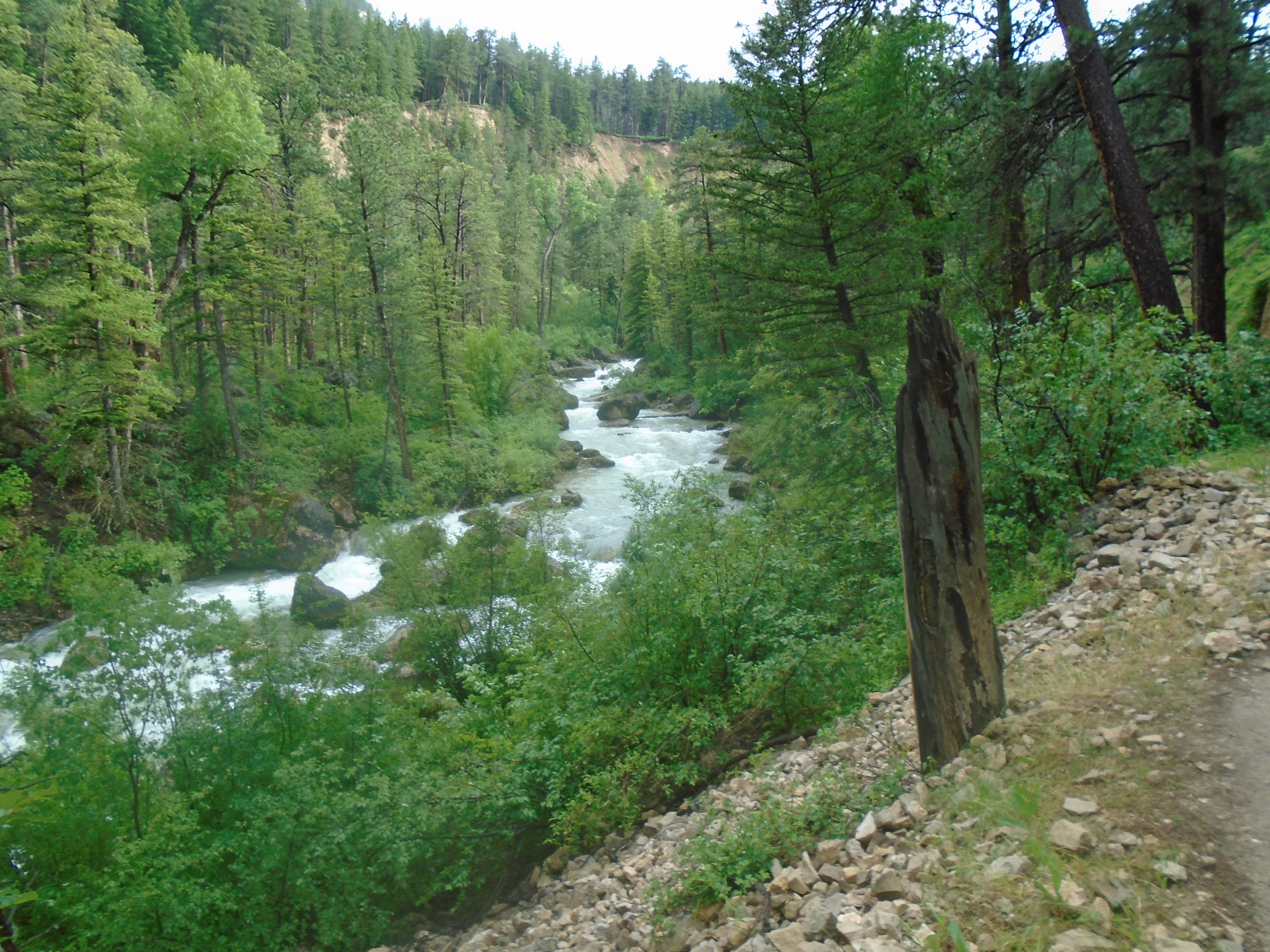 The Decision
The last mile and half or so before Jaws is pretty tame.  I was moving OK, but mentally I was about done.  After what seemed like forever, I finally reached the short road section right before the aid station.  And there was my wife and son waiting for me.  They asked how I was doing and I was so beaten down that I actually told them the truth.  That I was in a very bad place.  We all walked into the aid station, which was split into crewed and uncrewed sections and promptly sat down in the uncrewed section because it was closer and I just didn't care anymore.  Kate set a 10 minute timer for me and I started trying to get right.  They brought me some ramen noodles, which didn't taste very good so I passed.  None of the other food seemed appetizing either so I ended up just sitting there rifling through my dropbag for my electronics (backup watch, MP3 player) and thinking.  Thinking about where I was.  Thinking about what I was doing.  Thinking about how much further I had to go.  Thinking about what it was going to take to finish the race.
And my mind boggled.
So here's the thing.  I've been running for about 6 years now and I've gotten rather in touch with my body.  I know what it can do, what's likely to go wrong, and how to mitigate issues as they arise.  As I trudged up the almost never ending climb, I realized that I felt bad from mile 10-25 and only after climbing a ways out of Footbridge.  At lower altitudes, I was moving normally, but at higher elevations I was reduced to a crawl.  And while I had a nice long downhill ahead of me, the climb back up to Dry Fork was going to suck.  Especially considering how muddy the trail was.  The mud wasn't too terrible heading up to Jaws, but what little there was made things even more difficult for me.
I can fix low energy (eat).  I can deal with blisters (duct tape). I can deal with the cold weather (toss on another layer).  But there's no fixing high altitude.  Sitting in that chair, I just couldn't imagine being able to make it back up that hill inside the cutoffs.  I got the cutoff time for that aid station and actually calculated what pace I needed in order to make it.  Sure I had 2 hours to spare now and 18 miles of downhill ahead of me, but I was sure I would give it all back and then some.  And to go to all that effort for 35 more miles and be pulled from the race after missing a cutoff?  No, thank you.
But still I didn't drop.  I grabbed my MP3 player and started searching for a song to give me some motivation.  I found Relax and let it start to do it's magic.  After about a minute, I did the hardest thing I've ever done in my life – I stood up.  I grabbed my waist pack, put it on, and started walking out of the aid station.  It had started drizzling a little bit and I was cold after sitting for 15 minutes or so.  My wife and son walked with me down the road, but after about a hundred yards I stopped.  Mechanically, I was doing everything you're supposed to, but my heart wasn't in it.  I still didn't believe I could finish the race, so I stopped.  I stood there chatting with Kate and Dave for a couple minutes about my lack of interest in continuing on until another runner and his pacer passed me.  I decided I would use their movement as motivation, so bid my family goodbye and started shuffling after them.  I made it another hundred yards before finally deciding it was pointless to continue when I had already lost all hope of finishing.  I turned around, caught back up with my wife, and went back into the aid station knowing I wasn't coming out of there a second time with my bib still pinned on.
Rule #2
As I progress through my ultra career, I continually gain knowledge and experience about running endurance.  Most of what I've learned can best be classified as guidelines since things are bound to change over time.  For instance, what worked for me fuel wise 2 years ago (20+ gels per 100) doesn't work for me any more.  Hard and fast rules sound good in theory, however typically come with an expiration date so I tend to shy away from them.  DNFs come in many shapes and sizes and while there may be multiple issues that lead to the drop, you can usually find one singular root cause if you look close enough.
My rule # 1 (Never decide to drop inbetween aid stations) came from my first attempt at 100 miles.  This one rule saved my race at the 2016 ES100 and has been good enough to help me to eight 100 mile finishes.  It took a lot of thought and reflection on this race to come up with Rule #2.  I initially thought it was You Gotta Believe since my lack of belief is what lead to me turning around, but that's not going to be any help the next time I'm in that situation.  It's not like you can pack a can of Belief in your drop bag to pull out when needed.  Just like you can never take back a decision to drop once it's made; once you stop believing you can finish the race, you'll never be able to regain that belief.
My primary failure was looking too far down the trail.  While my body was not reacting how I expected/wanted it to, in reality I was in better shape than I've been in prior races.  I didn't doubt I could make it back down to Footbridge.  It was the 17 miles after that back up to Dry Fork that I couldn't wrap my mind around.  Thinking that far ahead was totally and completely counterproductive.  My best races are typically when I shut my mind down and just go moment to moment.  Focusing on what I need now and over the next couple miles.  Heck, a lot of times I'd rather not know what the upcoming course profile looks like because I don't want to be stressed about how long/steep/technical a climb I have coming up.  Better to just react to whatever the trail throws at me.  They say it doesn't always get worse and usually that's the case.
So Rule #2 is Don't Think Past The Next Aid Station.  In your deepest despair, it's tough to wrap your mind around 35 more miles.  It's an impossible distance.  But four or five miles?  Heck, I can knock that out any day of the week.  Sure it might take me two hours, but I do that all the time as well.  I don't know if this would have necessarily saved my race, but it definitely would have kept me out on the course until I missed a cutoff.  It would have given me a chance.  And a lot of times, that's all you need.
Despite my less than stellar performance, I wouldn't hesitate to recommend this race to anyone looking for a mountain 100.  It has everything you could possibly want: gorgeous course, great volunteers, and solid organization.  I'm not sure if I'll be back, but if I do attempt it again then I'll make sure I'm better adapted to the altitude.  And I'll keep my focus only on getting to the next aid station.