Man, running 40 miles is hard. It's even harder when you're sliding around in 3 inches of snow, slush, and mud.
This is the fifth year that I've run the race (prior reports here, here, and here) and I was looking forward to testing out the 2019 version of my fitness on the course. Unfortunately, Blue Marsh had several inches of snow dumped on it so this was not going to be a PR type day for me. I downshifted my expectations to trying to come close to even splitting the course (spoiler alert: failed) and having fun (spoiler alert II: succeeded).
I got to the race a little before 7am, which allowed me to get a sweet front row parking spot. I got checked in and got back to my truck with my bib just as the early starters headed out. The race offered a 7am start for those who thought they would need an extra hour as they were strictly enforcing the 10 hour time limit.
After about 30 minutes, one of my coworkers who was doing the 20 miler knocked on my window. This gave me some company until we got going. I tried to give him bad information (that the 20 mile race starts at 8:30am), however he checked at registration and confirmed that both distances would start at the same time. I was a little bummed that I would be elbow to elbow with extra runners in the early miles, yet it turned out for the best as all those runners nicely packed down the snow on the trail. There's a reason why the RD, Stephan Weiss, can get 350 people to show up and run in late winter weather conditions: he puts on well run events.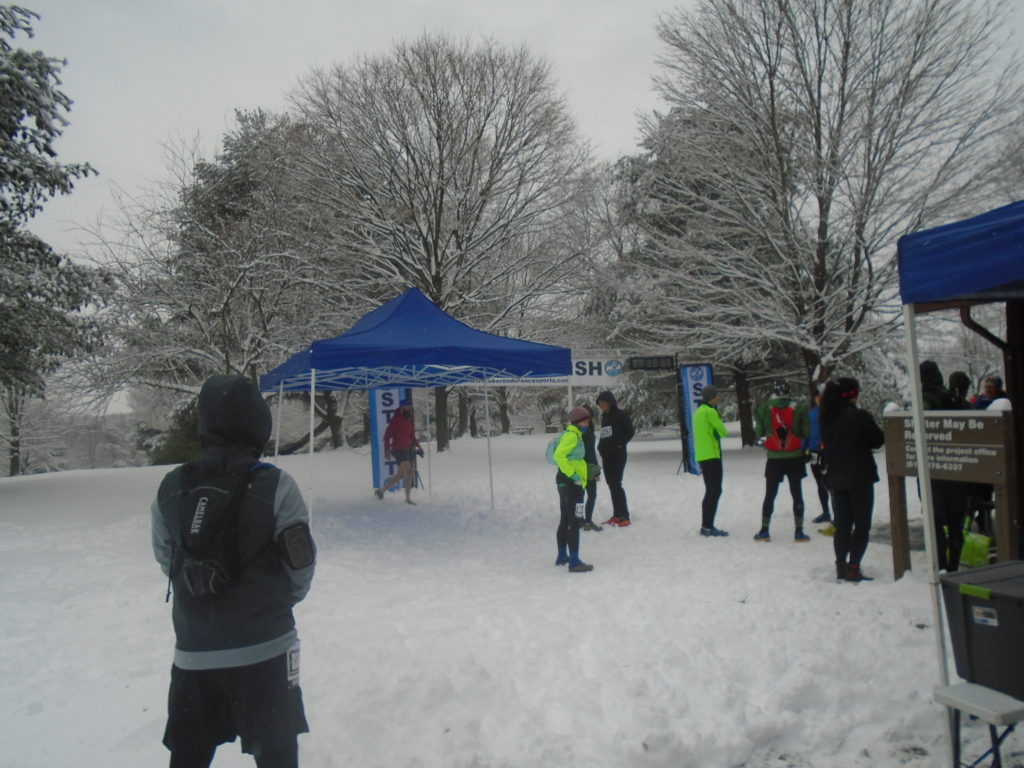 The first three miles are pretty hilly and I was sliding about a bit on the ups and downs, but footing was pretty solid on the flatter sections. I was getting passed fairly regularly for the first 4 or 5 miles as I was walking pretty much anything that could be considered a hill and other runners kept flying by me. That's the biggest downside of starting both distances at the same time for me. While I was able to keep up with those around me mostly, they were definitely faster on the uphill segments. I kept telling myself that they were only doing half the distance, but it's still difficult to let runner after runner (after runner) pass you. My competitive juices were firmly under control, but that didn't mean they didn't want to squirt out each time someone came around me.
I reached the second aid station and was a little surprised to see people crossing the road and heading directly onto the trail to run counterclockwise around the pop in the lollipop course design. The first three years were run clockwise before switching last year and I just assumed they would switch it back again this year. Whoops. Looks like I ended up giving my coworker bad information after all since I described the third section as the worse when it's really very tame in this direction. The runners had gotten pretty well spaced out by the time I reached the third aid station which was right at 10 miles according to my Garmin. I was still going good on fluids given the mid-30s temps and snacks so breezed by without even stopping.
This next section is the toughest on the course. You hit the steepest hill within a mile or so and it was made even more difficult by the snow starting to melt. As I started up, I notice the guy ahead of me was wearing nano spikes on his shoes. And it was all I could do to keep my palm from smacking my forehead because I have a pair that I never use that would have been perfect for these conditions. Sigh. The drop down the other side was worse than the uphill from a footing standpoint even though it's the less steep of the 2 climbs. There are a couple other modest hills heading back to the second aid station, but it's rolling terrain for the most part with a couple fire roads thrown in for variety.
One of the other runners who passed me about mile 17 asked if I was the one that wrote the race reports. I said that I was and she thanked me saying they were very helpful. That meant a lot to me. Race reports were very important to me starting out (and still are for my upcoming races). These crazy distances seem impossible and most people don't have friends or family to tell them how to run them. If it wasn't for all the reports out there, I wouldn't have thought that they were possible for me. Just an average guy and below average runner. So these reports are how I give back to the community and those just starting out. If you want to know if it's possible, yes. Yes, it is.
I got back to the start/finish line just before noon or 4 hours into the run. I was 15-20 minutes later than in prior years do more to the course conditions than my fitness level. I was still feeling good, however didn't dawdle long as nothing good can happen by spending time mere feet from your ride home. About a half mile back down the trail, I ran into my coworker who was finishing up his day with a really solid outing. He's relatively new to trail running and ended up thoroughly enjoying his day.
After a couple miles the trail conditions started deteriorating from bad to much worse. The snow was melted past slush and the mud made things even more treacherous. Not only were the ups and downs difficult, but now even the flat sections required balance and dexterity that would challenge a gymnast. It was at about mile 25 where I started struggling mentally a bit and I began counting down the miles. I was still feeling OK, however the effort level was increasing as my speed decreased. There was a decent amount of 2 way traffic up until the second aid station though it was spaced out enough that there wasn't too much of an issue passing. No one was moving exceptionally fast at this point so it was fairly easy to hop off onto the side.
Once I was onto the pop of the course, I only ended up seeing a couple other runners the rest of the way. I had a shot of beer at the third aid station. They had these little cups already poured, but I didn't want quite that much. The couple minutes I spent there was my longest stop of the day, but it was worth it. The volunteers mentioned there was a runner right ahead of me, but I was in no mood to race at this point so kind of laughed at the comment. Even though this is technically a race (I have a bib to prove it and everything), the second half of ultras are all above surviving the day. I can count on one hand with fingers to spare the numbers of times I've felt like competing against others at the end of ultras. Typically, other runners feel more like teammates competing with me against the course than as someone I'm trying to beat to a finish line.
The second loop of this course seems to destroy me every year. I can be solid as a rock at mile 20, but always seem like a broken runner by the time I finish it. The Hill is what did it this year. Coming down the backside, I slid a bit too aggressively on one step and slightly pulled a muscle in my left hip. This happened as I was already trying to slow/brake my descent and there wasn't really any way to do that with nothing solid to land on. Eventually, I got under better control and walked for a minute to sort myself out. It didn't end up being anything major, but just another bit of soreness to add to the accumulating list (hamstrings, right knee). I was able to continue running all the flats and downs, but my speed was more and more compromised.
Eventually, I rolled across the finish line with a time of 8 hours 24 minutes, which was good enough for 21st of 54 finishers. There were over 100 registered for the 40 miler so quite a few decided to call it quits after just one lap. The conditions were so tough out there that the winning time of 6:19 was 70 minutes back of the course record and 45 minutes slower than the typical winner.
After I finished I started having some problems breathing. For some reason, it hurt to pull air deeply into my lungs. It was very weird as I felt fine (well, at least breathing) all day on the course. My index and middle fingers also started tingling. Everything sorted itself out after 15-20 minutes of taking it easy so I guess it was my body just trying to recover from all the exertion.
If you're on the fence about this race, hop off on the side of doing it. It's virtually impossible to get lost on these trails. The aid stations are no more than 3.5 miles apart, are very well stocked, and are staffed by truly wonderful volunteers. And while there's no swag or medals, it's impossible to find a better bang for your buck out there.