Pine Creek Challenge is held just outside Wellsboro, PA on the Pine Creek Rail Trail. It's put on by the Tyoga Running Club who offer 4 race distances (100M, 100K, 50M, Marathon). The Challenge uses 25 miles of the trail, which mostly follows Pine Creek. It's a wide flat trail and impossible for someone to get lost. For 100 miles, we did two out-and-backs along the course.
My wife and I got up to the area a little early on Friday. This provided us plenty of time to grab my race swag from Wild Asaph Outfitters and walk around Wellsboro. It's a cute little town and we grabbed an early dinner at Penn Wells, where I saw Brian who I had run a couple races with last year. We were among the first to get to the start/finish to set up our tent. I was a little surprised more people didn't take advantage of this.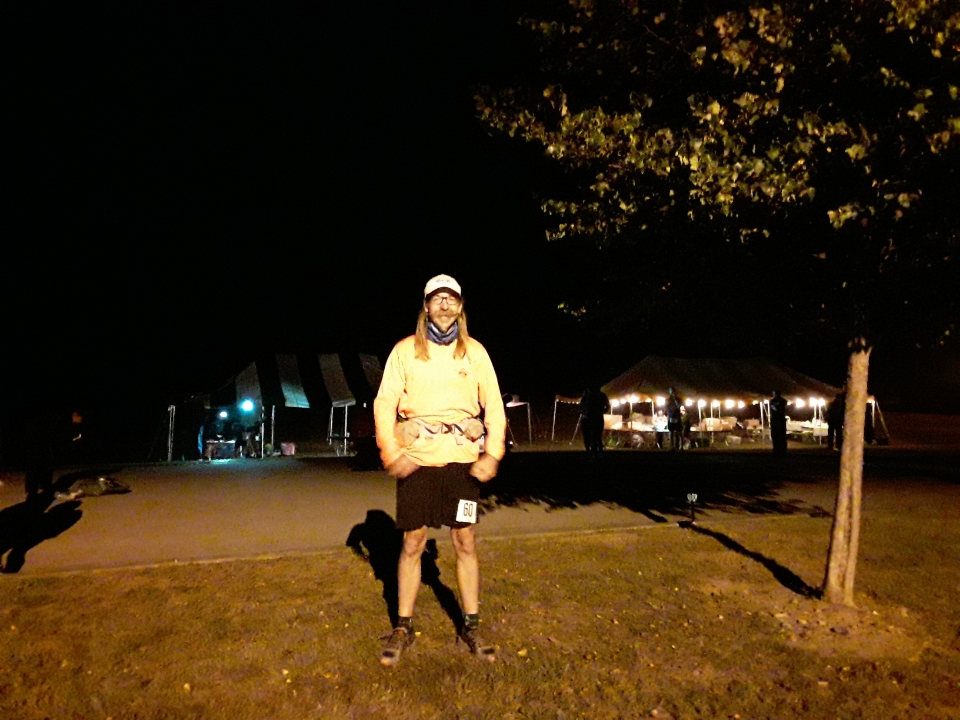 I always set an alarm to wake up early for my races and I never need it. Unfortunately, I didn't need it by 90 minutes Saturday morning. Sigh. I did manage a solid 5 hours so hoped that was going to be enough. I picked up my bib not too long after it opened at 5:15am. This gave me plenty of time to deposit my 2 drop bags (one for Asaph and one Blackwell) and then stand around chilling (literally) in the 50 degree temperatures waiting for the pre-race briefing at 5:45am. The RD only had a few comments at the finish line as the logistics are very simple for the race. Then we all walked the quarter mile down to the Pine Creek trail. We spaced out a little bit at the trail and then we were off at 6am.
Even though the race started in the dark, I decided not to use a headlamp. I figured I could borrow light from the other runners around me for the 20 minutes until it would begin to lighten up a bit. And even if I was stuck by myself in the dark, it's a perfectly smooth rail trail with zero tripping hazards.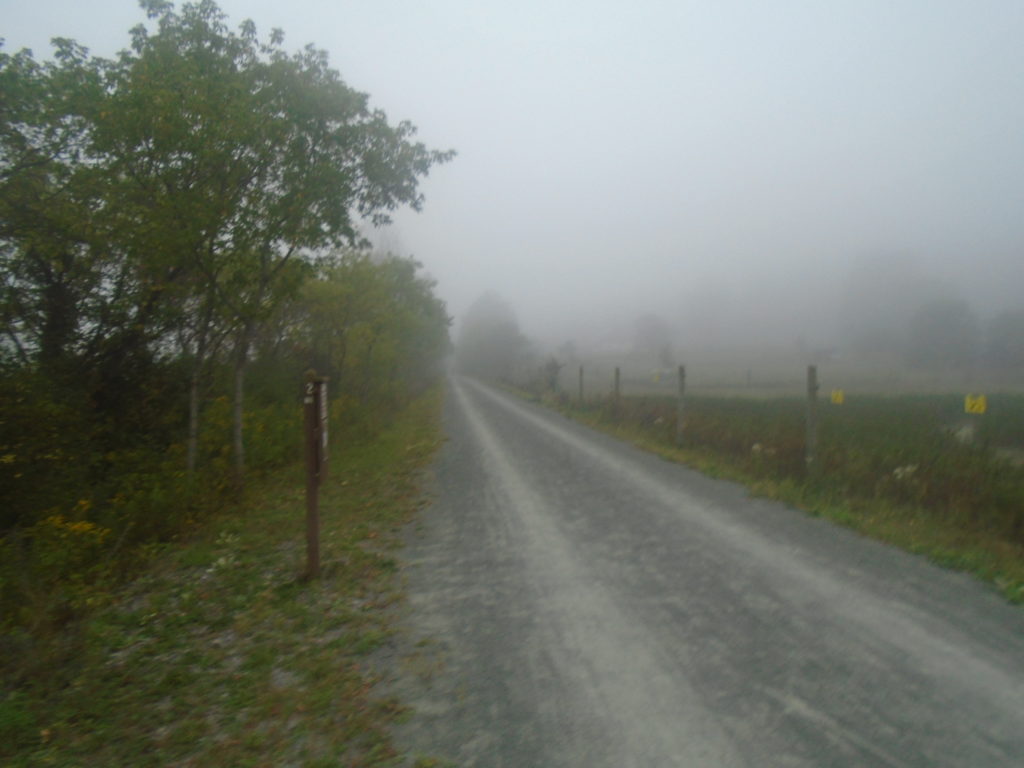 I was hoping for a PR so started towards the front of the pack though not at the very front. My first mile split was right at 10 minutes, which is where I wanted to be. Unfortunately, it was followed by a slew of 9ish minute miles. This was a bit faster than I wanted to run, but it felt fairly easy and I figured the much cooler temperatures were helping out.
From the start, you head north to the first aid station at Wellsboro Junction. I wasn't sure whether or not I would see my wife who was crewing for me here. I got into the aid station behind a pack of runners, one of whom I knew. I was busy chatting with him and perusing what my calorie options were here and totally missed seeing her. It's kind of ironic how rushed you can feel at times in a race that will take you a day or more to finish.
Time management in aid stations is a key focus for me considering how much time you can lose. This race has 15 aid stations so spending 4 minutes at each will cost you an hour. That may not sound too bad considering the 30 hour cutoff for the race, but those extra minutes could be the difference between a buckle and a DNF for those at the back of the pack. My strategy is to spend as little time as possible in aid stations (i.e. 1-2 minutes) for the first half of the race. I'll take a longer break (5-10 minutes) right before dark to put on extra clothes, grab headlamp, and throw on my MP3 player. I'll also spend a couple extra minutes in aid stations as the night progresses if I'm struggling or need a little emotional pick-me-up from the volunteers.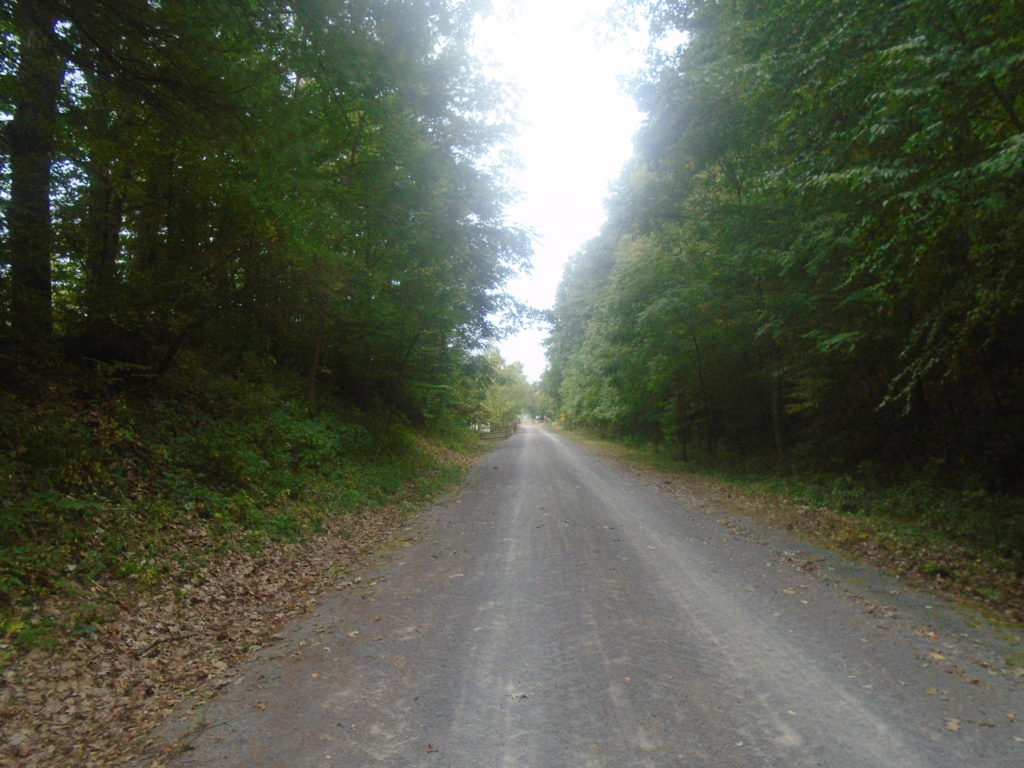 The return leg back to the start/finish at Asaph went quickly with runners offering encouragement as we passed each other. It was also light enough that I noticed the mile marker posts for the first time. Depending on your preference, these can either be a good thing (i.e. knowing where you are on the course) or a bad thing (i.e. knowing where you are on the course). They were just delivering the drop bags when I rolled up to Asaph so I had my wife get my bag as I had a couple Ensure shakes in there I wanted to grab for the next section.
It's a short 3.4 miles to Darling Run that was made even shorter by me continuing to knock out sub-10 minute miles. I knew this was probably too fast, but I was tracking to my A goal (20 hours) and decided not to back off the pace as it still felt "easy". After a quick stop into the restrooms, I was back out on the trail.
The next section to Tiadaghton (your guess is as good as mine on how to pronounce that) is one of the longest between aid stations at 7.8 miles. I got passed by a couple runners towards the end. I had hit mile 25 with an average pace of 10 minutes and decided now was the time to dial back the effort. I did this by mixing in walk breaks each mile.
You then have another long 8.4 miles to the turnaround at Blackwell. Well, technically it's about a half mile past the aid station where you reach the mile 25 post. I was a little surprised they didn't have a timing mat there, but this is a small enough race that the honor system is good enough. I was in and out of the aid station quickly and then it was time to head north for a while.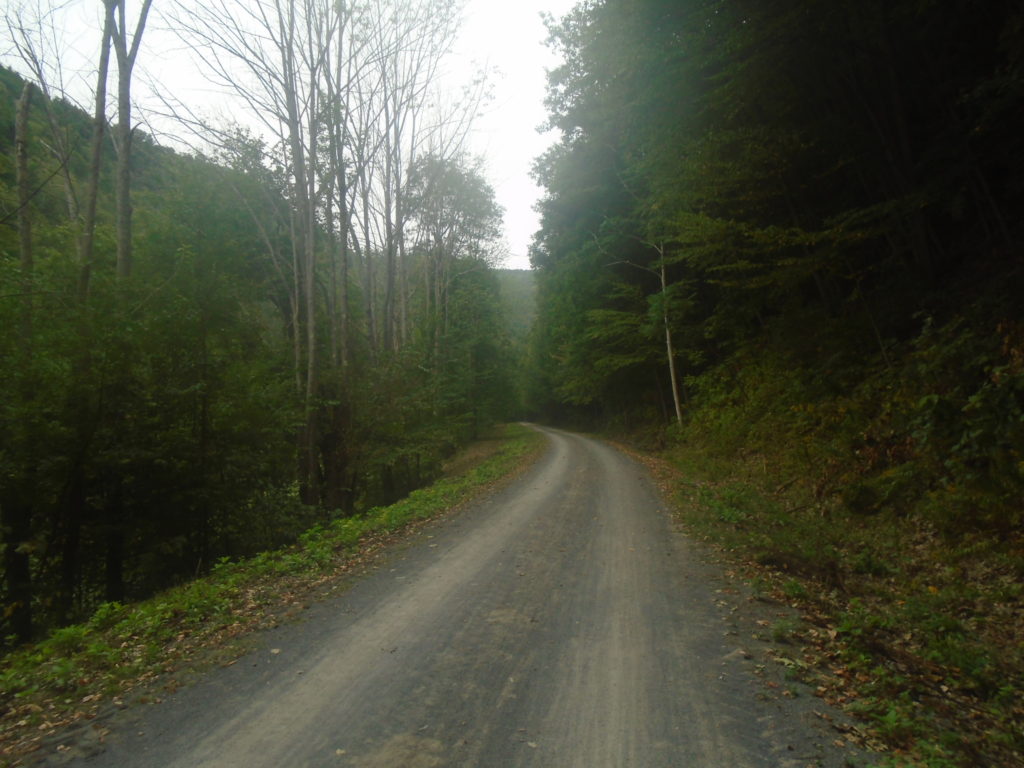 I immediately noticed the grade for the first time as I headed back to Tiadaghton. It didn't feel like I was running downhill before, but now I could definitely tell there was a slight incline. This wouldn't have been a big deal by itself, but it coincided with the temperatures starting to rise and my stomach starting to feel a bit off. The proverbial wheels didn't quite fall off, but they were definitely wobbling around. It's always a little soul crushing when you realize your A goal is slipping out of reach. Luckily, I have lots of experience with this happening so have gotten pretty good at dealing with it. This usually means slowing the heck down. So that's what I did.
I had been relying entirely on Coke for my fluids up till now and realized I needed straight water to help me absorb the excess carbs sloshing around in my belly. Unfortunately, I only had Coke in my bottles so had to manage almost 2 hours before I could get some high quality H2O. I always carry 2 bottles when I race so I can have multiple fluid options with me at all times. Pretty big fail for me here not to have some water with me. Experience is a wonderful thing, but only if you learn from it. Sigh.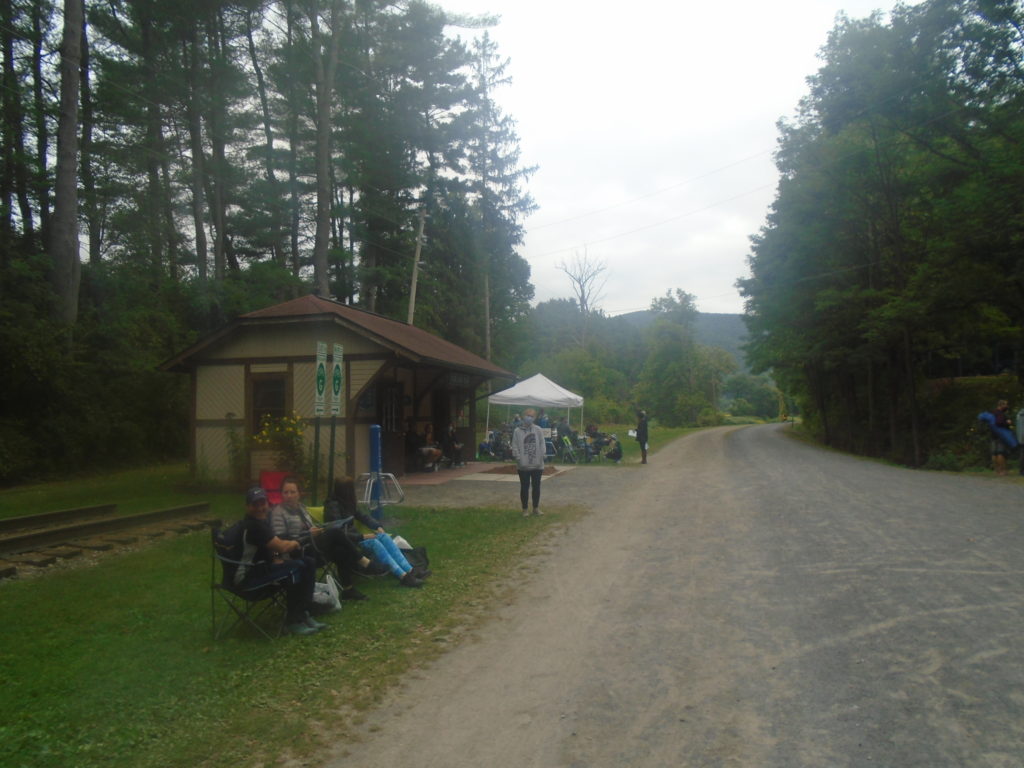 It didn't take long after leaving Tiadaghton heading back toward Darling Run for me to start feeling better. My pace held steady in the 12-13 minute range. I was taking walk breaks each mile, but they weren't slowing me down too much.
When I got back to the start/finish at Asaph, my Garmin showed 50.6 miles. Other runners' watches were showing even more mileage. Overall, my watch ended up showing a mile more than the 100.3 advertised by the race. So either the mile markers are slightly off or the GPS is inaccurate. Looking at my activity, I can see the tracking bouncing around the trail a bit so I'm willing to bet the actual distance was much closer to 100.3 than my 101.3 miles. Technology can be a great aid in racing, but don't forget it's not infallible.
I was feeling good to be halfway done. I rolled in 9 hours and 23 minutes after starting or 23 minutes slower than 20 hour pace. It typically takes me 45% of my total time to run the first half of a hundred and 55% the second half. So even though my A goal was probably out the window, I still had a good chance of beating my PR of 22 hours.
I decided to swap out my soda for chicken broth in one of my bottles. I love the look on volunteers faces when I ask for this (or coffee) in my bottles. I can see the thoughts rolling around in their heads: "wait, you want it where?" followed closely by "crazy ultra runners". I also grabbed my MP3 player and portable battery so I could charge my watch heading to the next aid station.
I must have made a really big stink to my wife about wanting more chicken broth at the next aid station (I was really craving it) because as I approach Wellsboro Junction, I hear "vegan only aid station" shouted at me over and over by a volunteer. Now my mental faculties are already trending down by this point and I'm thinking he's joking (because why else would he be shouting it?), but I'm not completely sure. So I asked if he was messing with me and the nice man said that he was. It was pretty funny and just shows that the volunteers at Pine Creek know how to go above and beyond the call of duty to help get us runners to the finish line.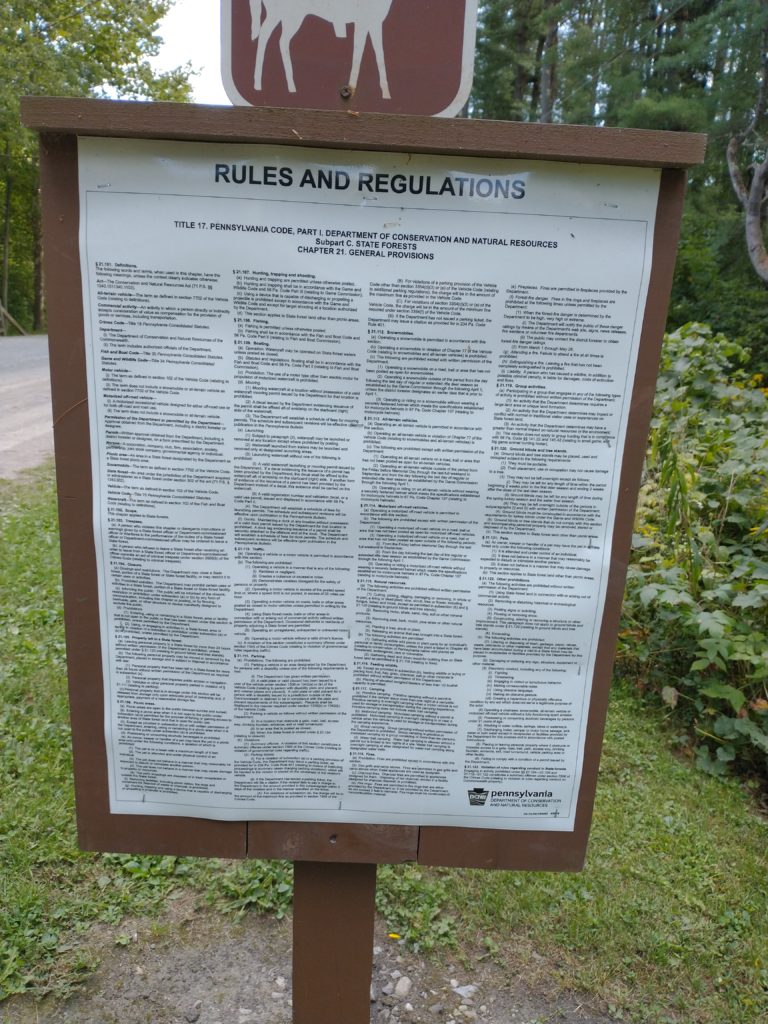 My next stop at Asaph (mile 61.6) had me pick up my headlamp and swap into a long sleeve shirt. The temperature was only getting down into the high-50s, but I always feel colder overnight in hundreds than the temps would warrant. It ended up being a little breezy at points along the trail so this was definitely one decision I didn't screw up (yay me!).
Coming into Tiadaghton at mile 72.8, I felt like I was getting a little low on energy. I had been snacking consistently on oranges and gummy bears, however it was time to swap back over to Coke. Even though my pace slowed to 14 minute miles plus or minute, I at least felt a bit better. So I had that going for me, which was nice.
I was in desperate need of the porta potty at Blackwell when I rolled in, however it was occupied by another runner when I got there. Newman! I didn't want to lose too much time in the aid station so made the 1 mile round trip to the turnaround and lucky for me he was out when I got back. I topped up my oranges and Coke, chugged a shot of Ginger Ale (it looked good), and then headed back up the trail.
I don't know if it was the emotional bump of seeing people at the aid station, only having 20 miles left to go, or something else but I felt great. I knocked out a couple quick miles and passed 2 runners (Pete and Matt) that I had been leap frogging with over the course of the day. They were both nursing stomach problems so I offered what encouragement I could muster being 16 hours into the race.
By this point, I had progressed from taking walk breaks to taking running breaks. And those running breaks were getting shorter and shorter. The last 15 miles had me running maybe 2 or 3 times per mile and the duration dropped to maybe a couple hundred feet by the end. Even though I was basically walking it in at this point, my pace never rose above 16 minute miles. I attribute this to regularly walking 10-20 miles a week. This has been a training focus for me as I know I'll end up walking a lot in each 100 I do. From what I saw last weekend, the top 6 ran the entire course but the remaining 48 of us were walking a lot at the end.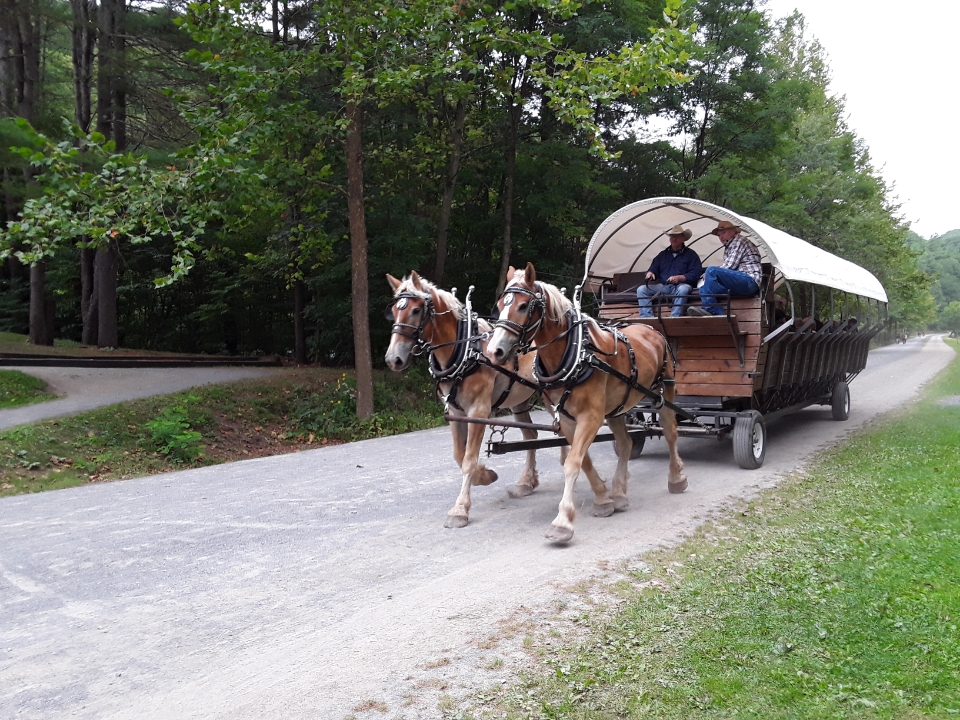 There is an abundant amount of wildlife on display along the trail. During the day, a hawk landed not 10 feet away from me, grabbed something, turned its head and stared me down (I kid you not), and then flew away. I also saw a porcupine and opossum plus the normal deer, squirrels, and chipmunks. There were 2 bear sightings along the course and another runner heard a rattlesnake off the trail in the middle of the night.
They say to never try new things in races, but I find I'm always experimenting with my nutrition. Partly because the aid stations are usually stocked with a much broader (and less healthy) array of food choices than I have at home, but also because sometimes things just seem to strike my fancy. The worst than can happen is whatever it is doesn't taste right so you spit out a mouthful. The flip side is you find something so good you decide to add it to your flavor arsenal. The latter occurred my last time through Tiadaghton when I noticed rice crispy treats. I tried one and it tasted like the best thing in the world. I grabbed another one to go as the volunteer said a runner right before me had just mentioned the same thing.
The last 11 miles were just a continuation of the grind. I got a little boost seeing my wife at Darling Run. The last couple miles neither went by in a blur nor lasted forever. And then I was making the turn off the trail up towards the USGS parking lot. There were a decent number of people out for 3:30am. I managed to shift into a shuffle for the final 20 feet to give myself a shiny new PR by all of 30 minutes.
Overall, I'm very satisfied with my performance. It was far from a perfect race, but I doubt that will ever be possible for me. I went out too fast, but I'm still at the point in my ultra career where I'm trying to find out where my boundaries are. I think I've got a 20 hour hundred in me, just not this time. When things got hard (and they always get hard), I kept fighting and moving forward and that's all I can really ask of myself.
Thanks to the RD and all the volunteers for putting on such a well run event. I would recommend Pine Creek to anyone looking to challenge themselves. Be forewarned though that flat doesn't mean it's easy.