The Olde 96er is a self supported road race from the Ohio River in Wellsville to Lake Erie in Ashtabula, OH. This was the second year of the race, which also featured a 200 mile option that began 2 days prior. Since self supported ultras are a niche segment of an already small section of the running population, there were only 8 starters in the 100 mile race while 15 crazy souls attempted the 200 mile race. Of the eight of us in the 100, two had a crew along to help them and the rest of us were doing the race solo.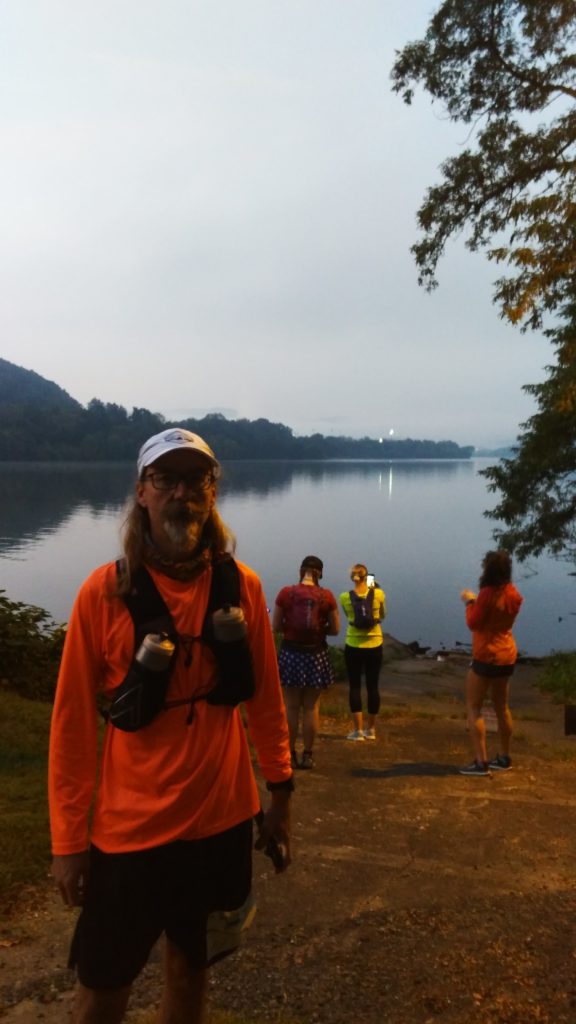 Kim the RD provided transportation from the finish at Walnut Beach Park Saturday morning where we left our vehicles. Another runner, Tom, and I had decided to car camp in the parking lot and I thoroughly enjoyed the couple hours I spent chatting with him Friday night. We were joined by 4 others at 4am and split up into 2 cars for the trip south. After a brief stop at the McDonald's in Wellsville, we arrived at the river shortly before the 7am start. We were all just kind of standing around chatting when Kim's phone buzzed and she said we could go now. No build up, no count down. It was the perfect low key way to start a low key race.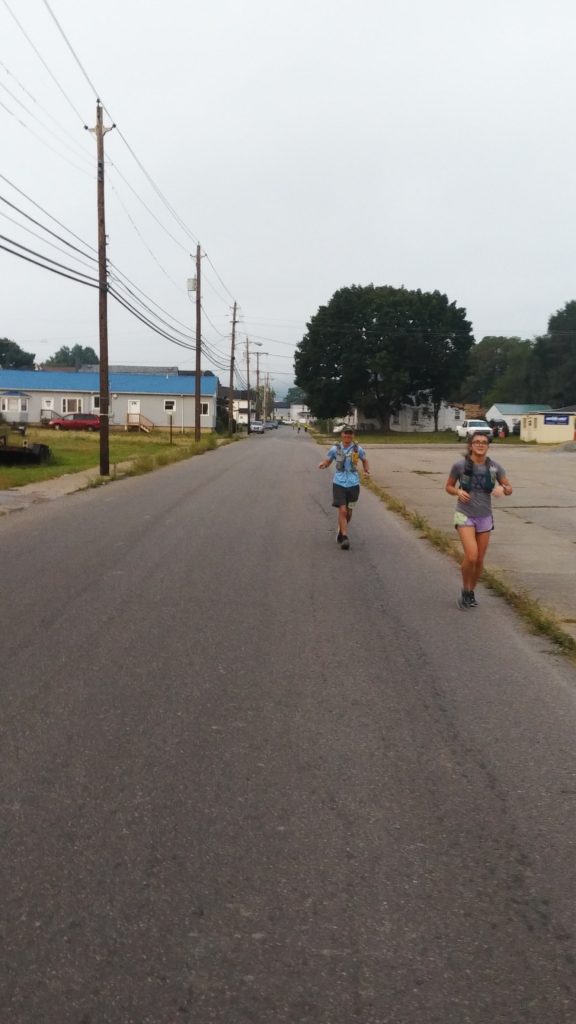 The first two miles through Wellsville were pancake flat and I tried to run easy, however it wasn't easy enough to keep from leading the race. This is not a position I'm used to being in and tried not to let it freak me out. While I had the directions through town printed out on a card in my pocket, it wasn't too hard to remember up 18th, right on Commerce, left on 11th, right on Lisbon, and then left on 45.
Tom, Julia, Jordan, and I were all together as we reached 45 and started up the largest climb of the race (475 ft). This is a very flat course and this 2 mile climb was over 10% of the total elevation gain (3633 feet) we would experience. There's about 2400 feet of climbing until you reach the highest point at about mile 30 and from there on out it's all (gradually) downhill from there.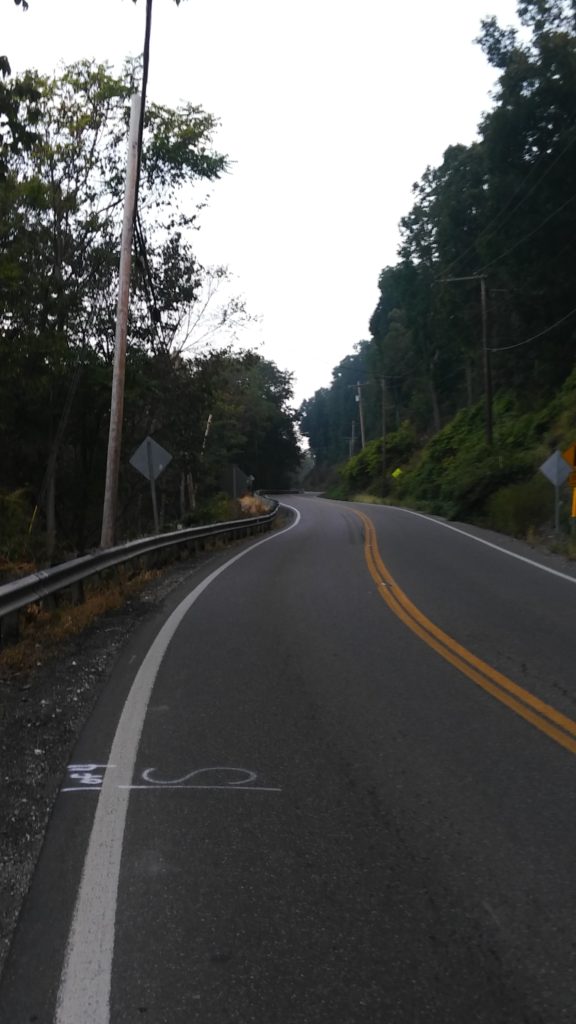 Towards the top of this hill, Jordan goes on ahead leaving the three of us to move along together. This is a much more comfortable situation for me to be in. Right about mile 5 I notice my left shoe has rubbed the back of my ankle raw. Uh-oh. This shoe/sock combination had worked well for my last 2 hundreds so I was a little surprised. Things always go wrong in 100s, but I was hoping to at least make it ten miles before needing to fire up my problem solving skills. Kim was out taking pictures here and I stopped briefly and turned my sock around, which ended up doing the trick as it didn't bother me the rest of the race.
Lisbon is about 15 miles from the start and is the first real place to access stores. I had written out on a 4×6 index card which I had taped to prevent moisture from shredding it all the potential stores I would be using. While there's a Circle K somewhere in town, I ducked into the first gas station we came across. I didn't have personal knowledge of the course and wanted to take no chances. I had started with Coke, water, M&Ms, and a Cliff bar for the first leg and that worked well enough that that's what I restocked with here. After using the bathroom, I also grabbed ice from the fountain soda machine to put in my buff as it was already getting hot. Julia and I left together as Tom was working on his feet, however he caught back up to us relatively quickly.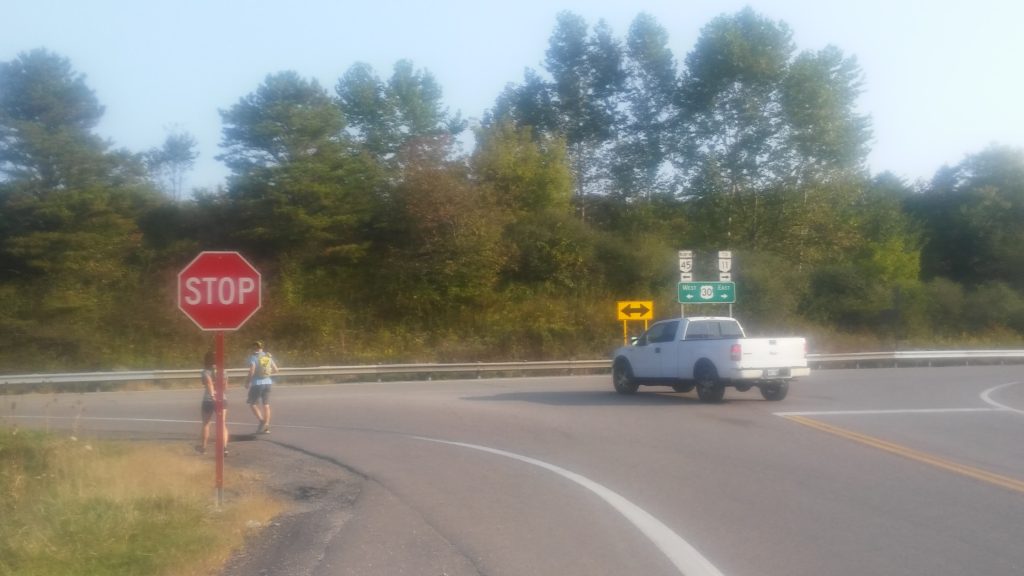 On the way to the start, I had heard about a 200 mile runner who went 4.5 miles off course so was doing 9 extra miles. I definitely didn't want this to happen so was hyper focused on staying on 45 the whole way. As I came up to the Circle K right before Salem at mile 25ish, Route 45 turns left and I emphatically pointed this out to Julia and Tom behind me. I was in and out of the store quicker than them so left by myself. I kept glancing behind me as I made my way up the road, however didn't see them. I even wondered if they accidentally went the wrong way back at the gas station.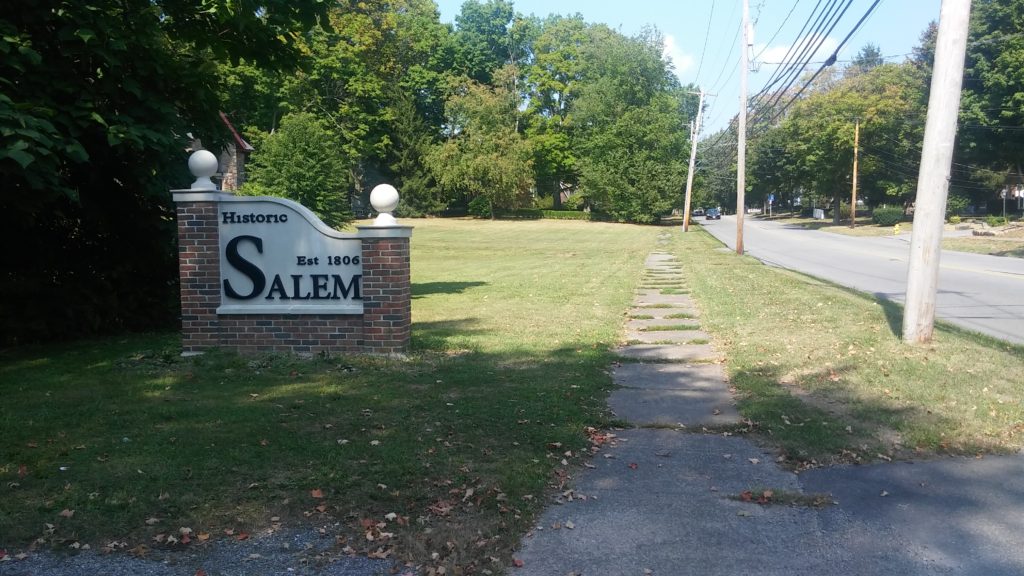 I was just past the first intersection when a truck pulls over and the driver jumps out. It was Jordan's dad and he explained that we were supposed to go straight back there and that his son had gone about 1.5 miles off course. Head smack! That's right. This was the new detour this year. I had directions written down on a card in my pocket and everything. If only I had bothered to read/follow them. It turns out I don't need a trail to get lost during a race after all.
The truck pulled over again ahead of me as I made my way back and I see that Tom and Julia had unfortunately followed me as well. We regrouped and Jordan caught up to us as we made the left on Lincoln. Jordan's dad was parked where we turned left on Franklin and said we head down till it Ts then make a right on Ellsworth. I had pulled my directions out already, but it was nice to have him provide confirmation. The street sign was missing for Ellsworth so I had to take a slight leap of faith that I was still on course. A couple blocks later you cross the main drag in Salem and as I'm approaching the stop light checking out traffic, I catch my toe and down I go. Apparently, I also don't need a trail to trip and fall. Sigh. I scraped up my left hand a little and sat down on a fire hydrant for a second to take stock of myself. Everything seemed to still be in working order so I waited for the light to turn then crossed the street.
By this time it was really starting to warm up. I made an extra stop at a store a couple blocks further down the street to grab an extra bottle of water and saw Jordan walking by. He looked like he was starting to overheat so mentioned that we only had to make it till dark and our bodies would reset when the temperatures dropped. This had happened to me in the past and was my happy thought that kept me plodding along.
I was about a mile out of town when I came upon a 200 mile runner. I slowed as I passed him and offered some words of encouragement. I was happy to hear that he ended up finishing the race Monday morning. Those runners who spent the better of 4 days out there on Route 45 just blow my mind. It's amazing what you're able to accomplish if you put your mind to things.
I saw Kim for the second time at the 50k mark where she was out taking pictures and posting them to Facebook along with running commentary throughout the race. She mentioned that I should start catching up to 200 milers soon. Little did I know that I wouldn't see another runner for almost 70 miles.
The next store on my list was a Marathon gas station at mile 35ish*. At this point, I need to mention that between my bonus mileage (approx. 1.25 miles) and questionable google maps reading skills all mileages from here on out will come with an asterisk that means +/- 2 miles. I grabbed a Coke and water, however the M&Ms and Cliff bar were still sitting in my pack as they were no longer appetizing. Looking around the store, I saw a Blue Bunny ice cream cone and immediately grabbed one. It ended up filling two needs for me as there's nothing better than dropping 400+ calories of ice cold goodness straight to the stomach on a hot day.
Survive the day
And great googly moogly was it a hot day. The RD posted a photo that the temperatures hit 89 and I can confirm that the "real feel" was well up into the 90s I did a couple races this summer in similar temps, however they felt much cooler because they were on shaded trails. The section of road from Salem up to Warren is completely wide open. I swear there wasn't a tree planted within 15 feet of the road on this entire section.
I was getting cooked and the only respite I could find was by walking. And I'm not talking about short little walk breaks here or there. I'd estimate that there were many miles during the afternoon where I was walking 70-80% of the time. I couldn't seem to summon the energy to run unless it was obviously downhill. And while the overall elevation is a net downhill, it wasn't obviously so. Thank goodness I had been training to walk a lot during this race because I definitely needed this skill.
My pace had slowed considerably from 12 minute pace early on to 13s give or take. Looking back at my splits, they're much better than I remember. In the moment, it felt like the wheels were starting to fall off. This can be very frustrating, but I've been in similar situations before and rallied back strongly when the temperatures cooled. I just needed to make it till dark. There was one mile where the sun went behind the clouds and I could feel myself starting to rebound. While those 15 minutes were fleeting, it boosted my confidence that I just had to survive the day.
I hit the BP gas station at the intersection of Route 18 (mile 43*?) and the air conditioned store felt like I had just walked into a meat locker. Pure heaven. I made a beeline to the coolers in the back to grab a Coke. I looked left, right, up, down, hither and even thither, but couldn't find any. Either I had just walked into the one convenience store in America without Coke or my ultra addled brain was already beginning to fail me. Regardless, it took me a minute to decide on lemonade as an acceptable backup so I grabbed one and a Snickers ice cream bar along with a bottle of water. I paid and grabbed the key to use the bathroom (good sign that I was staying hydrated at least). As I returned it, I ended up chugging the entire lemonade so went back and bought another. I must have looked pretty worked over because the store owner grabbed some ice unprompted out of the back and let me fill up a bottle and my buff. The kindness of strangers is truly an incredible thing.
Just past this intersection Route 45 goes from 2 lanes to 4 lanes. The traffic didn't seem to increase a whole lot so the upside is cars were more likely to move over when passing you. It's a relative short section till you get to Warren where I hit the Sunoco station at Market St. (mile 51*). I grabbed a Coke and package of wholesome Starbursts and would have used their restroom if they had one so had to improvise a bit here. The road north of here does a jog right and then left. I was still a little scarred from my earlier misadventures in navigation so was a little uncertain if I was still on the right street. A car was pulled over and I asked the guy if he was part of the race. He gave me a funny look (as he should have for asking such a question) so I asked if I was on Route 45 and he said I was.
It's go time
The sun set as I was making my way through north Warren. And the temps began to drop. And I magically started being able to run the flat sections again. It's in between Warren and Champion Heights that the shoulders and sidewalks disappear completely and you're forced to either run in traffic (not recommended) or just next to the road. While it wasn't dark enough to need lights yet, I threw on my headlamp and lighted vest at this point so cars wouldn't have a problem seeing me coming. I hit the Speedway at mile 58* for a quick Coke and go.
And then I went.
Miles 60-70 are typically some of the hardest miles for me in 100s. At this point your legs are really tired, several things hurt (at least one of which is completely new), and you still have a ridiculous amount of time left till the finish. But not this race. I hit a groove the likes of which I've never experienced before. I left that Speedway and ran a mile inside 12 minutes, which is something I hadn't accomplished in over 25 miles. I followed that up with two more right at 12 before celebrating three straight miles between a 11:25 and 11:35 pace. I was flying along the roads running almost effortlessly with the occasional walk breaks thrown in. I offered up some quick prayers for the other runners still out on the course and wished they could feel as good as I felt right then. I didn't know how long this feeling would last, but was content to stay in the moment and cruise along the now dark roads.
A quick digression on the nature of self-supported runs
The Olde 96er is a self-supported run. This means there is no support available to you along the way. The race director promises to get you to the start, hand you a buckle when you finish, and pick you up (eventually) along the course if you decide you can't continue. Other that that it's up to you. All of it. You have to provide your own food, fluids, gear, clothes, navigation, and motivation. I had finished 12 hundreds coming into this race without pacers and a couple without crews, however all of them had the traditional support that organized races provide including aid stations, marked courses, and knowledgeable volunteers. It's very easy to underestimate how much comfort and support this provides you until it's no longer there. You need either copious amounts of endurance experience, backup plans for your backup plans, or luck in order successfully complete a 100 mile self-supported run. In reality, you probably need a little of all three.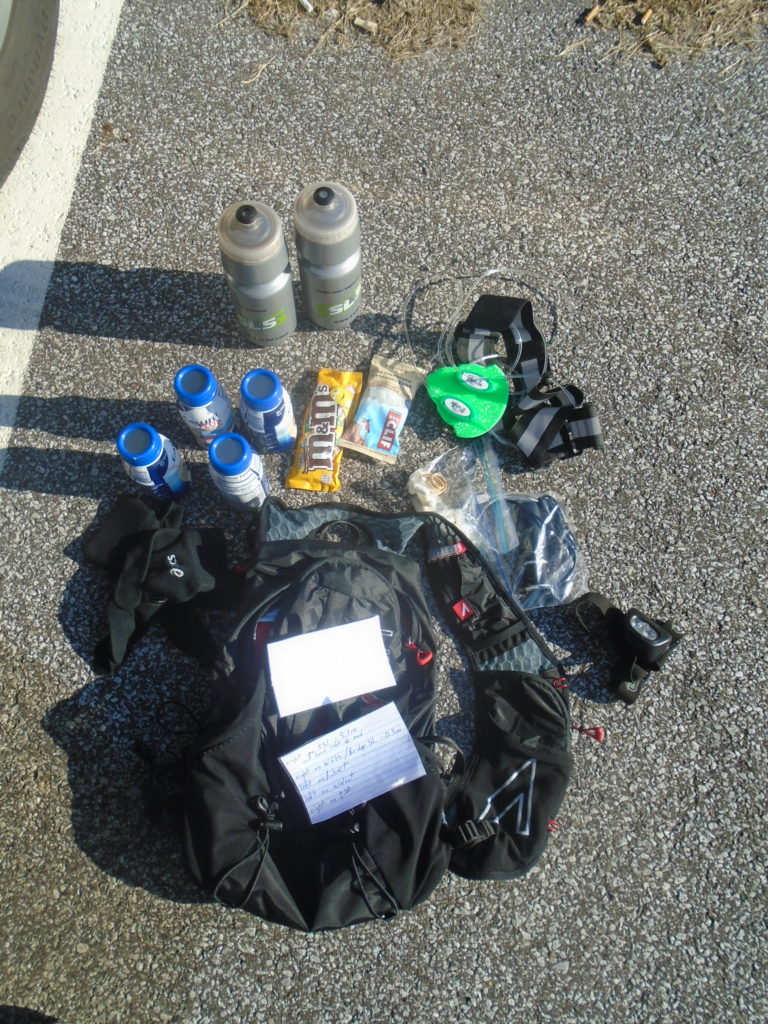 Imagine yourself on a tightrope over the Grand Canyon because there's no safety net available to you now. This was the biggest draw for me to this race. And this is where I found myself north of Champion Heights. I had 40 miles left to run and only three stores left that would be open when I passed: Dollar General at mile 65*, Shell at mile 75*, and Pilot travel plaza at mile 92*. That's it. There's more available through here but they all close down by 8pm or so and don't open till who knows in the morning. Now was not the time to take chances, but to always choose the the safe, low risk options.
The Dollar General is where I discovered that Cherry Coke's have 20 calories more per bottle than regular Cokes. Score! I grabbed two and headed over to the candy isle where Skittles seemed like a good choice so I grabbed two small bags. My pack was a pain to take off and put on with my light vest (itself even more of hassle) so the man behind me was nice enough to help put my M&Ms and Cliff bar (yes, 50 miles later I've still got them with me) in my pack and rearrange some bottles. I then stepped outside into a very light rain. Really? I could have used this 8 hours ago, not after things had already cooled down. I was a little worried I would get cold, but never needed to roll down my long sleeve shirt let alone grab my gloves out of my pack. The light drizzle didn't last very long and in the meantime I was distracted by a soda bottle partially exploding on me and had to juggle things around a bit. Bother.
This section of road can mess with you a bit as it's very straight. I kept seeing flashing red lights in the distance thinking it was another runner only I never seemed to get closer to them. It wasn't until several miles later that I realized it was a traffic signal and that I could just see it from a long, long way away. Typically in trail races, the course meanders around enough that the farthest you can see is maybe a mile or so. Not this course. There are many sections where you can see 3-5 miles down the road and the only way I knew I was making any progress is when I'd hear my Garmin chirp every 12-14 minutes. Other than that, it was like I was in a '60s cartoon where the scenery keeps repeating every couple minutes.
The Shell station was a couple miles further on than I was expecting, but I was still in good shape from a food/fluids standpoint. I wasn't sure of the distance to Austinburg so asked the cashier and police officer who was hanging out there how far away it was. They weren't exactly sure (25-30 minutes by car?) so they basically confirmed what I thought was 15 miles (really 17). I still had loads of calories on me so just went with one Coke.
It wasn't until I was a little ways up the road before realizing my mistake. I opened a bag of Skittles (110 calories) and really struggled to get them down. I would toss a half dozen in my mouth and munch and munch; swallow a couple and munch; shift them around and suck on them then munch a little more and swallow; shift, munch, suck, swallow; rinse with some water, suck, munch and then finally swallow the last. I swear it ended up taking me more calories to choke those sweet tasting bad boys down than I actually got from them entering my system. Unfortunately, they were still more appetizing than the M&Ms/Cliff bar I carried which also came with circus contortions to get out of my pack. Guess I was just going to have to manage. Stupid lack of safety net. Sigh.
It was also just north of the Shell station where I got paranoid about still being on course. The road was running straight through here and while I was 99% sure I was still on course, I was 100% sure I didn't want to go 4.5 miles out of my way. The signs marking Route 45 are really only at intersections and I had no idea how many miles I had to go till I would see another. My phone battery had died out a long time ago and my battery charger and cord was in the back of my pack requiring a triple half gainer to extricate it. While this wasn't worth the effort for a couple calories, it was for my peace of mind. I performed the maneuver, charged up my phone enough to open Waze, and immediately saw I was smack dab in the middle of 45. Woo-hoo. Mental health re-established.
Or it was until I heard "Be careful out there. Bunch of meth heads around here" out of the darkness as I passed a random house south of Rock Creek. Um, excuse me? I wasn't exactly sure how to take that. My wife's in the middle of binge watching Breaking Bad, however I didn't realize it was required viewing before running this race. Was I likely to get robbed or run off the road? I took it to mean the latter so started to nervously look behind me every time a car approached from the south. I was about two-thirds across this bridge with a bottomless drop off the side (I know, I had already checked) when a car slowly approached from behind me. I must have looked like a deer about to get run over (that's how I felt) as Kim pulled up beside me. I darn near fainted from relief. She commented on how well I looked (she's a good liar) and said I had 5 miles to go till the travel plaza in Austinburg. Drat. I was thinking it was only 3 more miles. Well, three or five miles is really no difference in a self-supported event as you never know what could happen. I was still knocking out solid 13 minute (ish) miles and told her I'd see her soon at the finish.
It wasn't too long after seeing her that the wheels started wobbling again. I had spent the last 10 miles nursing my 20oz of Coke and trying to work my way through that tiny little bag of Skittles with limited success. I wasn't too worried, but knew it would cost me some time as my energy ebbed. And did it ever on my run into Austinburg. Or rather up into Austinburg as it's a steady climb. What makes it worse is that it's straight as the crow flies so I could see the lights of the travel center (they were in the shape of a cowboy with the belt blinking periodically) for what seemed like forever. It wasn't until I was about a half mile out that I realized the lights I was seeing wasn't the travel center, but the street lights of Austinburg itself. Arrrghhh! I kept walking and eventually reached the last store I would need.
I quickly grabbed a Coke and the cashier asked if I was doing a run. I said I was and she mentioned another runner was in about 30 minutes ago. Sweet, some company. I thanked her and quickly headed out the door. My watch needed a charge so I sat outside for a minute getting it hooked up to my battery and transferring the soda into my bottle. I would like to say that I charged down the hill and caught up with the runner soon thereafter, but the truth is I was mostly spent by this point. I was still knocking out 14 and 15 minute miles, which is really good for me this late in a race. I had developed a hot spot on my left foot that was really bothering me and I was just in grind it out mode. I knew I had a 24 hour finish in the bag by this point which was kind of my A goal for the race if I had one besides finishing.
About a mile before the turn onto 531, I looked up and saw 2 people next to the road ahead. This was the sixth or seventh time this had happened (mailbox, street sign, guard rail) so I wasn't completely convinced of what my eyes were telling me until I pulled even with John and his dad. I walked with him for a minute or so and tried to provide what encouragement I could. It truly is amazing what these 200 mile athletes can accomplish when they put their minds to it. Hardcore doesn't even begin to describe their accomplishments.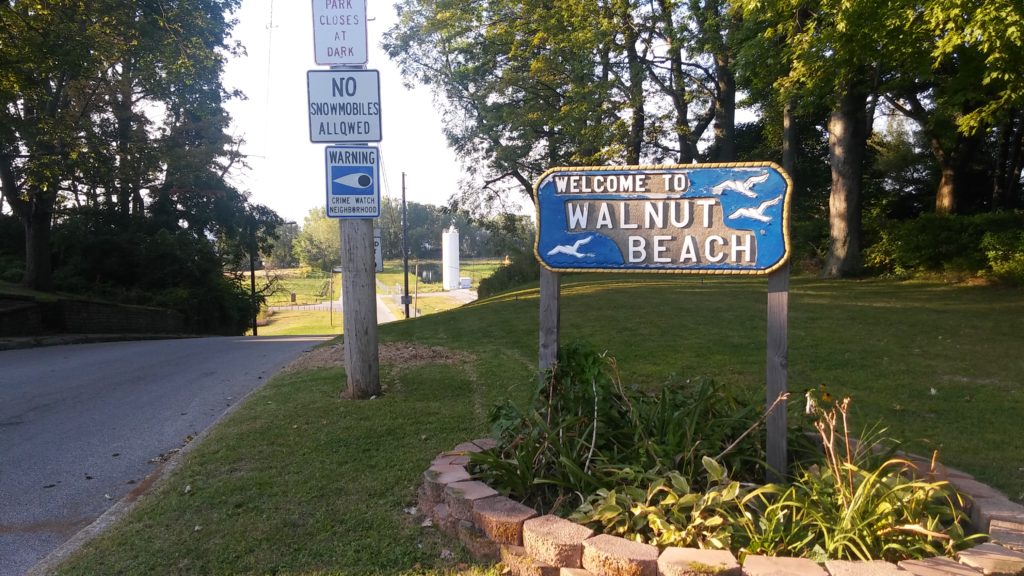 Not too long after the turn, a car pulled up next to me offering me congratulations. Then it was into town where 531 goes left at a T intersection then right a couple blocks down. The left onto Hulbert can be easy to miss since the street sign is on the side of a building, but I noticed that Friday walking around town so knew where to go. Then it's one short, steep hill and a turn onto Walnut. This takes you right to the park entrance where I ran down around the lot and onto the beach where Kim was waiting. A dipped a toe in the water and I was done 22 hours, 43 minutes after I had begun.
It's difficult to put into words exactly what this race meant to me. It was so much more than merely a place and time. It was about running 100 miles, which is a really hard thing to do. And doing it completely and utterly on my own. It's such an empowering accomplishment that I now feel like I could do anything. Well, maybe not run 200 miles. . .
A special thanks to Kim for imagining and organizing the Olde 96er. There are now 180+ hundred mile races in the US, but this race stands alone as a unique and challenging event. I was taught growing up that you shouldn't play in traffic, but boy is it ever fun. I hope to have the opportunity to run (and walk) it again in future years.